Red Cross Employee Nathan Baker Retiring After Donating Over 68 Gallons Of Blood In His Lifetime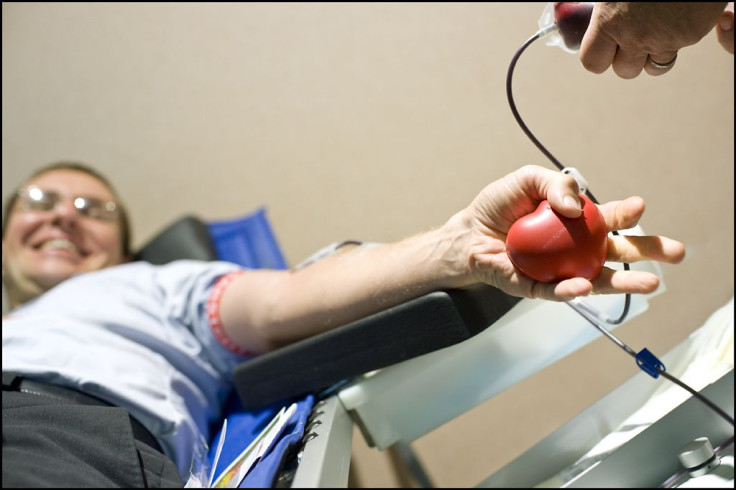 A man known as "The Blood Guy" is retiring. Without any prior knowledge of who this man is, his nickname could inspire some creepy possibilities. But the Blood Guy, whose real name is Nathan Baker, is also a good guy: He has donated over 68 gallons of blood in his lifetime. Baker, 62, has spent 38 years not only donating his own blood, but convincing more than 30,000 others to donate as well by working the phones in the Red Cross office.
Baker has gotten pricked 542 times to date to donate blood, but at his retirement party, Baker's supervisor joked that his donations didn't begin as a purely humanitarian gesture.
"He said he did it at first to get out of class," Stephanie Ezell told Nashville Public Radio, referring to baker's first donation as a college freshman in 1977. "The second reason he decided to do it was to impress women."
Baker's frequent donations earned him several nicknames like the aforementioned "Blood Guy" and "Mr. Red Cross." He recruited donors and developed a program that eventually put him in front of almost 200,000 students. His commitment to donation has also inspired others to follow in his footsteps, like co-worker Brett Crystal, who showed up to Baker's retirement party with his arm still bandaged.
"I'm at 25 gallons, so a long way to go to catch up to our hero here," Crystal said, after his 201st occasion giving blood. "I hope my arms hold up. And I hope I can encourage others to donate as well."
Baker is one of only 14 people who have given over 400 times in the 70-county region that encapsulates parts of Tennessee, Kentucky, Illinois, and Missouri. While he is retiring, Baker says he may still volunteer and give blood for a while.
"At 600 I may retire my blood donor number, you know, maybe," he said. "No guarantees. I may keep going."
Baker's post retirement plans also include writing a Red Cross book, and to finish converting more than 1,000 VHS tapes to DVDs, all of which contain news segments about his blood donation accomplishments. Baker recounted special moments of his career during the party, including an occasion where a premature baby needed 8 pints of donated blood. After receiving a thank you card for his role, Baker was in tears.
"This is a good job," he said. "Isn't it?"
Published by Medicaldaily.com