Red Cross Issues Emergency Request For Blood And Platelet Donation, Says Types O-, B+, And A- Most Critical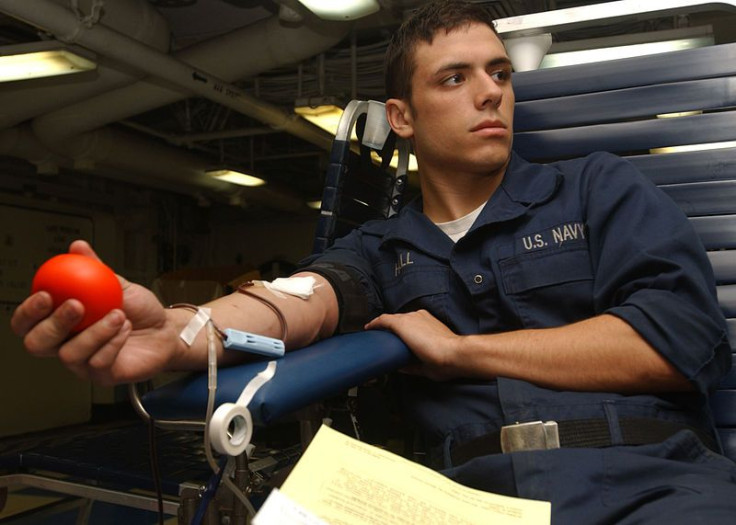 The American Red Cross, the humanitarian organization responsible for providing emergency assistance and disaster relief, has issued an emergency request for its most popular service: blood donation.
Donations in the month of June and early July so far have been reported significantly lower than expected. Nationwide, the number of donations dipped 10 percent, some 50,000 fewer units than the organization had expected.
As the nation's largest supplier of blood and blood products, at 4,000,000 donations annually, the American Red Cross is encouraging people to donate blood and platelets if at all possible.
The organization cited the time of year as being particularly difficult to garner adequate donations.
"June is challenging," said Ben Corey, Communications Program Manager with the American Red Cross Heart of America Blood Services Region based in Peoria, Ill. Independence Day falling mid-week especially complicated the normal decline after schools let out for the summer, Corey added.
High schools and colleges make up roughly 20 percent of the Red Cross' donations. Those who normally donate at school often stop donating once summer vacation arrives, marking an 80-percent decrease in that population of donors.
According to the Red Cross website, the organization helps to provide more than 40 percent of the nation's blood supply.
It has directed its address to people with blood types O negative, B positive, and A negative to donate, as those types have been in shortage considerably longer than others — not to mention O blood types are universal donors. Platelet donations have also been expressed as urgent.
Every day, the Red Cross must collect almost 17,000 pints of blood for patients at nearly 3,000 hospitals and transfusion centers across the country. Every two seconds, someone in the U.S. needs a blood transfusion.
The Red Cross also sets specific standards for who can donate blood.
Donors must be at least 17 years old — or 16 with parental consent in certain states — and must weigh at least 110 lbs. According to the organization's eligibility requirements, people can safely donate blood every 56 days and platelets every seven days, up to 24 times per year.
Published by Medicaldaily.com