Sudden Heart Failure Linked To High Levels of A Metabolite Commonly Found In Red Meat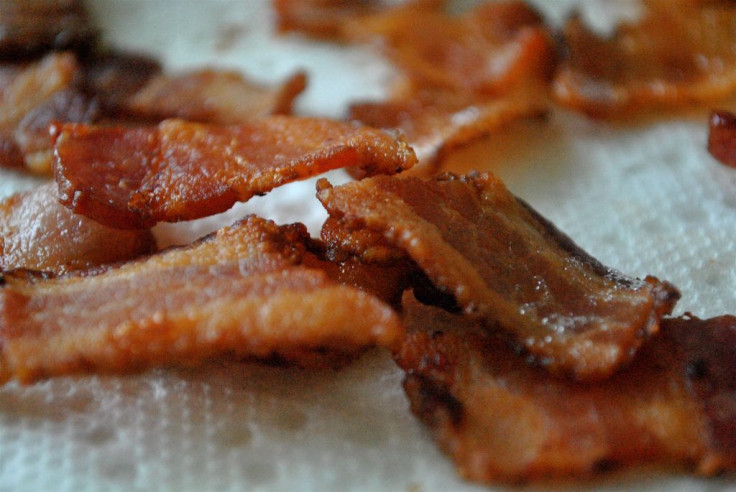 Eating foods that contain saturated fat, like red meat, can increase risk for cardiac events. Now, new research published in Heart suggests another substance commonly found in red meat can increase risk for acute heart failure: trimethylamine N-oxide (TMAO).
"Our study shows that higher levels of TMAO, a metabolite of carnitine derived from red meat, is associated with poorer outcomes associated with acute heart failure, one of the main diseases of the heart," professor Toru Suzuki from the University of Leicester's Department of Cardiovascular Sciences and PI, said in a statement. Heart failure is characterized by the heart's inability to pump enough blood and oxygen to support the body's other organs. And according to the Centers for Disease Control and Prevention, it affects about 5.1 million people in the U.S.
Suzuki and his colleagues at the University of Leicester found that people who experience a sudden worsening of heart failure symptoms — difficulty breathing, leg or feet swelling, and fatigue — often have high levels of TMAO. Red meat is a source of L-carnitine, an amino acid involved in energy metabolism and mitochondrial protection. When digested, this meat is broken down by gut bacteria to form TMAO.
While previous studies have associated the metabolite with mortality risk in chronic heart failure, a condition that occurs slowly over time, its association with acute or sudden heart failure was still unknown.
Researchers collected plasma samples from nearly 1,000 acute heart failure patients admitted to University Hospitals of Leicester NHS and measured their TMAO levels using Liquid chromatography–mass spectrometry, a chemistry technique used to separate a sample into its individual parts. They examined the metabolites associated with in-hospital mortality, all-cause mortality, and a composite of death or re-hospitalization due to heart failure within one year. They found that acute heart failure patients with elevated levels of TMAO had poorer health outcomes.
Suzuki said patients with acute heart failure showed higher levels of the oxidized metabolite TMAO than those who died or were re-hospitalized within the first year. Being readmitted to the hospital, though, is common among heart failure patients. A 2012 report published in Circulation found about 50 percent of patients readmitted to hospital within six months of discharge.
Beyond cardiovascular disease, consuming red meat has previously been linked to an increased risk of developing Alzheimer's disease and colon cancer. This new study is the first to investigate the association of TMAO levels in acute heart failure patients, Suzuki said, and "this metabolic pathway provides a possible link between how red meat is associated with heart disease."
Source: Suzuki T, Heaney L, Bhandari S, Jones D, Ng L. Trimethylamine N-oxide and Prognosis in Acute Heart Failure. Heart. 2016.
Published by Medicaldaily.com