ReliefBand Is A Wearable Device Aimed At Fighting Nausea Caused By Motion, Morning Sickness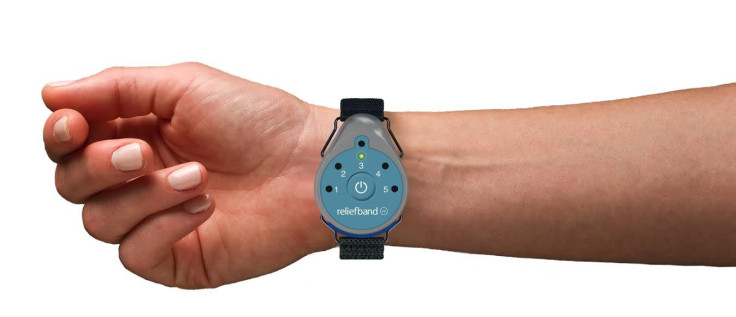 We're affected by nausea for so many different reasons, from motion or morning sickness to virtual reality gaming. Though most people will turn to drugs like Dramamine to ease their sickness, a new wearable device may better provide relief: the ReliefBand.
Created by ReliefBand Technologies, the ReliefBand was designed to specifically combat nausea and vomiting. The technology uses programmable pulses "with highly specific waveform, frequency, and intensity to stimulate the median nerve on the underside of the wrist," according to the company website. And just recently the band was cleared by the Food And Drug Administration as a "drug-free treatment of nausea associated with motion and morning sickness," according to a press release given to Medical Daily.
The technology is technically known as neuromodulation, which uses neural pathways in the body to block the waves of nausea coming from the stomach. Neuromodulation generates signals that travel to the user's central nervous system to the part of the brain responsible for the feeling of nausea. Once there, it helps to control the neural pathways between the brain and the stomach, essentially relieving the feeling of nausea.
ReliefBand doesn't use any drugs, so it doesn't report any adverse side effects — like drowsiness, dry mouth, and headaches — while relieving the waves of nausea in a matter of minutes.
"With 70 percent of women experiencing morning sickness during pregnancy and more than 60 million people suffering from motion sickness, ReliefBand is fulfilling a very large, unmet need," Nick Spring, CEO of ReliefBand Technologies, said in the release. "With wearable technology becoming widely accepted, the time is now right to bring this clinically proven technology that has been developed over decades to a device that people can buy without a prescription."
To use the ReliefBand, you first need to find the area between the two tendons on your wrist, then measure two finger lengths from the first crease in your wrist. This is the spot you'll clean and apply a small dollop of gel to keep the device in place. Once you fasten the ReliefBand with its watch-like strap, you'll be in control of your nausea levels.
There are also five settings of intensity users can choose from, depending on personal nausea levels and/or preference. The band lets you know when the battery is running low, at which point you can easily replace batteries.
Aside from improving car and plane rides, ReliefBand can also benefit those inclined to participate in virtual reality. Strapping on a headset, which puts you in a different world, can be a stomach-churning experience; not now with a wearable that fights nausea.
ReliefBand is available now for $89.99, both over-the-counter and online.
Published by Medicaldaily.com