Report Confirms Social Media Explosion in Latin America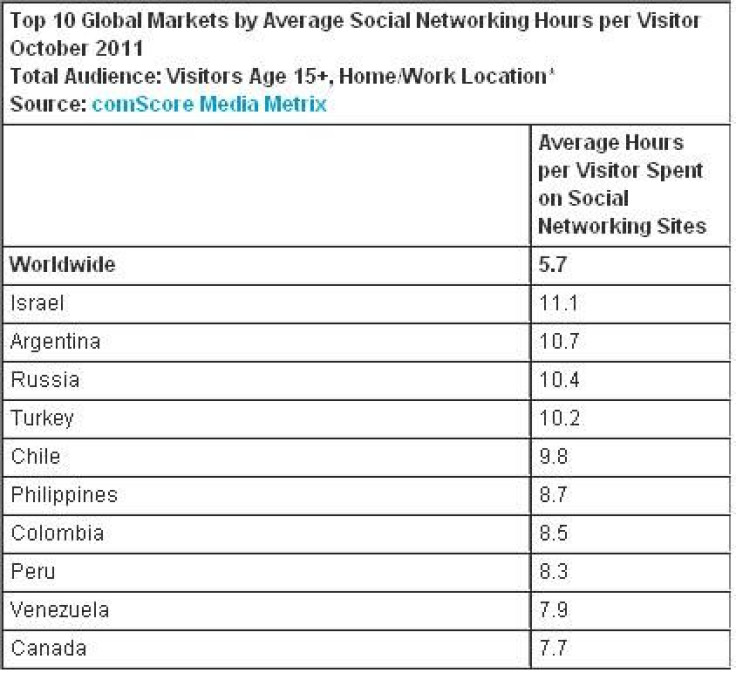 comScore, Inc. released a report Thursday analyzing the current state of social networking activity around the globe, and found that Latin American countries dominate the top 10 global markets when ranked by average social networking hours per visitor in October 2011.
Countries including Argentina, Chile, Colombia, Peru, and Venezuela are included in the top ten, while the U.S. did not make the list.
"The emergence and widespread global adoption of social networks has vastly influenced human interaction on an individual, community and larger societal level, and underscores the convergence of the online and offline worlds," said Linda Boland Abraham, comScore's chief marketing officer. She is also an executive vice president of global development. "Regardless of geography, social networks are weaving themselves ever more intricately into the fabric of the digital experience, opening a world of new opportunity for business and technology."
At 11.1 hours per visitor, Israel led the ten most engaged social networking markets. Other countries in the top ten are Russia, Turkey, Philippines, and Canada.
According to comScore the global average for social networking hours per visitor in October was 5.7 hours. The top 10 nations were above 7.7 hours in that month. The US came in at 6.9 hours per visitor for social networking engagement.
Earlier this year, Synthesio published a study looking at the tremendous growth of social media in Latin America. The study found that, while only 35 percent of Latin Americans have internet access, 82 percent with access use social media.
According to the Synthesio study, there are currently 81 million Latin Americans on Facebook alone, accounting for 14 percent of Facebook's population. Additionally, 16.1 percent of Twitter users are Latin American.
According to comScore, politics are a factor. When Hugo Chavez joined Twitter in April 2010, the Venezuelan audience for the site jumped 4.8 percent.
Latin American companies are also embracing micro-blogging, with 53 percent of large Latin American companies mentioned on Twitter. In Colombia alone, 86 percent of companies are cited on Twitter.
The comScore report is titled, "It's a Social World: Top 10 Need-to-Knows About Social Networking and Where It's Headed."
Published by Medicaldaily.com