ReSound LiNX, First Made-For-iPhone Hearing Aid, Lets Users Stream Music As Headphones And Geotag Locations
Tech-savvy senior citizens and younger generations who are hard-of-hearing will soon be able to purchase the first made-for-iPhone hearing aid, known as ReSound LiNX, which syncs with the wearer's digital in-ear hearing aid via a smartphone app.
The days of whistling, attention-drawing hearing aids that can make for uncomfortable social situations could be coming to an end as veteran hearing aid company, GN ReSound, has announced its future plans to release what they call "the world's smartest hearing aid." Users will be able to sync their hearing aids with the iPhone app, freeing them up to geotag their favorite locations (which the hearing aid will respond to, changing the volume automatically), and switch back and forth between wireless stereo headphones and normal hearing aids.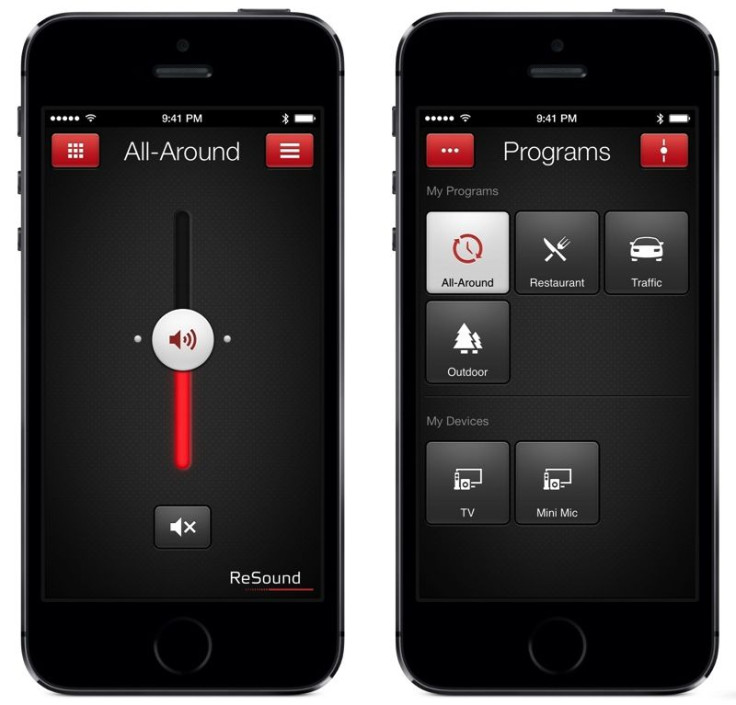 The new iPhone app will essentially function as a remote for the hearing aids. Users can select from a variety of environments, including restaurant, outdoors, and traffic, to maximize the quality of the incoming sound. And since the system is entirely Internet-based, the cumbersome pendants hearing aid wearers have had to carry around will be replaced by the now-natural consult of an iPhone. The app will also come replete with a "Find My Hearing Aid" feature.
GN ReSound undoubtedly fills a need with the beefed up hearing aid. Approximately 17 percent of Americans suffer from a form of hearing loss, according to the National Institute on Deafness and Other Communication Disorders (NIDCD). Meanwhile, only one out of every five people who could benefit from a hearing aid wears one.
This all points to the hearing aids taking off. But introducing iPhone-compatible hearing aids to a generation that is among the least likely to own an iPhone also seems like a longshot. A 2008 study showed that fewer than 10 percent of all iPhone users are over the age of 51. A 2009 Nielsen analysis found the 55+ age group only makes up 17 percent. So while the trend may be growing — the 35-54 age bracket made up the largest portion at 36 percent, after all — it may be the case that early adopters will play a much larger role in the hearing aids diffusing to consumers.
Dick Loizeaux for one, who started using the ReSound LiNX in December, told the NY Daily News that he's now happy he doesn't have to wear a "big hunk of plastic in my ear that screams old person." Not to mention the benefits of having hearing aids that double as headphones. "Everything other people wear ear buds for," he said. "I'm set."
Published by Medicaldaily.com