Rev. Patrick Dowling, 'Angel Priest' Who Mysteriously Disappeared From Accident Scene, Reappears At Teen Victim's Hospital Bed [VIDEO]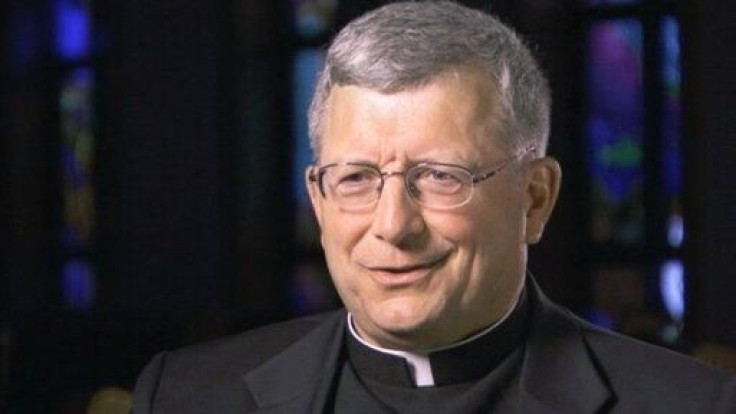 Rev. Patrick Dowling says that he is the mysterious 'Angel Priest' who prayed on the scene as emergency personnel aided 19-year-old Katie Lentz after her car was struck by a drunk driver. For days people wondered if Dowling was an actual angel because disappeared before rescuers could say anything to him. Saturday, the priest came forward to visit Lentz in the intensive care unit and dispel any rumors of him being an angel.
"I told her I'm the priest who stopped by the site and she started to cry. I don't know why," Dowling said. "I think it was the most disappointing moment of all that I wasn't an angel or something."
Dowling said that he was returning from a mass in another part of Missouri when he saw the accident. He pulled to the side, parked behind a large vehicle and asked the Sheriff's permission to approach the scene. When he got there, he prayed for Lentz at her request and stepped aside so that she could be airlifted to the hospital.
"I left when the helicopter was about to take off," said Dowling.
Last week, after the priest left the scene, rescuers told local news station KHQA that they were unsure whether Dowling was a priest or an angel.
I think it's a miracle," New London Fire Chief Raymond Reed, one of the rescuers at the scene of the accident, said. "I would say whether it was an angel that was sent to us in the form of a priest or a priest that became our angel, I don't know. Either way, I'm good with it."
Of the incident, Dowling credits the 'most high' for answering Lentz's prayers and placing him on the scene to help calm both the teenagers and the rescue personnel.
"I have no doubt the Most High answered their prayers and I was part of his answer, but only part," the Dowling told ABC News.
Published by Medicaldaily.com