RGIII Returns To Organized Team Activities After Reconstructive Knee Surgery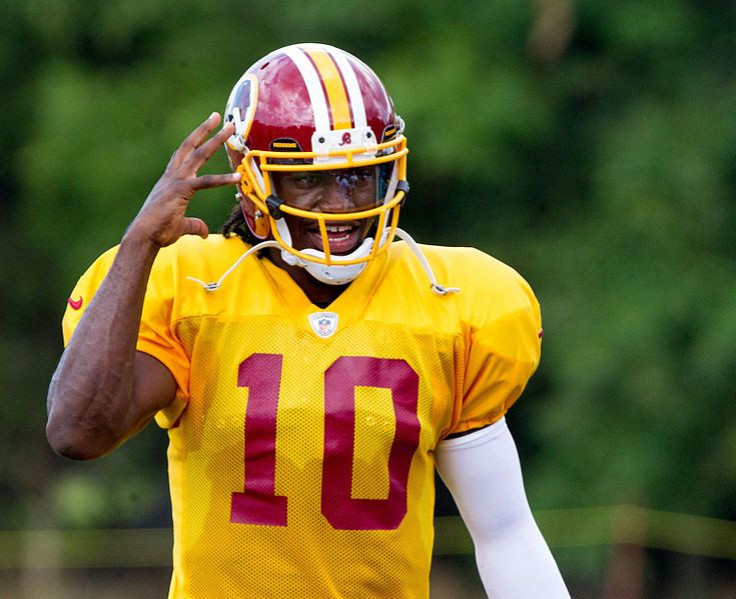 After a four-month rehabilitation from reconstructive knee surgery, Robert Griffin III returned to noncontact organized team activities on Thursday. The first practice for the Washington Redskins drew a great deal of media attention and fans eager to see the 2012 Offensive Rookie of the Year's progress.
Back on January 6, Redskins fans watched in horror as their team was ousted from the playoffs and their Heisman Trophy winning quarterback lied on the turf in visible agony while clutching his right knee. There were questions aimed at head coach Mike Shannon as to whether Griffin should have been playing to the extent that he was following a previous sprain on his lateral collateral ligament (LCL) just a month back on December 9.
Three days after the Redskins' playoff loss to the Seattle Seahawks, Griffin went in for surgery to repair both the LCL and anterior cruciate ligament (ACL) in his right knee. The moment he awoke from surgery, there was only one thing on his mind, Week 1.
The Redskins' regular season opener against the Philadelphia Eagles on September 9 comes exactly eight months after his knee reconstruction.
Those on hand for Griffin's first organized practice since the offseason reported no signs of distress when Griffin stretched his leg into jog. Although wearing a bulky protective brace on his right knee, he was able to take snaps, drop back, throw to receivers, and even get a light run in.
With training camp right around the corner in July, Griffin is patiently awaiting the next two phases of his rehabilitation, "explosive sprinting" and "cutting," the Associated Press reported.
According to the American Academy of Orthopedic Surgeons, around 70 percent of ACL injuries occur during noncontact athletic activity. Injuries usually happen after a sudden cut, pivot, or change of direction that the ligament cannot support.
Published by Medicaldaily.com