Rising American Obesity Rates Stunt Gains In Life Expectancy As Developed World Pulls Ahead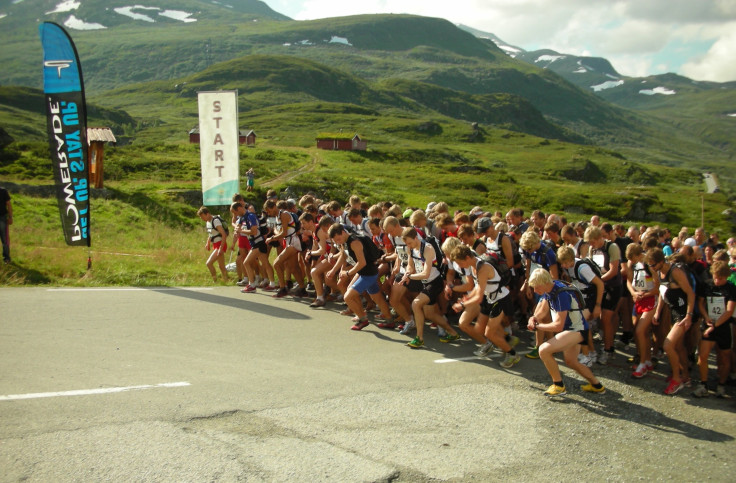 Despite a quickly rising obesity rate, more Americans are running and biking and attending the gym with religious fervency — suggesting a sharp stratification between the health "haves" and have-nots.
The dueling trends were presented in study findings at a White House press conference Wednesday afternoon by Dr. Christopher Murray, director of the Institute for Health Metrics and Evaluation at the University of Washington, Seattle.
"Around the country, you can see huge increases in the percentage of people becoming physically active, which research tells us is certain to have health benefits," Murray said. "If communities in the U.S. can replicate this success and tackle the ongoing obesity impact, it will see more substantial health gains."
The rise in exercise rates would improve population health for the United States by reducing premature death rates as well as lowering the rate of chronic disability from heart disease and diabetes. However, the overall effects of the trend are blunted by a rising obesity rate from poor diets, smoking and alcohol use, hypertension, and other risk factors — meaning U.S. improvements in life expectancy lagged behind those of other developed countries.
Although tendencies toward positive health behaviors varies by individual, some studies suggest social influence as large risk factors in health, an idea bolstered by geographic variances in physical activity. Among the winners, counties in Kentucky, Georgia, and Florida all reported big gains in physical activity with the highest increase for men in Concho County, Texas, a rise from 41.4 percent in 2001 to 58.2 percent in 2009. For women, the largest increase was observed in Morgan County, Kentucky, spiking from 25.7 percent to 44 percent.
In the study, researchers gauged physical activity as meaningful at 150 total minutes of moderate exercise per week, or 75 minutes per week of vigorous activity.
David Fleming, director and health officer for public health of Seattle and King County, Wash., told reporters that problems arose from systemic failures as well as poor personal choices. "While lack of access to health care and poor quality health care are important factors behind life expectancy, community factors that support healthy eating and active living are also vitally important to health and well-being," Fleming said. "The health system across the U.S. has a critical role to play in community prevention efforts that will help people live longer and healthier lives."
On the individual level, Dr. Ali Mokdad, a professor of global health at the Institute, pointed to obesity as the greatest opportunity for making health gains.
"More aggressive strategies to prevent and control obesity are needed. Diet and changes in individual behavior are key components," Mokdad said. "Understanding local trends in obesity and physical activity in both rural and urban areas will help communities develop successful strategies and learn from one another."
The high rate of obesity in America slowed life expectancy gains seen across the developed world, with great variance by county. Life expectancy for American men ranged by county from a high of 81.7 years in 2010 — up from 75.5 years in 1985 — to under 65 in some places, ranking below Indonesia. For women, life expectancy ranged from 85 years in 2010 as a rise from 81.1 years in 1985, with lowest at 73.
Dr. Haidong Wang, an assistant professor of global health at the Institute, called the increase in life expectancy "slow progress" compared to other countries around the world, and particularly slow progress for women.
In 1,405 U.S. counties, women made no significant gains in life expectancy during the past quarter century, and the same was true for men in 154 counties.
Sources: Wang H, Mokdad A. Left Behind: Widening Disparities for Males and Females in US County Life Expectancy, 1985-2010. PLOS ONE. 2013.
Mokdad A. Prevalence of Physical Activity and Obesity in US Counties 2001-2011: A Road Map for Action. JAMA. 2013.
Published by Medicaldaily.com