Risk Of Peanut Allergies Drops 81% When Infants Are Exposed Early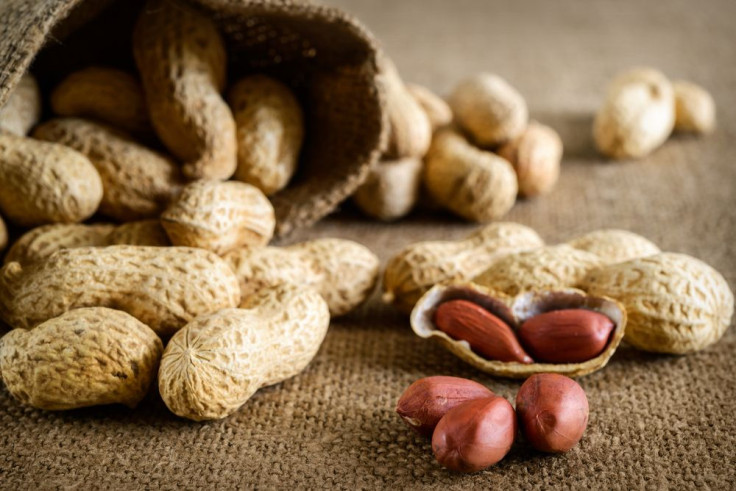 For the nearly four million babies born each year in the U.S., one of the most important things a parent can do is make sure they're healthy in every way. A big part of that includes strengthening their immune systems as much as possible to prevent the onset of allergies or asthma, among other conditions. Breastfeeding is one way — and maybe the best way — to do that, but a new study focusing on peanut allergies has found adding peanut products to the diets of at-risk infants can cut allergy risk by as much as 81 percent.
"Food allergies are a growing concern, not just in the United States but around the world," said Anthony S. Fauci, director of the National Institute of Allergy and Infectious Diseases, which funded the study, in a press release. "For a study to show a benefit of this magnitude in the prevention of peanut allergy is without precedent. The results have the potential to transform how we approach food allergy prevention." Peanut allergies are one of the most common food allergies, and their rates among children more than tripled between 1997 and 2008, making it all the more important that we find a way to prevent them for future generations.
The study, conducted by researchers at King's College London, was called Learning Early About Peanut Allergy (LEAP), and was based on observations that Israeli children had lower rates of peanut allergies when compared to Jewish children living in the UK, whose ancestors were from Israel. They hypothesized that the lower rates were a direct result of earlier exposure to peanuts.
LEAP compared these two groups of infants (over 600 of them) aged 4 to 11 months by splitting them into a group whose diet included peanuts and one that didn't. All infants were considered at risk of allergies either because they had egg allergies already or because of severe eczema — an inflammatory skin disorder. Infants given peanuts were required to eat at least 6 grams of its protein once a week. After five years of this regimen, plus health care providers' visits and dietary surveys, the researchers found an overall 81 percent drop in peanut allergies among those who were exposed.
"Prior to 2008, clinical practice guidelines recommended avoidance of potentially allergenic foods in the diets of young children," said Dr. Daniel Rotrosen, director of the NIAID's Division of Allergy, Immunology, and Transplantation, in the release. "While recent studies showed no benefit from allergen avoidance, the LEAP study is the first to show that early introduction of dietary peanut is actually beneficial and identifies an effective approach to manage a serious public health problem."
Until recently — most likely up until those studies Rotrosen mentions — experts have recommended parents whose children are at risk avoid peanuts altogether until they reach age 3. However, waiting so long could reinforce the allergies. The new findings fall in line with the results of a number of other studies looking into the effects of oral immunotherapy — treatment that gradually acclimates the immune system to allergens — albeit with a younger sample size. In one January study, researchers found that giving peanut-allergic children aged 1 to 10 a gradually increasing dose of peanut protein in their yogurt over 18 months was able to reduce allergies by 80 percent.
The team's next step is to continue their research in a study called LEAP-On, which will determine whether kids who have gone through with the peanut diet are able to stop eating them for a year without the allergies returning. And while the research is promising, parents should still consult with an allergist or pediatrician before giving their kids peanut products — the risk of a severe reaction is always there. Symptoms of an allergic reaction to peanuts include itchy skin or hives, itching and tingling in or around the mouth or throat, nausea, and a runny or congested nose.
Source: Du Toit G, Lack G, et al. Randomized Trial of Peanut Consumption in Infants at Risk for Peanut Allergy. New England Journal of Medicine. 2015.
Published by Medicaldaily.com