Risky Supplements Jack3d And OxyElite Voluntarily Destroyed, Following FDA Crackdown On DMAA Products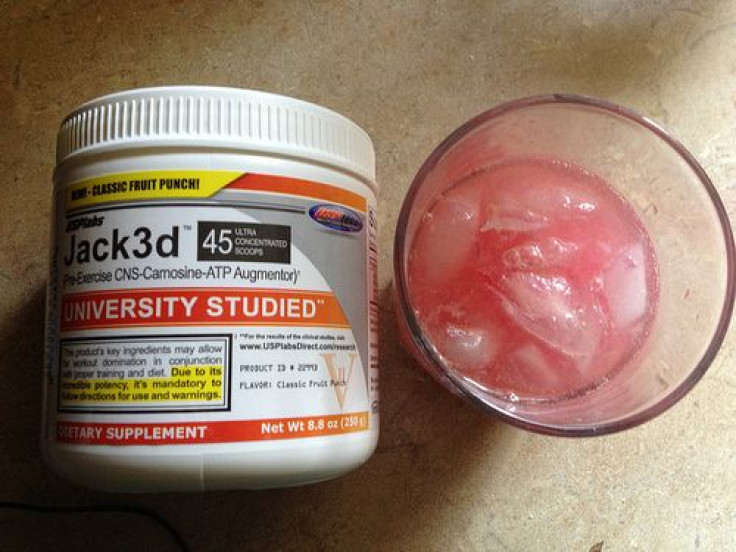 Two popular sport supplements, Jack3d and OxyElite, have been voluntarily destroyed by their manufacturer following the Food and Drug Administration's (FDA) increasing pressure to remove the stimulant dimethylamylamine (DMAA) from the products' ingredients.
The stimulant DMAA is not a proper amphetamine, but the FDA warns people of the extreme health risks associated with its consumption. Manufacturers claim the stimulant is all-natural, likening it to caffeine; however, the FDA claims it can "elevate blood pressure and lead to cardiovascular problems ranging from shortness of breath and tightening in the chest to heart attack," according to a recent statement.
The products' manufacturer, USPlabs of Dallas, priced the supplements at an $8 million retail value. USPlabs has agreed to stop manufacturing products that contain DMAA, as the stimulant is illegal in American-made supplements.
The FDA's crackdown on DMAA began in April, when 86 reports of illnesses and death rolled in from people who had taken supplements with DMAA.
"The illnesses reported include heart problems and nervous system or psychiatric disorders," the FDA said in a statement. "Note, however, that a report is not proof that the product actually caused the problem."
Soon after the FDA sent a Warning Letter to 11 companies producing dietary supplements with DMAA, all but one discontinued their sale. That company was USPlabs. Instead of heeding the FDA'S Warning Letter, USPlabs sent the organization a letter of their own, citing DMAA's safety, which the FDA promptly dismissed as insufficient evidence. The FDA has since ordered an administrative detainment for the products and has asked the company to destroy them.
"We don't want consumers using the products. We think they present a risk to public health," said Daniel Fabricant, the director of the FDA's Division of Dietary Supplement Programs. "We will leave no stone unturned to get them out of the marketplace."
The company ended up destroying the products on July 2 at their company warehouse in Dallas.
Last month, federal prosecutors asked judges in two states to authorize the seizure of more than 3,200 cases of DMAA products from GNC warehouses in Pittsburgh and Anderson, S.C.
So far, GNC, the nation's largest specialty retailer of supplements, has been the only retailer targeted for selling DMAA products, according to GNC spokesman Greg Miller. Miller said he believed DMAA to be a "safe, legal dietary ingredient."
The FDA has not issued a ban on DMAA. Doing so involves a lengthy legal and scientific process under the current statute.
"In the interim, FDA can take direct action by issuing warning letters to industry to obtain removal of ingredients in dietary supplements and protect the public from potentially harmful products," the organization said in a statement. "FDA can also bring a seizure action to remove products from the market or obtain an injunction against a company to prevent it from manufacturing and distributing illegal products."
Published by Medicaldaily.com