Robyn Lawley, Australian Model, Launches Plus-Size Swimsuit Line: Is A Size 8 Really Larger Than Average?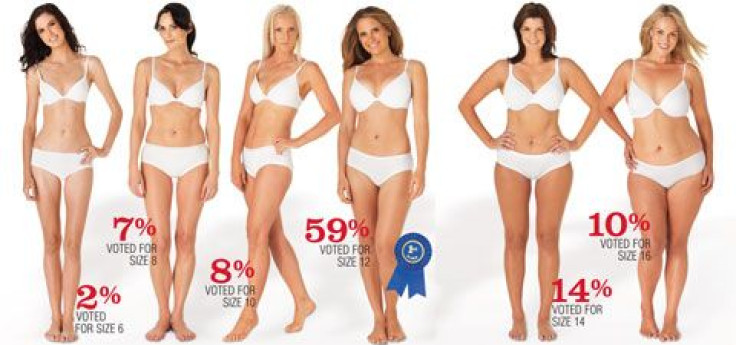 The fashion industry in the United States often has a fairly rigid view of how big or small American women are. While men's clothes can accommodate the slight love handles or overflowing stomach, women's clothes conceal very little. So eyebrows naturally rise when Australian model Robyn Lawley claims that her new swimsuit line, which runs from size 8 to 18, is entirely plus-size.
The debate over standards of beauty in the United States has persisted for decades. It has intensified as popular culture features more models that represent unrealistic standards: skeletal frames, strong, angular jawlines, and minimal body fat. As these images become normalized, to what extent do we lose our grasp on maintaining bodily health, rather than image? Plus-size women may be larger than other people, but that doesn't necessarily mean they're large.
Lawley's swimsuit line, which will debut in August at a starting price of $140, runs from sizes 8 to 18. A plus-size model herself, the 24 year old Australia native says her inspiration came from the shortage of options available to her.
"I also couldn't find any bikinis that supported my bust in the surf, or had a high enough rise in the stomach section to be flattering," said Lawley, who is a size 12 herself. "So the idea was born from my own necessity and grew from there."
Part of a Larger Problem
Lawley's contribution to the plus-size fashion industry is perhaps also a plus-size drop in the overall bucket.
Department stores typically carry 20 or so brands of a plus-size, according to the Los Angeles Times. This is compared to the 900-plus brands they carry in their regular women's clothing department. Designers, for their part, fear producing plus-size clothing, lest their brand become synonymous with obesity.
"Plus-size has been a challenge for the industry for decades," said Marshal Cohen, chief industry analyst for the research firm NPD Group. "When I interview plus-size women, there's really nothing [in the market] that the consumer says they like. Because of this, women in this demographic have learned to make fashion not a priority."
Rarely do women's clothing stores carry items larger than a size 10, despite plus-size models wearing between a 6 and 12. The average dress size in the United States is a 14.
"It's good fashion that everyone wants to buy, and that is what we are desperately in need of in our industry," Aimee Cheshire, CEO of Madison Select Plus, the company producing Lawley's swimsuits, told the Daily News, referring to the plus-size industry as a whole.
Cheshire's sentiments raise an even larger question, one that asks how useful the term "plus-size" is at all.
How Do We Define "Plus-Size"?
Not too long ago, Melissa Field of Yahoo! New Zealand took an image of six women in a line-up, ranging from size 6 to 16, and asked people on the street whose body they thought was most appealing. Overwhelmingly, at 59 percent, people chose the size 12 model.
Garnering 14 percent of the votes, the second place size, 14, fell well below the leader. Still, all three of the larger sizes performed better in the survey than the three smallest sizes.
Lawley's new swimsuit line has hopes of making that demographic even more popular, as she's added bold prints, splashes of color, and flattering lines to draw attention to the wearer's curves. She also has plans in the future to create the swimsuits in larger and smaller sizes.
"I want Robyn Lawley swimwear to be the go-to brand for swimwear for all women," she said.
Critics of plus-size modeling have also blamed the industry for celebrating an unhealthy lifestyle. Clothes that give people room to gain weight, that is, will likely cause them to. However, malnutrition has long been the culprit in thinner models' weight management. On both sides, then, we see body image does not directly relate to body health.
As the fashion industry moves forward, the trend for plus-size modeling has a challenging cycle it must break if it wishes to lose its taboo, Cohen said.
Because plus-size women have been ignored for years, they've stopped actively looking for shopping opportunities. So when retail brands introduce fashion-forward clothes to the market, their efforts are short-lived, thinking less demand exists than actually does.
"Are all big girls supposed to dress like Midwestern farm wives?" asks one reader of the full-figured women's magazine Figure. "We have money - why don't they want to sell to us?"
Published by Medicaldaily.com