Running The 2015 TCS New York City Marathon With Team For Kids; How One Charity Is Helping Thousands Of Kids In School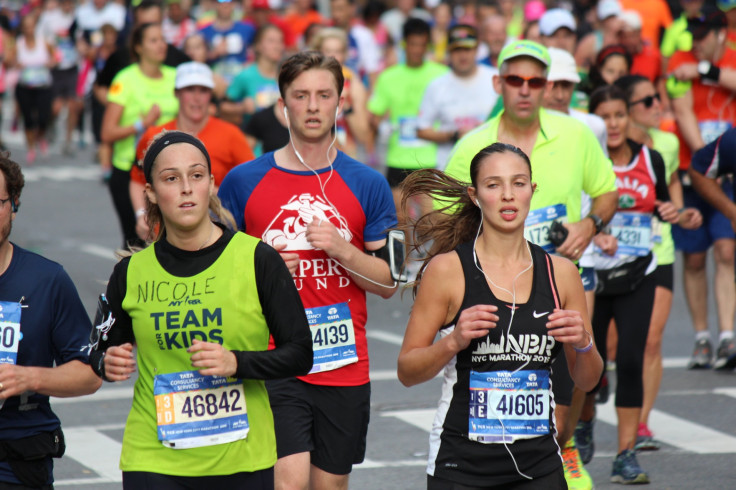 On a cool October morning, less than a month away from the 2015 TCS New York City Marathon, 45 children from the Bronx's P.S. 159 elementary school lined up for sprints. I felt a small hand touch the side of my thigh lightly and looked down to see a girl with big brown eyes looking back up at me.
"Thank you for coming," she said, showing a wide, toothy smile before running back to the basketball court to join the other children. She is one of 200,000 children in the United States who benefit from New York Road Runners' (NYRR) Team for Kids charity, an official partner of the marathon that provides free running programs to more than 800 schools and community centers each year.
NYRR serves 120,000 youth in New York City alone. As Team for Kids runners train for an arduous 26.2-mile run through the city's five boroughs, they fundraise to support kids in running programs, many of whom have no access to regular physical activity. Anyone involved with the team will tell you the charity "adds meaning to their miles."
When I first committed to Team for Kids and the miles and dollars began accumulating, I immediately realized I was experiencing the underbelly of the New York City marathon. By the time the cannon fired on Nov. 1 to signify the start of the race, more than 300 charities had raised nearly $35 million in donations. But it wasn't until I met the children who benefited from the program that my understanding of the fundraising widened. This was more than just a marathon.
Coaches Beyond Running
On the day I visited a NYRR-funded running program, I met 9-year-old David Castelan, a fourth-grader who loves math, learning from his coaches, and seeing new places when he runs. Nearly one-third of New York City's public schools have no full-time physical education teacher, and 30 percent of the schools lack a space for physical fitness. For schools that share their building with another school, 80 percent have no space for physical fitness. David attends one of those schools. Teacher and marathon runner Sally Bojorquez wanted more for her students.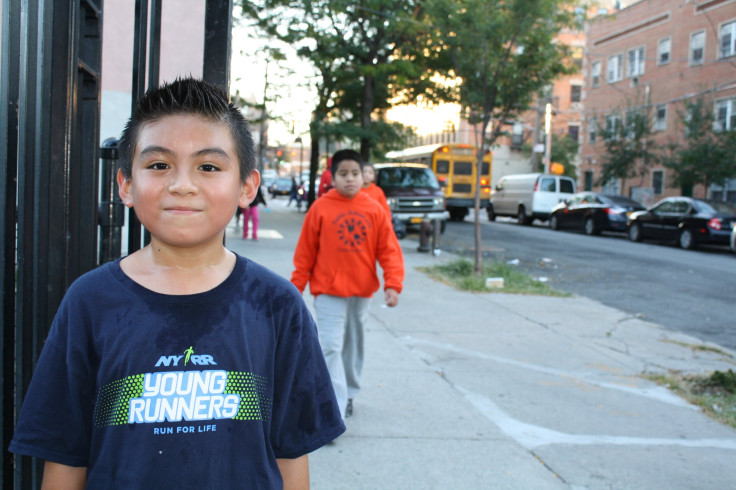 "I was just looking online and this program made the most sense for our school," Bojorquez told Medical Daily. "I feel like it runs itself because the kids are super motivated, they show up so early in the morning for practice, and we have great parent support. They're a team with school spirit and they look forward to the races."
Bojorquez wakes up early to coach the kids on a volunteer basis. With limited resources and no indoor gymnasium, she uses the blocks of the city as a running track and a nearby basketball court for her students to practice. NYRR began funding the program at the school three years ago. Bojorquez, along with her school's Principal Luis Liz, were of the 100 NYC teachers to run in the marathon this year, deepening their commitment to the program as role models.
Their impact was reflected in what another 9-year-old, Edmaris Cosme told me after she finished her run: "It feels fun and really cool because you see your friends in the morning and get coached by amazing teachers. They help us by encouraging us and when we do our best they're proud of us. One of the things I learned that Mr. Liz says is when you're cheating you're cheating yourself and to encourage others to believe in themselves."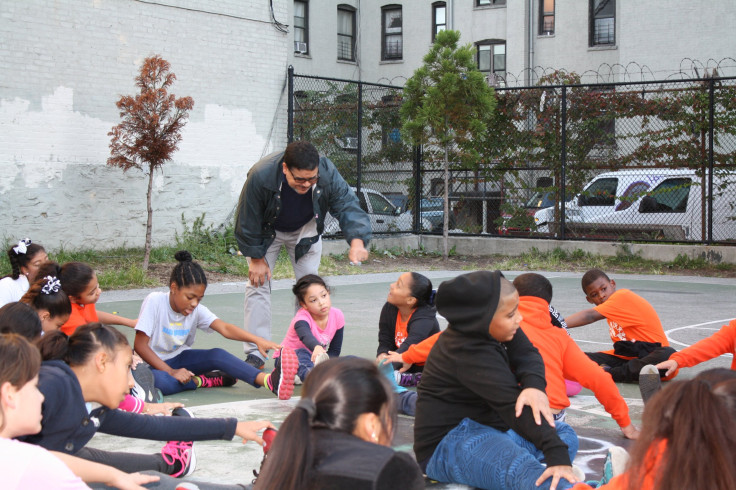 It's a message that transcends through all levels of the NYRR's programs. Vice President of Development and Philanthropy Michael Rodgers fosters that exact mission. He oversees programs like Team for Kids and ensures the funds raised by the charity are allocated to the running programs effectively and to maximize the resources and events for the 200,000 kids who benefit.
I stood in the stands at Van Cortlandt Park in the Bronx and smiled as Rodgers cheered children of all ages across the finish line of a 5k. We stood along the windy track where I listened to what a profound impact his job has had on him after three years of involvement with the running programs. As a marathon runner and triathlete himself, he recognizes and values the structure running can instill in a child's life.
"You have to make choices and that's one of the things I tell the kids in the programs," Rodgers told Medical Daily. "'You have a choice. You can do your homework and focus on your sport and choose to do well. You can choose to not do your homework, hang out on the corner, not listen to your parents, but whatever you choose there's consequences. You always have a choice.'"
One year, he recalls, NYRR hosted a shoe give away as part of the afterschool running program. For every $50 donation, a child received a new pair of running shoes provided by the charity's sponsors. Afterward, the kids laced up their shoes and followed Rodgers outside for a mile run. One kid stuck out in his head.
"There was a young guy who was in jeans and a polo shirt," he said. "He ran a 5:46 mile. I tell you what he was wearing because he didn't have running shoes or a running shirt, so a free pair of running shoes changed that 15-year-old kid's world."
Miles Of Meaning
Putting a child in a race and showing them how hard work and dedication can translate into achievement is invaluable. Gail Kislevitz was one of the key players to lay the groundwork to enable such potential. In 2001, she started working for NYRR's development and philanthropy division and one year later, in 2002 Kislevitz helped build the biggest charity the New York City marathon has ever seen.
In its first year, Team for Kids had 141 team members who were able to raise $190,000 in donations. Today, in 2015 and over 1,700 members strong, they have fundraised more than $5 million for youth running programs in New York City and beyond.
"I took the first bus to the start line, and we've just grown," Kislevitz recalls. "To see that growth and to be a part just means the world to me. We knew we had some big shoes to fill from the charity world and from the beginning our philosophy was to treat everybody as an individual, to understand their goals and help them achieve what they set out to do."
As a coach for Team for Kids and marathon runner herself, Kislevitz works hard to bring a person from zero to marathon ready in 23 weeks, along with a group of certified coaches. Each Team for Kids member is offered individualized training in order to get them to their goal and across the finish line successfully. On marathon morning, I watched Kislevitz's energy fill the tent at the start village. She described watching the runners, who were once afraid of the daunting 26.2 miles that lay ahead of them, line up for the race that morning was like "sending her kids off to their first day of school."
Her job goes beyond preparing the runners for race day. Kislevitz also works closely with the youth in underserved schools and communities, by visiting schools and interviewing them on their backgrounds and learning how running has changed their lives.
"Since I've been doing this for so long, I started interviewing those kids when they were 8. Some are now in college and some of them are doctors, lawyers, and entrepreneurs. Every single one of them attributes their success to the running programs. Today, when I go to visit a school, you can tell which kids are in the program. They have been taught so many valuable life lessons already. It gives me shivers because I know how their lives are going to be enhanced through running."
Without Team for Kids' donations, the running programs would no longer exist for these children. Top fundraiser and 30-time marathon runner Drew Swiss embodies Team for Kids' commitment to improving the lives of children, because he was one of those kids growing up in Brooklyn. After a childhood of junk food, Swiss became serious about running and it turned his life and health around.
Swiss, a husband and father of four, has been fundraising and running for Team for Kids since 2007. As the vice president of finance for Montefiore Medical Center, organizing donations quickly became a systematic process. Every year he sends out thousands, "literally thousands of emails to every person I've ever come in contact with asking for donations," he told Medical Daily.
His hard work and dedication are the reasons why he was able to raise well over $80,000 this year and reserve his spot as Team for Kids' biggest fundraiser to date. Without corporate sponsorship, Swiss met and exceeded his fundraising goals thanks to careful planning and a culmination of individuals' generosity. Since his involvement, he's raised roughly half a million in funds for the charity.
"The first article that was ever written on me was by a local Westchester paper in 2008," Swiss said. "My son Robbie at the time was 9 years old and I showed him the article. I said, 'You see this, Robbie? When you get to a point in your life when you can give back, you have to do the right thing.' So, he went upstairs and when he came downstairs he gave me a dollar. He said, 'I want to help, Dad.'"
Team for Kids has fostered hundreds of thousands of children's lives and inspired countless runners to affect change in a little over a decade. As I ran in the New York City marathon with a Team for Kids jersey on and heard cheers from the children, I became acutely aware of the impact this charity had already made, not only the five boroughs of the city, but on who those children in the crowd would become one day.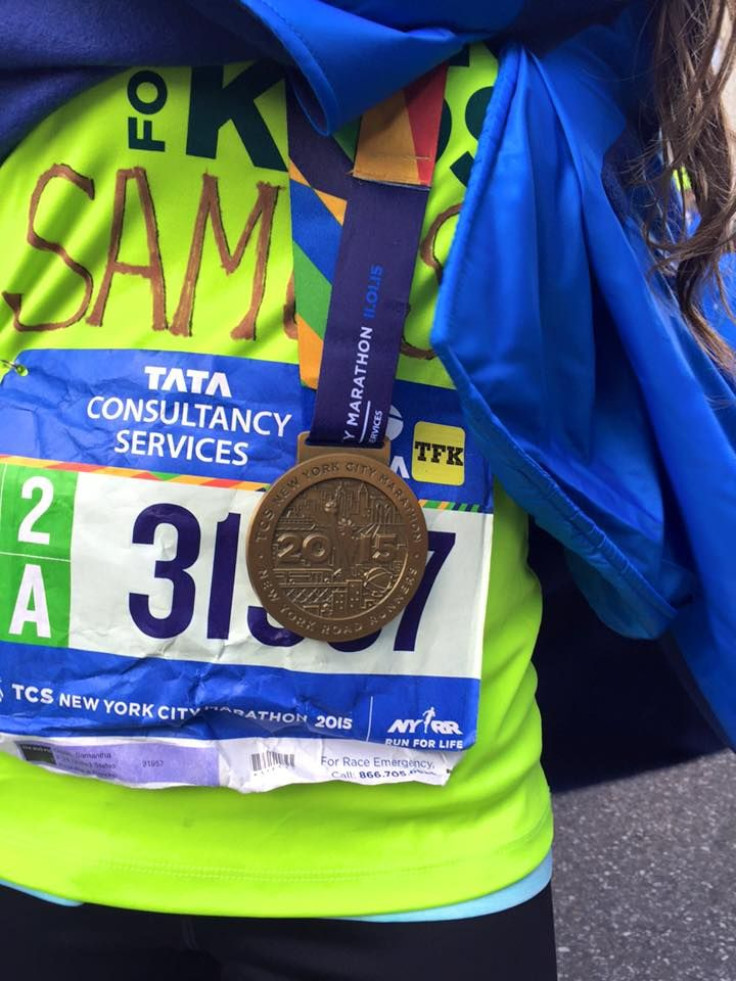 Published by Medicaldaily.com