Russian Performance Artist Nails Scrotum To Cobblestone Street In Protest Of 'Police Day'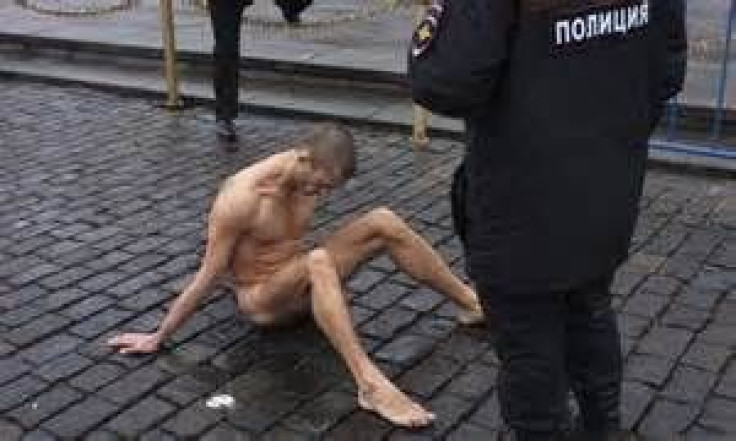 Pyotr Pavlensky, a Russian performance artist known for self-mutilating acts in the name of protest, nailed his own scrotum to the cobblestone street outside of the Lenin's Mausoleum in Russia's Red Square on Sunday. The 29-year-old's latest form of protest was meant to coincide with Sunday's "Police Day," a celebration of Russia's law enforcement community.
After police officers removed Pavlensky from the street, he was immediately transported to a nearby hospital, where he received basic treatment. He refused to be admitted to the hospital and was taken to the police station to be booked for his actions.
On Monday, the St. Petersburg-based performance artist faced the possibility of 15 days in jail as he stood trial at the district court in Moscow. However, he was freed from police custody after the judge decided documents had been improperly presented, BBC reported.
"The performance can be seen as a metaphor for the apathy, political indifference and fatalism of contemporary Russian society," Pavlensky said in a statement, according to The Guardian. "As the government turns the country into one big prison, stealing from the people and using the money to grow and enrich the police apparatus and other repressive structures, society is allowing this, and forgetting its numerical advantage, [and] is bringing the triumph of the police state closer by its inaction."
Pavlensky has been known for similar acts of self-mutilation to shift the public's attention towards political issues. Back in 2011 he sewed his lips shut to protest jail sentences given to two members of the Russian feminist band Pussy Riot. This past May he wrapped his body in barbed wire outside of St. Petersburg cathedral.
Published by Medicaldaily.com