Ryan Green's Video Game 'That Dragon, Cancer' Teaches Empathy, Helps Father Cope With Son's Illness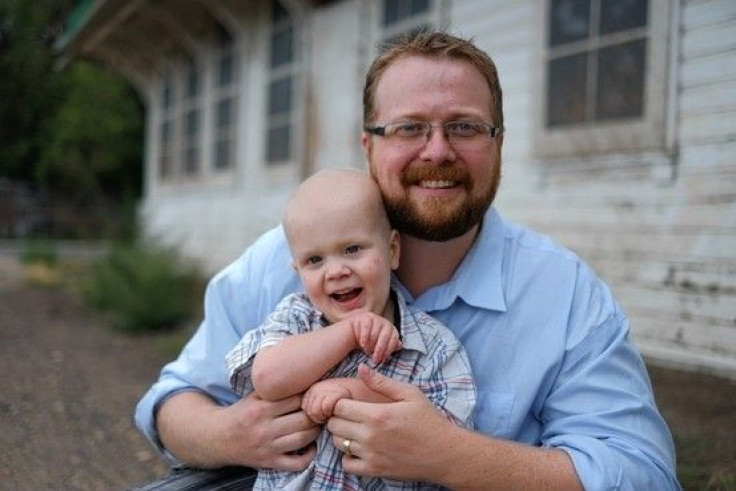 Ryan Green is trying to stop his son Joel from crying. He picks him up and cradles him, but that only makes the boy more manic. He tries to offer Joel some juice. He vomits it back up. Green goes to the window, out of options, and prays.
A Game To Open Eyes
This scenario mirrors countless others that Green and his son have played out in real life. The above example is, in fact, a simulation co-designed by Green and partner, Josh Larson, in a video game called That Dragon, Cancer. The game is an "empathy game," a departure from traditional big budget shoot 'em ups aiming mainly to kill, kill, kill. Green wants people to play his game and learn to save.
The veteran programmer's son is four years old, although doctors first found an atypical teratoid rhabdoid tumor (AT/RT) at the age of one. The cancer, a rare form usually diagnosed in childhood, led doctors to a grim prognosis. They told Joel's parents that he had only four months to live. Three years later, Joel has won several battles against the cancer, which affects his central nervous system (CNS) and carries a 60 percent survival rate, but he has since developed nine subsequent tumors.
Caring for Joel is a struggle that Green wants everyone to experience, at least virtually. In a medium that seems to holistically embrace death and destruction, he wants people to confront human emotion in a meaningfully positive way. Often, this means checking expectations at the door.
"I'm asking you to walk along with me," Green told NBC News of the game, the name of which comes from the way he and his wife refer to cancer as a "dragon" to their other three sons. "I want to show people what the face of fear looks like. I want people to love my son like I love my son."
After manipulating Green's avatar around a hospital-like setting, taking periodic gulps of sadness, Hannah Armbruster, 20, walked away from the computer emotionally drained, the Wall Street Journal reports. "Whoo," she said, rubbing her forehead. Armbruster was spent, but the fresh perspective was no doubt fulfilling.
"There's something really satisfying about experiencing narratives that are outside your own experience," she said.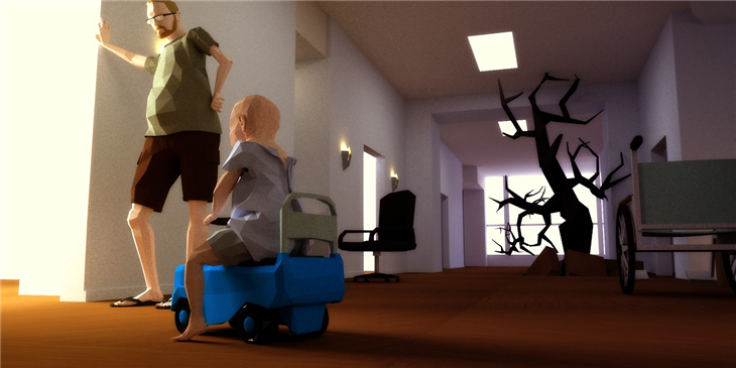 Facing Cancer In Pixel Form
The premise of That Dragon, Cancer is mostly unadorned, and it's by design. The game strays from the typical goal of reaching a boss or a final battle, instead offering few frills, closer to real-time. There are no bells or whistles, just the sound of virtual Joel emitting virtual pleas for help — much like when he was severely dehydrated in real life, but couldn't receive help because he was too sick to keep food down.
The gameplay continues to proceed in this manner. A user's only goal is caring for Joel. And unlike other empathy games that let players virtually "shoot" cancer cells, Green says those experience detract from real life, so he wanted to create scenarios where people aren't equipped to battle cancer. What then?
"I hate that he's sick," Green's avatar thinks to himself. "I just want him to feel better."
Accompanying these lows are the immeasurable highs, which Green says keep him going in spite of all that has happened to Joel, like "when your son who has had spinal tumors and was almost paralyzed walks at 3 years old," he told The Huffington Post, "and when he learns a new word, and just the simplicity of holding him or hearing him laugh."
Green says his goal in creating an empathy game isn't to scare people, but to make them confront their current fears. Death is inevitable, he explains, but accepting that inevitability can be emotionally liberating. This is particularly true for Green, whose Christian faith has guided him to incorporating religious components in the game, such as when the father turns to prayer.
A Father's Hopes
Theology aside, the reality of cancer is that exercising control over one's life often becomes a tireless struggle. Tumors arise seemingly overnight. Doctor visits only seem to bring bad news. Green says the video game is meant to encourage people to confront these emotions earlier than they have to, to make the personal realization that life's successes can't always be measured by kills or points.
"You realize 'I can't solve this.' As a player that's jarring. In games you're used to thinking that if you're good enough you can solve the puzzle. The thing you learn quickest with cancer is it's out of my hands," Green told the Wall Street Journal. "I can love him. I can't fix him."
Published by Medicaldaily.com