Ryan Suffern, 8-Year-Old, Asks Santa To Stop Kids From Bullying 140-Lb. Twin Sister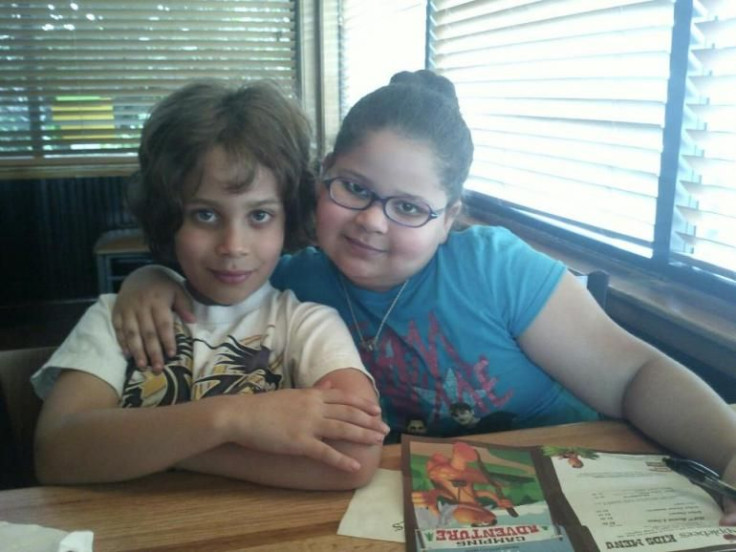 Amber Suffern, an 8-year-old struggling with eating and weight issues, was often bullied at school, but her mother wasn't fully aware of the problem until she read a letter to Santa penned by Amber's twin brother.
Karen Suffern, a single mother, had asked her two children to make a Christmas list early. Her son Ryan's letter brought tears to her eyes: "I wanted a [remote control] car and helicopter but I don't want that anymore," he wrote. "Kid at school are still picking on Amber and its not fair. I prayed that they will stop but god is bisy and needs your help." He also told Santa that if the boy band, Big Time Rush, came to Amber's birthday party, it would make her happy.
Ryan ended the letter noting, "My mom throws the best birthday parties. You can come if you want."
The letter to Santa has become viral in light of the most recent suicide caused by cyberbullying, that of 12-year-old Rebecca Sedwick, who jumped off a building after being bullied by girls online for up to a year.
Karen, touched by her son's letter, posted it to Tony Posnanski's Facebook page to share it with others. Tony Posnanski is a writer who has chronicled his experience losing 220 lbs., and connected with Ryan's letter, as it reminded him of his own childhood struggles with bullying.
With bullying, social media can be both a danger — providing an easy platform for bullies to congregate and pick on someone — but it can also be a blessing. In the past few days, after Posnanski shared Ryan's letter, major news outlets across the U.S. have picked up the story.
Social media has also brought Ryan's and Amber's supporters together to start Facebook pages hoping to gather donations for the Suffern family. Even a page aiming to convince the boy band, Big Time Rush, to play at Amber's birthday party has been created.
"I am blessed Karen let me share her story and get it viral," Posnanski posted on his Facebook, which has over 29,000 Likes.
Karen Suffern believes parents should take more responsibility in stopping their kids from bullying.
"If my kids don't call names and pick on others, I would expect other parents to teach their kids to be respectful, too," Karen Suffern told CNN. "There have been times my kids would point at others and say, 'why is her hair so strange' and things like that, and I would say, 'You know, people are different, and that is just the way they are.'"
Studies have shown that physical, verbal, and online bullying can cause mental health problems and anxiety issues later on in life. Though anti-bullying laws do exist, bullying still remains a large problem that affects millions of children each year.
In 2011, the U.S. Department of Education released a report that reviewed the approaches in 46 states that had anti-bullying and cyberbullying laws. "From 1999 to 2010, more than 120 bills were enacted by state legislatures from across the country to either introduce or amend statutes that address bullying and related behaviors in schools," the U.S. Department of Education states on its website.
To see what states have laws and policies regarding both bullying and cyberbullying, visit stopbullying.gov.
Published by Medicaldaily.com