Salmonella Alert: Chicken Parts More Likely To Be Contaminated Than Whole Chickens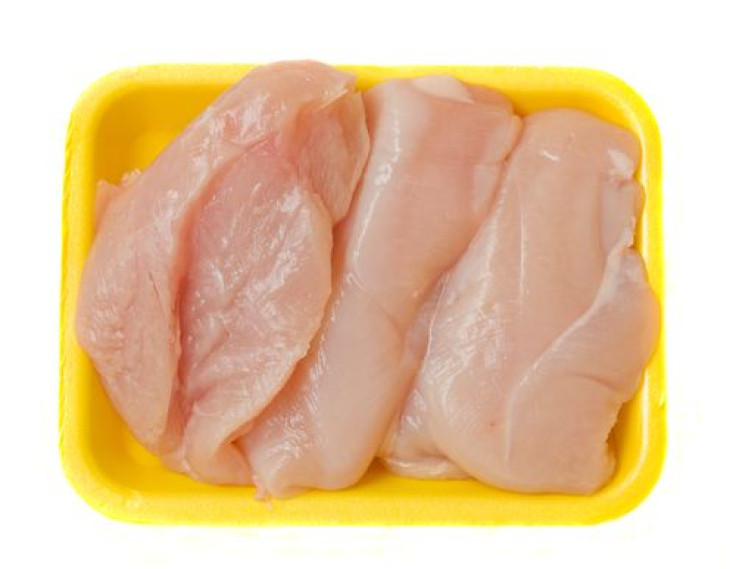 A recent outbreak of Salmonella poisoning linked to Foster Farms chicken infected, as of Jan. 15, a total of 430 people from 23 states and Puerto Rico. The outbreak involved seven separate strains of Salmonella Heidelberg, which is known to be resistant to several commonly prescribed antibiotics. No deaths were reported, but 38 percent of those infected were hospitalized and though nothing can change what happened to them, one positive has resulted from this food horror story: The general public is now becoming aware of the fact that the U.S. Department of Agriculture (USDA) standards for Salmonella contamination apply only to whole chicken carcasses, not chicken parts.
In other words, when you buy packages of chicken breasts, thighs, drumsticks, or wings, there's a greater likelihood they will be contaminated with Salmonella than when you purchase a whole bird.
Symptoms of Salmonella
Nearly 42,000 cases of Salmonellosis (commonly referred to as Salmonella poisoning) are reported in the U.S. each year, but the Centers for Disease Control and Prevention believes the actual number of infections may be 29 or more times greater because so many milder cases are never diagnosed. Children are most likely to get Salmonellosis, while young children, the elderly, and the immunocompromised, such as people on chemotherapy, are the most likely to have severe infections. Public health officials estimate roughly 400 persons die each year due to Salmonella poisoning.
Of the 2,400 different strains of Salmonella — a type of bacteria which naturally occurs in plants, animals, water, soil and even the human body — most do not cause illness in humans. Infection with illness-causing Salmonella, though, commonly causes diarrhea, fever, and abdominal cramps 12 to 72 hours after consumption. The illness usually lasts four days to a week, and most people recover completely without treatment. For some people, it may take several months before their bowel habits return to normal. In other cases, though, the diarrhea may become so severe that hospitalization is required. The Salmonella infection may spread from the intestines to the blood stream, and then to other parts of the body; in such cases, a person must be treated with antibiotics otherwise death might occur. Some poisoned people develop reactive arthritis which causes joint pain, irritated eyes, and painful urination. The symptoms may last for months or even years, and can lead to chronic arthritis. Antibiotic treatment does not influence whether or not a person develops arthritis.
To avoid Salmonella poisoning, poultry must be cooked sufficiently; the internal temperature of poultry needs to reach 165 degrees, which can be verified by using a meat thermometer. The chicken industry believes that consumers bear some responsibility in appropriately preparing poultry as it would not be feasible to do away with Salmonella completely on the production end.
USDA Regulations
In 1998, the USDA contamination standard was that no more than 23 percent of whole chickens in any processing plant could test positive for Salmonella. When the agency lowered the limit to 7.5 percent in 2011, it did not follow that fewer people became sick with salmonella poisoning. "Just about everybody buys [chicken] parts," Robert V. Tauxe told The Washington Post. He is the CDC's deputy director for the division of food-borne, water-borne, and environmental diseases. He added, "If you look at how much Salmonella is on the parts, there's a lot more than is on the whole carcass."
Two years ago the USDA collected data and found that 24 percent of parts were contaminated with Salmonella — nearly four times the amount as on chicken carcasses. When the USDA tested chicken parts produced at three Foster Farms facilities in California responsible for the recent outbreak, they also found 24 percent contamination. As soon as this year, the USDA told the Washington Post, new standards regulating chicken parts may be instituted. Until then, consumers would be wise to properly cook and clean their kitchens each time they prepare a meal of poultry.
Published by Medicaldaily.com