Salmonella Outbreak In 22 States Linked To Fresh Diced Onions: Know Signs Of Infection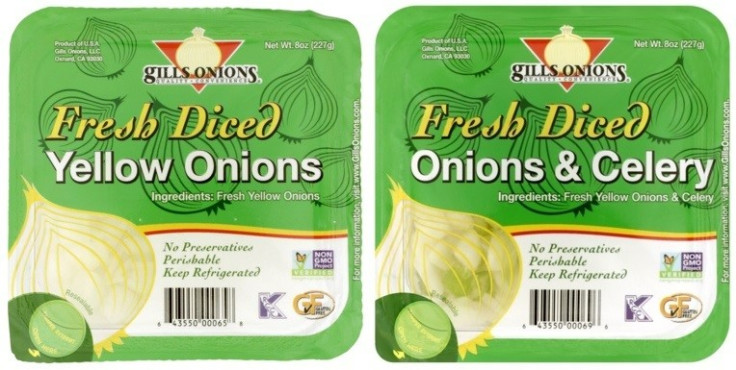 A salmonella outbreak has affected at least 73 people across 22 states, with 15 of them requiring hospitalization. The Centers for Disease Control and Prevention (CDC) has issued a warning and recall notice for fresh diced onions linked to the outbreak.
Salmonella infection is a common bacterial disease that affects the gut. People typically contract the bacteria through contaminated water or food and may develop diarrhea, fever and stomach cramps. In most cases, the patients may recover within a week. However, in some instances, infection can lead to complications such as dehydration and become life-threatening when it spreads to other organs.
The latest outbreak has been linked to precut and diced onion products sold by Gills Onions. The now-recalled products have already past their use-by-dates and are not available for sale at stores. Officials warn people not to eat them and dispose of them if they have stored any.
"Check your freezers and refrigerators for recalled onion products. If you have any, throw them away or return them to where you bought them. Do not eat them. Although the recalled products are beyond their August 2023 use-by-dates, people may have frozen them to use later," the CDC said in a news release.
Signs of salmonella infection
An infected person can develop signs such as nausea, stomach cramps, diarrhea, vomiting, headache, chills and fever within hours after contracting the infection. The incubation period can be up to six days.
Once the symptoms appear, the infection generally lasts for a few days to a week. However, if diarrhea persists for more than three days or there is a high fever or continuous vomiting and bloody stool, the patient needs immediate medical attention. Watch out for signs of dehydration such as decreased urination, dizziness and dryness in the mouth.
Know important facts
Food contaminated with salmonella does not look or taste any different.
Although the infection is usually mild, young children, older adults and people with a weakened immune system and underlying conditions such as diabetes, liver or kidney disease, and cancer can develop complications.
Salmonella bacteria can live in pets and animals that are healthy.
It is not just a zoonotic infection that spreads from animals but can also spread from person to person. Maintaining hand hygiene after touching animals can help prevent the spread.
The infection is more common in warmer weather.
Published by Medicaldaily.com