Salmonella Outbreak Forces CDC To Call On Workers, Despite Government Shutdown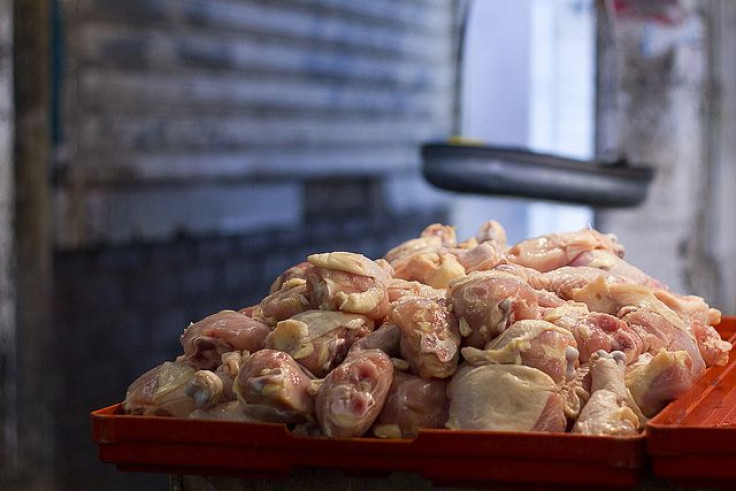 Fears over the Centers for Disease Control and Prevention's (CDC) inability to track foodborne disease outbreaks may have been realized as nearly 300 people fell ill from Salmonella Heidelberg this week. But the agency has now called back some of its furloughed workers to try to halt the spread of the outbreak.
As of Sunday, the CDC's PulseNet, which is responsible for tracking clusters of outbreaks, had only one staff member — down from eight — and a week ago, one CDC official told Wired, "I know that we will not be conducting multi-state outbreak investigations. States may continue to find outbreaks, but we won't be doing the cross-state consultation and laboratory work to link outbreaks that might cross state borders." The outbreak is linked to three production sites owned by the firm Foster Farms, and has affected 18 states across the country, including California, Colorado, Florida, and Connecticut.
But as the severity of the outbreak emerged, 30 furloughed workers, including the other seven PulseNet employees, had to be called back to work. The outbreak has already caused 278 people to fall ill, 42 percent of whom were hospitalized — an unusually high number. It was also discovered that some of the seven strains of Salmonella involved in the outbreak were antibiotic resistant.
"That's a high percentage," Barbara Reynolds, a CDC spokeswoman, told USA Today. "You would expect about 20 percent hospitalizations with Salmonella Heidelberg." Salmonella was identified by the CDC as a serious threat to antibiotic resistance last month. Because of this resistance, the frontline antibiotics that a spokeswoman for Foster Farms said would work — including ampicillin, chloramphenicol, and tetracycline — aren't working.
Of these patients, 13 percent are suffering from Salmonella septicemia, a life-threatening full-body inflammation, Caroline Smith DeWaal, food safety director of the Center for Science in the Public Interest, told USA Today. "This outbreak shows that it is a terrible time for government public health officials to be locked out of their offices and labs, and for government websites to go dark," she said. Those government employees still furloughed don't have access to their offices, labs, or emails, and risk termination should they even attempt to access them voluntarily.
In a statement, the Food Safety and Inspection Service (FSIS) announced that it was "unable to link the illnesses to a specific product and a specific production period." But it noted that products in question contained one of the following establishment numbers inside of the U.S. Dept. of Agriculture mark of inspection or somewhere else on the package:
· P6137
· P6137A
· P7632
Foster Farms also released a statement on Monday saying that the company was "working in partnership with USDA Food Safety and Inspection Service and Atlanta-based CDC to reduce incidence of Salmonella Heidelberg on raw chicken products produced at three company facilities."
Published by Medicaldaily.com