Salt Levels In Food Products Are Still Dangerously High, Study Says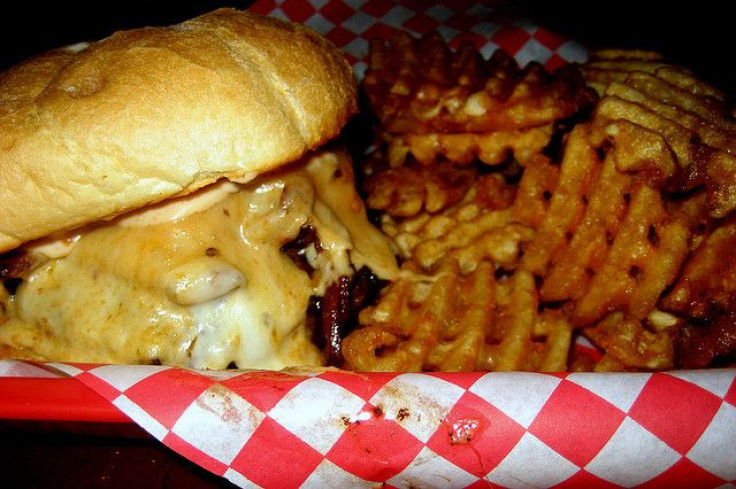 Salt levels increased at most fast-food restaurants and in processed foods from 2005 to 2011 , according to a new study in JAMA Internal Medicine.
The National Institutes of Health (NIH) recommends that people reduce their sodium intake to curb their chances of developing hypertension. The American Heart Association estimates that 75 million people suffer from hypertension in the U.S., which puts them at risk for heart disease and stroke. Almost 80 percent of dietary salt for most consumers comes from the processing of restaurants foods.
"To our knowledge, this is the only survey that provides information on the sodium level of several hundred individual products over time," the authors wrote.
Several public and private agencies — including the U.S. Department of Agriculture, the World Health Organization, and American Heart Association — have called for the food industry to reduce sodium levels voluntarily. This report shows that those recommendations are being largely ignored.
The researchers recorded the salt content from 402 food products found in grocery stores and downloaded the nutritional information from 78 fast food restaurants (see partial list of surveyed products below). Data was collected in 2005, 2008, 2011.
While some food items had dramatic decrease in salt content of at least 30 percent, a larger majority showed increases of more than 30 percent. Salt levels climbed at fast food places by 2.6 percent, but declined amongst foods in markets by 3.5 percent. Overall sodium content, however, did not have a statistically significant change over the six years.
"The voluntary approach has failed," said co-author Dr. Stephen Havas, a research professor of preventive medicine at Northwestern University Feinberg School of Medicine. "The study demonstrates that the food industry has been dragging its feet and making very few changes."
The salt content in french fries at fast food restaurants grew by a third from 2005 to 2011, making fries among of the worst offenders. A McDonald's quarter pounder with cheese had 34 percent more sodium than Burger King's original whopper with cheese.
Several companies, however, plan to cut the salt in the products in the future. Wal-mart has asked its food suppliers to lower their salt levels by 25 percent by 2015, for instance.
The authors are challenging more companies to follow suit, but believe that government intervention is also required.
"To protect the health of our patients, prompt, strong regulatory action to lower levels of sodium in processed and restaurant foods is necessary," wrote the authors. "Those limits should be lowered gradually over the next 10 years to ensure that we meet at least a 50 percent reduction in sodium intake."
Large chain restaurants surveyed in the study include: Arby's, Au Bon Pain, Blimpie, Burger King, Chick-fil-A, Domino's Pizza, Hardee's, Jack in the Box, KFC, Little Caesars Pizza, McDonald's, Panera Bread, Papa John's Pizza, Pizza Hut, SUBWAY, and Wendy's.
Source:
Jacobson MF, Havas S, McCarter R. Changes in Sodium Levels in Processed and Restaurant Foods, 2005 to 2011. [published online ahead of print May 13, 2012]. JAMA Intern Med. doi:10.1001/jamainternmed.2013.6154.
Published by Medicaldaily.com