Sam Bradford, Rams QB, Sidelined By Torn ACL Injury: Could Tim Tebow Be On St. Louis Roster Soon?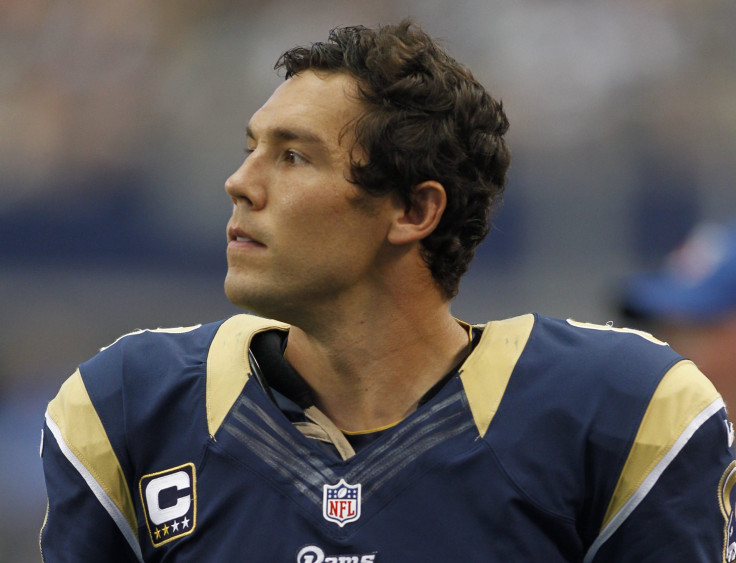 The sight of Sam Bradford, St. Louis Rams quarterback, being carted off the field late in the fourth quarter Sunday marked the player's end of the season — and possibly the Rams' too.
Bradford suffered a torn anterior cruciate ligament (ACL) injury on his left knee as he scrambled toward the sideline on a second-down play with 5:27 left in the fourth quarter. Carolina Panthers safety, Mike Mitchell, pushed Bradford before he stepped out of bounds, which caused the QB to land in an uncomfortable position on his knee as he quickly fell on the field.
Rams Coach, Jeff Fisher, did not want to speculate what happened to Bradford, when he said, "It makes no sense to rush to a conclusion until we know. We'll get a medical, and then we'll go from there. He was in significant pain on the sideline," ESPN reports.
On Monday, the Rams organization announced that an MRI confirmed the extent of the damage that Bradford suffered.
According to the
Mayo Clinic
, ACL injuries most commonly occur during sports that involve sudden stops and changes in direction. Patients will often hear or feel a "pop" sound upon injury accompanied by knee swelling, severe pain, and the inability to continue activity. An ACL tear will not allow the patient to have a stabilized knee joint since the ligament that connects the thighbone (femur) and shinbone (tibia) is torn. This type of injury could take two to three months after surgery to fully heal and allow the patient to ease back into sports activities.
The injured Rams QB was 21-of-30 for 255 yards with a touchdown and an interception. Bradford's replacement, Kellen Clemens, came onto the field and was 2-of-4 for 19 yards. If the Rams decide to start Clemens, then they will need to sign another QB since they were only carrying two quarterbacks in their roster and practice squad.
The Rams could possibly not be in the postseason after the devastating loss of their starting QB and Sunday night's 30-15 loss against the Panthers. The organization is now scrimmaging to find a QB with former Denver Broncos and New York Jets QB, Tim Tebow, being one of the names "discussed" as the Rams' possible roster addition.
A Rams source allegedly told Michael Silver, NFL media columnist, that the team has internally discussed the possibility of signing Tebow, although it is unlikely it will happen, NFL.com reports. Tebow has yet to find a team since his release by the New England Patriots in August.
The Rams are currently 3-4 and third in the NFC Western Division as they prepare to face the Tennessee Titans who are 3-4 on Sunday, Nov. 3.
Published by Medicaldaily.com