Same Sex Marriage Poses No Harm To Opposite Sex Marriage; May Be Beneficial To Health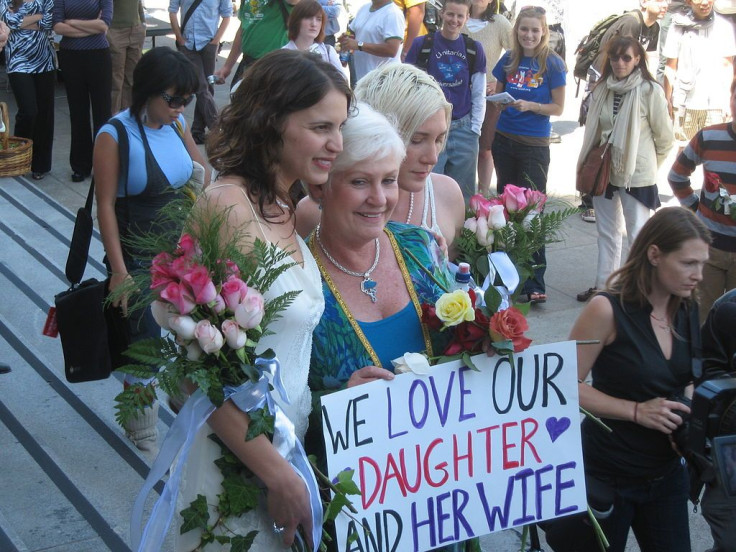 One of the principle arguments against same-sex marriage is that it would weaken or destroy marriage for everyone, but a look at the numbers shows that allowing gay couples to marry has no effect on rates of opposite-sex marriages. The study highlighting the findings also brings attention to health benefits that same-sex couples and their children would enjoy if legally granted the right to marry.
Authors Alexis Dinno and Chelsea Whitney of the School of Community Health at Portland State University found that same-sex marriage, as well as strong and weak same-sex unions, had no effect on rates of opposite sex marriage. Their findings were reported this week in the journal PLOS One.
Investigators analyzed marriage data from 50 states and the District of Columbia from 1988 to 2009, using data from the National Center for Health Statistics and U.S. Census. Using mathematical modeling, the compared rates of opposite sex marriage within states before and after allowing same-sex marriage or same-sex unions.
State legislation allowing for or banning same-sex marriage, civil unions, and domestic partnerships gave rise to categories for analysis. Same-sex marriage is currently legal, or will be later this summer, in 12 states and the District of Columbia. Some form of domestic partnership or civil union exists in eight other states. In contrast, 30 states have passed forms of the federal 1996 Defense of Marriage Act, currently under review by the U.S. Supreme Court. The Act limits marriage, defining it only as a partnership between one man and one woman.
After accounting for other changes in marriage rates, which are far from static, researchers found that same-sex marriage, civil unions, and domestic partnerships, had no effect on rate between opposite-sex couples.
Moreover, researchers had reason to believe that opposite-sex marriages might increase once similar rights are conferred to gay couples. Since gay marriage has been a polarizing political issue, many heterosexual couples and religious organizations stated they would boycott marriage until gay couples are eligible for the same rights. A number of church congregations across the country — notably from United Methodist, Unitarian Universalist, and United Church of Christ denominations — have boycotted issuing marriage licenses. A few celebrities have taken up the cause; Brad Pitt told Esquire that he and Angelina Jolie are delaying their marriage in support of gay rights.
Marriage As A Social Determinant Of Health
For LGBT allies and proponents of same-sex marriage, the findings aren't much of a surprise. But they do bear importance, as marriage is considered a fundamental determinant of health for married individuals and their children.
Across the lifespan, married individuals report fewer health ailments, greater life satisfaction, and improved mental health. Other studies have confirmed that married individuals are less likely to describe their health as fair or poor, and less likely to report their psychological health as poor, compared to unmarried individuals.
The mental and physical benefits of marriage partly reflect the many health and social rights conferred to married couples. While states vary on what rights are given to same-sex couples, individuals in opposite-sex marriages may share pension benefits, hospital visitation rights, immigration rights, child support, medical benefits, and affordable housing benefits.
Organizations of health professionals have issued statements supporting legal recognition of same-sex couples, including the American Medical Association, the American Academy of Family Physicians' Congress of Delegates, and the American Psychological Association, citing the detrimental effects of discrimination on health disparities within the LGBT community, among other reasons.
Recently, the American Academy of Pediatrics announced their support of same-sex marriage for the best interest of children raised by same-sex couples, saying legal recognition would "foster financial and legal security, psychosocial stability and an augmented sense of societal acceptance of support" in children.
Research in Australia suggests that children raised by gay couples might be healthier, possibly resulting from more openness and greater family cohesion. Aside from better relationships, legal recognition of same-sex parents would lead to greater access to health insurance, housing benefits, and joint parenting rights in the U.S.
Not The End Of Marriage
Health benefits aside, Dinno and Whitney's findings cast doubt on political and legal arguments opposing same-sex marriage, which largely rest on the threat same-sex marriage purportedly poses to heterosexual marriage.
This notion was cited in a ruling on California's Proposition 8 by the United States Court of Appeals for the Ninth Circuit. Proponents of the law, which allowed only opposite-sex couples to marry, argued "if the definition of marriage between a man and a woman is changed, it would fundamentally redefine the term from its original and historical procreative purpose. This shift in purpose would weaken society's perception of the importance of entering into marriage to have children, which would increase the likelihood that couples would choose to cohabitate rather than get married."
Although Dinno and Whitney work shows that same-sex marriage has had no effect on heterosexual couples' willingness to get married, investigators recognize that legislation on same-sex marriage, civil unions, and domestic partnerships is still young and warrants more long-term investigation. But if findings on the benefits of marriage, the health benefits of children raised by same-sex couples, and lack of impact on opposite-sex couples continue, there will be less reason to deny same-sex couples the right to marry.
"Denial of marriage rights to same sex couples is a denial of a basic resource for the health of same sex couple-based families," the authors conclude.
Source: Dinno A, Whitney C. Same Sex Marriage and the Perceived Assault on Opposite Sex Marriage. PLOS One. June 2013.
Published by Medicaldaily.com