SAMHSA Mental Illness Maps Show State-By-State Prevalence; Breakdown Is Random And Widespread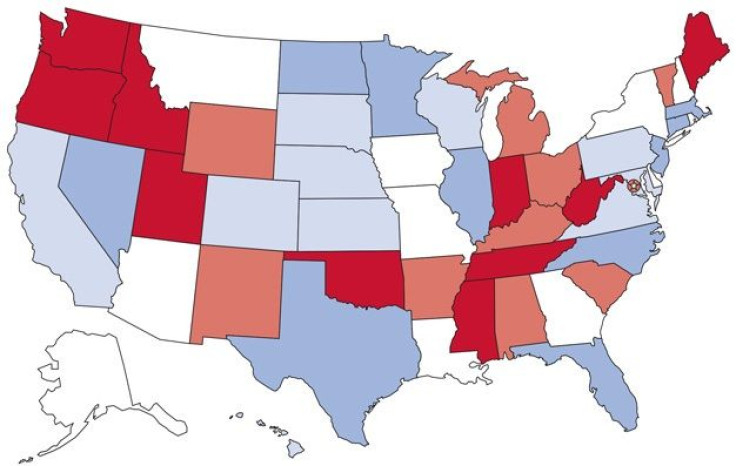 New data displaying snapshots of mental illness in state-by-state breakdowns are the most recent announcement from the Substance Abuse and Mental Health Services Administration (SAMHSA).
The survey, known as the National Survey on Drug Use and Health (NSDUH), offers the most current picture of the nation's mental health — a component of overall well-being too often overlooked in the U.S. Despite being quick to heal broken bones, we often fail at demonstrating such urgency when the most important organ is on the line. The new data shows mental illness continues to be a nationwide public health concern and one that demands regular surveillance if it's ever going to receive the attention it deserves.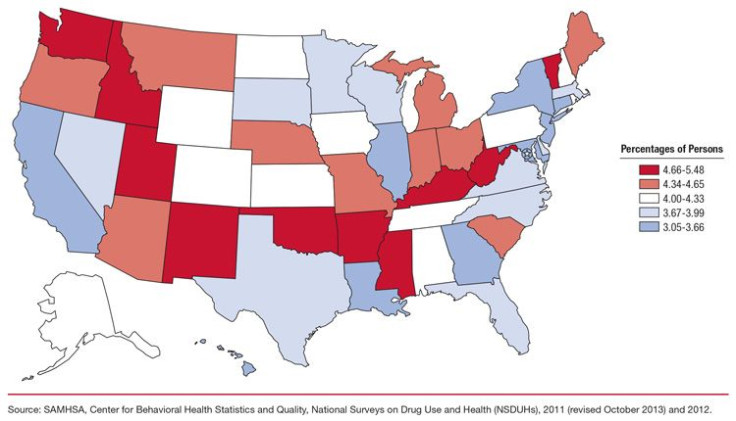 NSDUH classifies mental illness according to two categories: any mental illness (AMI) and serious mental illness (SMI). AMI sufferers experience broad forms of mental, behavioral, or emotional disorders in the past year that meets the standards set by the fourth edition of the Diagnostic and Statistical Manual of Mental Disorder, otherwise known as DSM-5. SMI sufferers, meanwhile, experience extreme impairment in the same three modes yet their disorders significantly interrupt their daily lives. SMI sufferers also tend to need assistance with daily tasks. However, only 62.9 percent of adults with SMI received treatment for their disorders in the last year.
Nationwide, both forms of mental illness organized in random, non-clustered fashions. The overall prevalence of SMI was just under four percent, at 3.97 percent of the U.S. population. AMI prevalence was expectedly higher, at 18.19 percent. New Jersey showed the lowest rates for both categories, at 3.05 percent and 14.66 percent, while West Virginia showed the highest SMI at 5.48, and Utah for AMI at 22.35 percent. Utah also had the third-highest rate of SMI at 5.14 percent.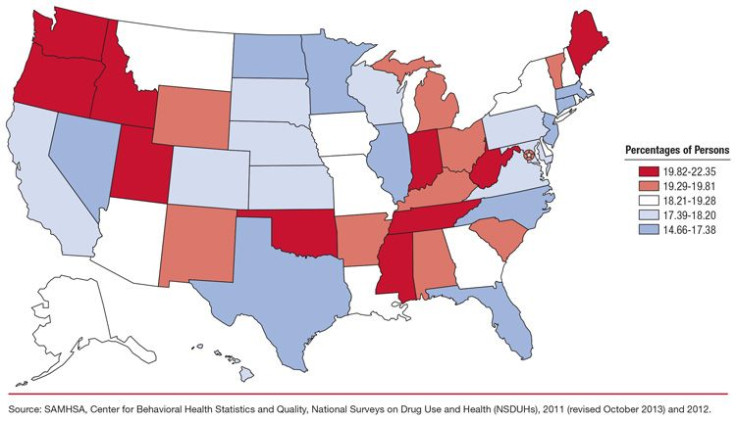 The report may mark a departure from previously elevated rates of mental illness in the U.S. A 2011 report conducted by the Centers for Disease Control and Prevention found nearly 25 percent of adults suffer from mental illness in some capacity. But despite the apparent downward trend, the connection between mental illness and physical ailments remains present.
"We know that mental illness is an important public health problem in itself and is also associated with chronic medical diseases such as cardiovascular disease, diabetes, obesity, and cancer," Dr. Ileana Arias, principle deputy director at the CDC, said in a statement accompanying the report, adding that surveillance activities must continue to expand in order to strengthen prevention efforts.
And according to the present SAMHSA report, the fact mental illness bubbles up in every state should motivate further research into disorders such as depression and anxiety. Neurological disorders are not only incurable; they often go undiagnosed far beyond a reasonable timeframe for prevention, if any such opportunities exist.
"Policymakers can use State-level information to help inform their assessments of mental health needs in their communities," the report states. "As data from a number of years of NSDUHs are accumulated, in-depth analysis of these State-level data will continue to provide insight into the patterns of mental illness, such as variations over time and by age and gender within each State."
Published by Medicaldaily.com