San Francisco Bans Chewing Tobacco In Sports Venues, Hoping To Send Better Message To Kids Watching Baseball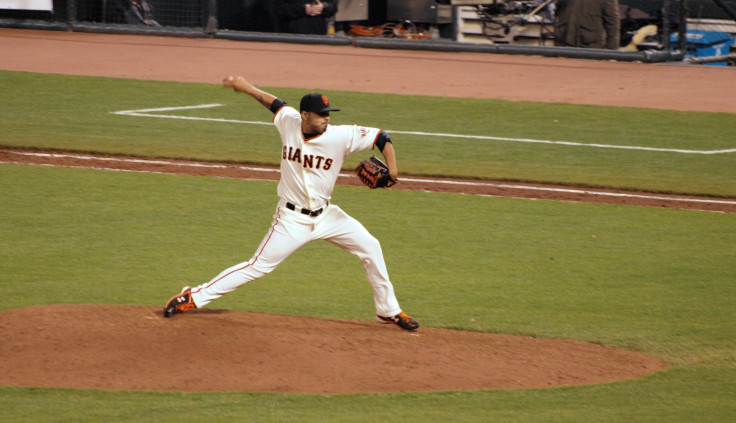 Long a tradition in baseball, players will no longer be allowed to use smokeless tobacco products in San Francisco sports venues, making the city the first in the country to implement such a restriction.
The new ordinance was signed by Mayor Ed Lee on Friday, and will ban both chewing tobacco and snuff from playing fields like the San Francisco Giants' AT&T Park starting Jan. 1, 2016. The policy is intended to "send a simple and strong message — tobacco use in sports will no longer harm our youth or our health," said Mark Farrell of the Board Of Supervisors, who sponsored the bill, according to CNN. Violators will be asked to leave the playing fields.
It's a familiar image; baseball players, with their lumpy mouths, chewing and spitting their tobacco onto the field. But with scores of children looking up to these players as role models, both public health officials and the Giants team see the new policy as a step in a positive direction. According to the Centers for Disease Control and Prevention (CDC), 6.4 percent of high schoolers and 1.7 percent of middle schoolers use smokeless tobacco. And studies have also shown that many of these kids not only chew tobacco but smoke it through cigarettes as well.
"The home of the World Champion Giants has set an example that all of Major League Baseball and the rest of the country should quickly follow," said Matthew L. Myers, president of the Campaign for Tobacco-Free Kids, according to CNN. "When baseball stars use smokeless tobacco, the kids who look up to them are much more likely to as well. Our national pastime should have nothing to do with promoting a deadly and addictive product."
Lee signed the bill just a day before what would have been the 55th birthday of baseball hall of famer Tony Gwynn, who died last year from cancer in his salivary gland. It's widely suspected he developed the cancer from smokeless tobacco.
Smokeless tobacco use is widespread throughout the MLB. While the Giants' manager Bruce Bochy said it "can be a good thing," he also noted that "it's going to be hard to enforce. It's a tough habit to break." Other players echoed that sentiment. Matt Cain, the team's player representative and pitcher, told MLB.com that "coffee pouches (another product players chew) resemble tobacco pouches. I think the hard part will be policing it."
Published by Medicaldaily.com