San Francisco's 'Hook-Up Truck' Provides A Spot For Safe Sex, Just Say Where And When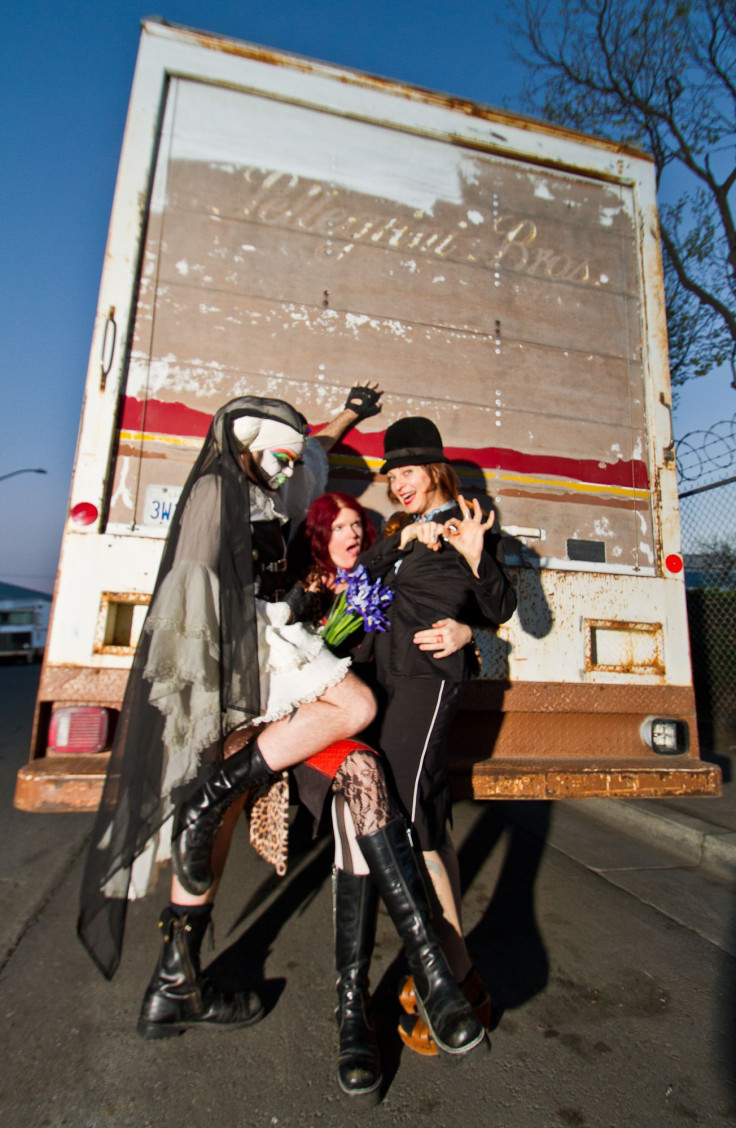 One San Francisco artist has taken her passion for safe sex to a whole new level by designing a delivery service for a completely stocked and secure space to um, 'get it on.' Dubbed, The Hook-up Truck, this automobile serves as a sort of mobile hotel room, allowing patrons to act on their desires no matter where they may be. The truck has a following in its native San Francisco, and is helping to promote the use of safe sex, regardless of where the act may take place.
The Hook-up Truck resembles any average delivery vehicle from the outside but on the inside it is anything but ordinary. It is described on its website as 'A modern dating solution for safe sexual adventuring." Hidden behind a display of boxes is a small room, the Hook-up Truck features furniture, mood lighting, temperature control, and camera ready option and or course condoms. As reported by The Huffington Post, for $75 you can have the security and fun of the Hook-up truck all to yourself. Artist Spy Emerson came up with the idea of the Hook-up Truck a mere three months ago, but the truck is already causing quite a stir on the streets of San Francisco. "Lots of requests are coming in, and a great variety of people from single moms and people with roommates who have no privacy, to business people in the financial district who need the truck on their lunch break, and or course, the more kinky folks who are into the adventuring of it," Emerson explained to The Huffington Post in a recently printed article.
Safety is a big concern for the California based car service. The company ensures that their patrons' physical and emotional health is protected at all times. "The Hook-Up Truck promotes safe sexual adventuring by providing what one needs to stay safe when acting wild. The Hook-Up Truck is a protected environment, both physical and emotional. We provide a private, clean room, contraceptives, and attendants to keep a watchful eye," Emerson ensured Medical Daily. The hookup truck requests that its patrons be aged 21 or older, and be registered with the service online. Once set up though, having a personal van to act out all your sexual desires can be at available at your request for immediate dispatch. There are limitations to what goes on in the truck, once again all for the users' safety. The Hook-up Truck does not allow people who are incoherent, obviously drunk, aggressive, or rude to use the room. Drugs and animals are also prohibited and you are only allowed to stay in the truck for a maximum of 30 minutes. The hook-up truck is also available to be pre-booked for festivals, wedding, or holiday parties. So if you're ever in the San Francisco area and ever get caught in a moment with nowhere to go, or if you just feel the need to spice up your sex life a bit, the Hook-up Truck may just solve your dilemma.
Published by Medicaldaily.com