Sarah Murnaghan Successfully Receives Adult Lung Transplant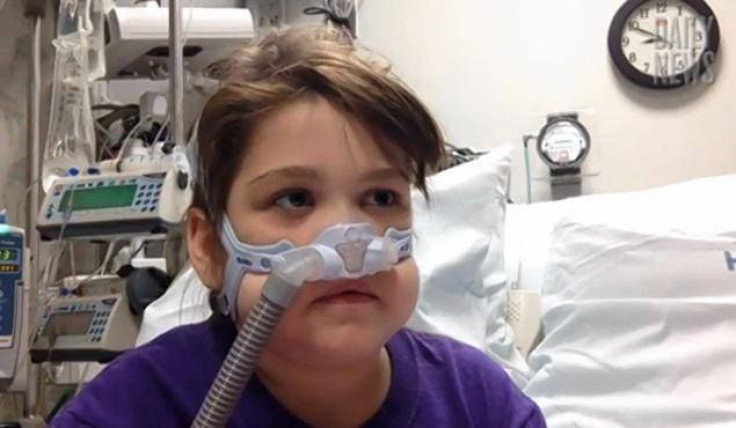 Sarah Murnaghan, the 10-year-old Pennsylvania girl with cystic fibrosis, whose story won the hearts of Americans across the country for being too young to receive an adult lung transplant, went through surgery on Wednesday, and it was a success.
On Wednesday night, her mother, Janet Murnaghan, wrote about the surgery on Facebook.
"We are thrilled to share that Sarah is out of surgery. Her doctors are very pleased with both her progress during the procedure and her prognosis for recovery," she said. "The surgeons had no challenges resizing and transplanting the donor lungs — the surgery went smoothly and Sarah did extremely well."
The family's spokeswoman Maureen Garrity said the family found out about a donor on Tuesday night, and received confirmation that the adult lungs were a match on Wednesday morning, just before noon.
"Sarah got THE CALL," her mother wrote on Facebook. "She will be taken back to the OR in 30 min."
Four days after the child went into a coma, doctors surgically transplanted new adult lungs. In order to make the lungs fit, doctors did one of two procedures. They either trimmed off pieces of the lung, reshaping it to fit, or they took a lobe from it, and used only that, according to CBS News.
"Lung transplant is the most challenging transplant of all the organs, Dr. Joshua Sonett, a specialist in lung transplantation, told CBS. "If she makes it through the transplant and makes it through the first year, she's going to have a 50 to 70 percent chance of making it over five years and perhaps a 50 percent chance of making it 10 years."
The successful surgery ends a highly publicized campaign in which Pennsylvania Sen. Pat Toomey urged Secretary of Health and Human Services Kathleen Sebelius to allow the transplantation of an adult lung, according to Politico.
However it was not Sebelius who allowed the the young girl to get adult lungs. US District Judge Michael Baylson ordered the Organ Procurement and Transplant Network (OPTN), which assists the United Network for Organ Sharing in finding organs, to create a second database with a fake birthday to trick the system into thinking she was 12, according to ABC News.
"We are so grateful to the donor family for making this possible," Toomey said in a statement. However, he said that he would continue to fight for permanent change to the organ donor policy, which puts children under 12 years old at the bottom of the list for lungs from adult donors.
"Now that a suitable donor has been found, a prayer would help, too — a prayer Sarah's body accepts the new organ the way doctors believe it can," he added.
Cystic fibrosis is a severe, life-threatening disorder that causes major damage to the lungs and digestive system. It affects the cells that produce mucus, sweat and digestive liquids, causing them to be thick and sticky, rather than slippery. Instead of lubricating the organs, they block the tubes, ducts, and passageways, especially in the lungs and pancreas, according to Mayo Clinic.
While the family is "elated" to have received the adult lung, Reuters reported, Murnaghan also acknowledged that "our good news is another family's tragedy. That family made the decision to give Sarah the gift of life — and they are true heroes today."
Published by Medicaldaily.com