Scalped: At China's Creaking Hospitals, Illegal Ticket Touts Defy Crackdown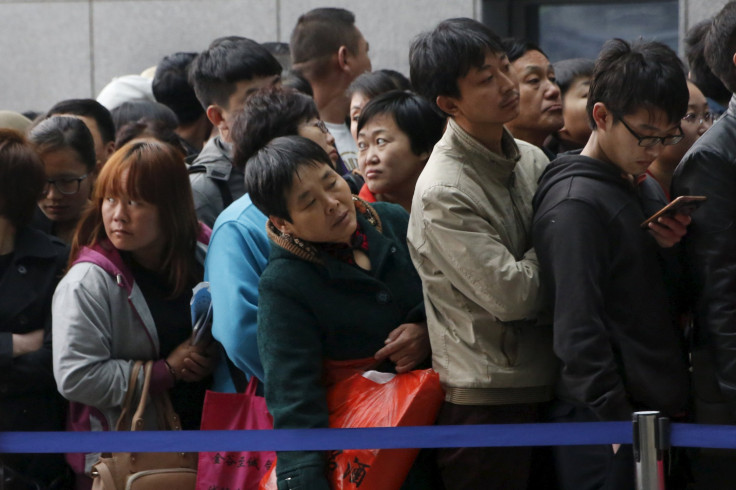 As day breaks, hundreds of patients wait to see doctors in a line that snakes around the Peking Union hospital in Beijing. Many will wait in vain - "scalpers" like Yu Wei have already illegally bought and sold appointment tickets for the day ahead.
Yu, 32, makes a living touting the tickets that Chinese hospitals sell in advance for consultations. His tickets will get a patient in front of a doctor in two days, he says, compared with a wait that can be up to a fortnight.
Dodging passing police patrols as part of his daily routine, Yu charges 850 yuan ($131) for a "special care" appointment ticket - almost three times the face value. He told Reuters he keeps 200 yuan from each sale, with the rest of the profit going to hospital insiders who he said help him secure the tickets.
"The city's upper middle class are always willing to pay this amount or even higher - as long as they can get an appointment," Yu said, speaking between frequent phone calls that he said came from would-be clients. In the background, other scalpers competed for custom, shouting out their prices.
The street crime casts light on the scale of the challenge President Xi Jinping faces as he looks to overhaul a creaking and underfunded public health system to deliver on a promise of affordable and accessible care for all.
In line with this drive, authorities have tried to crack down on healthcare corruption and police say they have detained some 240 scalpers in Beijing alone this year. Many patients and doctors say, though, the time-served practice is just a symptom of deeper issues: a dearth of doctors and low salaries meaning graft is endemic.
"Scalpers are a real headache for us," a spokeswoman for the Peking Union hospital surnamed Chen told Reuters by phone. "There's a crackdown on them, but it's a hard problem to cure."
The spokeswoman added the hospital and its doctors were victims of scalpers and were not involved in the practice.
DOZENS OF SCALPERS
A viral video earlier this year of a woman with her sick mother raging against scalpers brought a public outcry and calls for arrests and tough jail sentences. (https://www.youtube.com/watch?v=K3lUF5XXnuw)
Authorities have promised to intensify their crackdown. But when Reuters visited hospitals in Shanghai and Beijing, dozens of scalpers operated in plain sight, loudly offering tickets for sale.
A spokesman at the Beijing city health department said police needed to "strengthen" their efforts, and it would take some time to see any real results. China's national health ministry did not immediately respond to requests for comment.
Feng Jianqi, a police officer involved in leading the crackdown on scalpers in Beijing, said the police could not resolve the issue alone. Part of the problem was that so many patients wanted to see the same doctors, he said.
"It's just not realistic to totally eradicate scalpers. It's just too hard," he told Reuters by phone.
The problem is acute for patients like Cao Dongxian. The middle-aged school teacher traveled to Beijing in May last year from his home in Shandong province after local doctors refused to carry out a risky intestinal cancer operation.
State insurance coverage is limited in China, meaning patients often have to pay a large part if healthcare costs themselves, especially those with major long-term diseases like cancer or diabetes.
Keen to avoid paying scalpers, Cao spent months queuing in hospital lines for repeat tests before doctors eventually said his cancer needed an urgent operation. Cao was then told he would have to begin queuing again: this time for a hospital bed.
"It was October by the time I got to have my operation ... more than four months," Cao said. "On top of that your body's in pain - it really hurts."
'MARKET PRICE'
In hindsight, Cao said he wished he had gone to scalpers straight away. Doctors also appear resigned to the practice, as wealth spreads in China and patients accept the reality that paying more will bring speedier treatment.
"(Basic) appointment fees don't reflect the economic value of doctors' skills and experience," said Wu Yuan, an eye doctor at the Peking University First Hospital in Beijing.
"Scalpers are simply selling the doctor's appointment at a price the market is prepared to pay," Wu said. He said the practice was routine but that he had no knowledge of any doctor involvement in ticket resales.
Even as China's hospitals suffer, the broader market for drugs and services is a lure for firms like e-commerce giant Alibaba Group Holding and hospital operator Phoenix Healthcare, attracted by a wider healthcare bill that is set to hit $1.3 trillion by 2020.
For patients like Cao or Zhang Pengyu, a 38-year-old realtor from the outskirts of Beijing, scalpers are source of frustration and anger, but sometimes a necessary evil.
He waited unsuccessfully for three nights to see an ear, nose and throat doctor at Beijing Tongren Hospital. He finally gave in to scalpers, paying 3,000 yuan for a 10-minute appointment that should have cost just 200 yuan.
"I wanted to queue myself and not pay so much money, but I just couldn't wait any more. I didn't have time," said Zhang.
(Reporting by SHANGHAI newsroom and Adam Jourdan; Additional reporting by Elaine Tan in MANILA and Natalie Thomas in BEIJING; Editing by Kenneth Maxwell)
Published by Medicaldaily.com