You Can Hide Scars - For Hours, or Forever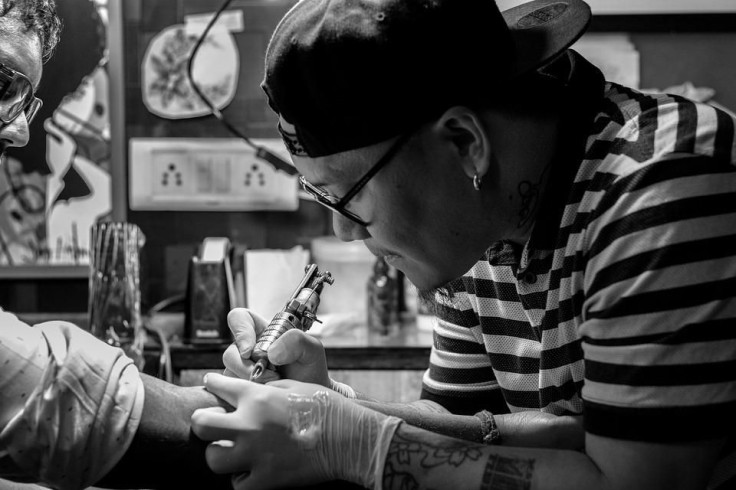 Tara Hunt tried to hide her stretch marks after the birth to her son. She was 20. "I bought all sorts of creams and oils and went for various spa treatments, but nothing was working."
The years past but her desire didn't. Ms. Hunt, CEO of an internet marketing service in Toronto, Canada, sought advice from a plastic surgeon, whose images of reconstructive surgeries made her wince -- the cure looked painful. It wasn't until she took surfing lessons on a trip to Hawaii that true inspiration struck: an instructor had a tatoo across her belly.
"It gave me the idea to cover up or integrate the stretchmarks into a design," she told Medical Daily. Though the process was very painful, she was thrilled with the results.
No doubt as is the tattoo industry, considering how it has expanded in the last few years. A market research report charted the industry's growth at 3.2% between 2015 and 2019, and worth about $1 billion. More women have tattoos than men, and more college educated people have tattoos: 30% of graduates have tattoos.
More inspiration
A quick look on Google shows how the scarred have sought out inked design to cover what they want hidden. Women with mastectomies have intricate flower designs covering where their areola once was. Others have hearts, still others have designs covering the areas lymph nodes were taken. Zippers go up spines -- other designs cover where a blade or a knife intentionally traversed a wrist.
And some people like fish. Samantha Pennington has a koi on her shoulder blade.
Ms. Pennington, CEO of a brand design house in Brookings, Oregon, was 10 years old when several weird moles popped up on her shoulder blade. Her doctors thought it best to remove all the moles at once. "After getting the stitches out, I was left with a puffy, pink, and somewhat painful scar about the size of a quarter," she said. "For my 18th birthday, I got my first tattoo and covered that scar."
Ms. Pennington's tattoo was inspired by a photo of a model who had a koi fish that started on her collar bone, curved over her shoulder and onto her back. "As soon as I saw it, I knew that was the sort of tattoo I wanted." Ms. Pennington's sister, an artist, helped create the design. Ms. Pennington then chose her tattoo artist carefully. "Even 12 years later, my tattoo is colorful and vibrant because I invested in a professional tattoo artist.
Advice for you
If you're thinking of covering your own scar with a tattoo, choose a reputable tattoo artist with a history of covering scars with tattoos. And be sure to have a consultation first. (For a list of tattoo artists, worldwide, click here.)
"The techniques for regular body tattooing and scar camouflage or restorative tattooing are essentially the same," explained Shaughnessy Otsuji, owner of Studio Sashiko in Langley, BC, Canada. "Both procedures involve implanting pigment/ink beneath the skin using a tattoo machine and sterile needles."
Ms. Otsuji explained that those who camouflage scars with tattoos use neutral pigment tones to match the surrounding skin. "This helps blend depigmentation and the scarring or to replicate a cosmetic or natural-looking feature," she said. And while Ms. Otsuji uses standard tools, she applies a topical anesthetic to keep her clients comfortable throughout the procedure.
Ms. Otsuji's specialty is creating photo-realistic areolae for women who have lost their nipples due to breast cancer. She also works on scars caused by reconstructive and elective surgeries, burns and more.
The benefits of getting a tattoo to hide a scar extend beyond the physical, she added. "What seems like a simple addition of color and strategically-placed details can be incredibly effective in restoring self-confidence."
Let skin heal before tattooing
" Scar cover-ups are a common part of the training of becoming tattooists," said Michelle Myers, co-owner of Daredevil Tattoo in New York City. But the newly scarred will need to wait. "Surgical scars have to be a few years old before you cover them," Ms. Myers said. "They have to heal from the inside. If you go in too early you might damage the skin more." The process could also be more painful.
A dermatologist weighs in
Geneva, Switzerland based dermatologist, Luigi L. Polla, MD, founder of Forever Institut and Alchimie Forever, told Medical Daily in an email that before even considering a tattoo, "The scar has to be stable," meaning there must be no visible change for at least six months. The scar also must be flat.
Furthermore, Dr. Polla said, the tattoo artist needs to understand that light reflects differently on healthy skin vs. scarred skin. So a tattoo artist nees to appreciate the differences between the two skin types, "and how these differences will impact the color of the ink chosen." When in doubt, ask the tattoo artist to see images of tattoos over scarred skin vs. unscarred skin.
Also, Dr. Polla advised, keep in mind the risks associated with getting a tattoo. If the artist's equipment isn't sterilized properly, that will increase the risk of infection. And infection can also lead to hepatitis.
Another consideration is where the tattoo is going on your body. "Tattoos in the mouth contour area are particularly prone to infections," Dr. Polla said. If that area is destined for the tattoo, Dr. Polla recommends using a medication like Valaciclovir, which inhibits the growth of herpes sores or blisters.
Try make-up instead
You can also use makeup "to blur or camouflage the color or texture" of scars said Washington, D.C. based Megan Curtin, associate director of Sales Operations + Education at Cover FX. "Color is relatively easy to conceal if you have the right products – a highly pigmented foundation is key, as is a dense, flat brush to build coverage exactly where needed."
Choosing the right shade is also important. "You want to match as closely as possible to the surrounding skin, so it blends seamlessly and doesn't draw attention to what you're trying to conceal." Use a brush to pat the product on clean, moisturized skin until the scar is covered, then set with powder.
Ms. Curtin recommended using a "press-and-roll motion" for applying powder afterward. "Depending on how dark the scar is or how much it contrasts with the surrounding skin, you may have to do a few layers of cream and powder to get the coverage you need."
And keep in mind, Ms. Curtin said that make-up is not magic – so be gentle in applying it. In other words, do not rub.
Rachel Weingarten is a prolific freelance writer, the author of several nonfiction books and cofounder of a national non-profit, the RWR Network.
Published by Medicaldaily.com