Scared of Needles? Meet MEDi, The Talking Robot That Helps Kids With Needle Anxiety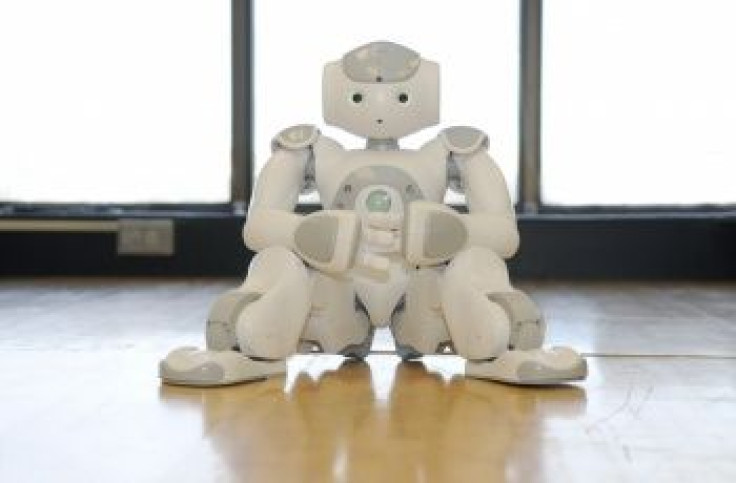 Meet MEDi — a talking robot programmed to greet young, apprehensive patients with engaging small talk and a high-five during standard procedures like vaccinations and blood tests. The experimental sidekick recently made its first appearance at the Alberta Children's Hospital, where researchers from the University of Calgary are testing new tools designed to assuage discomfort in kids with needle anxiety.
The New York Times reports that scientists divided the 57 recruited children into two groups — one that received a routine vaccination administered by a nurse, and one that received the same vaccination with the robot in the room.
MEDi, whose name stands for Medicine and Engineering Designing Intelligence, is designed to distract children with a brief, amicable exchange wherein commands and actions are synchronized with the relevant medical procedure. In a randomized control trial, published in the June issue of Vaccine, children who played with MEDi as they received routine immunizations felt less pain and recovered more quickly.
In the experiment conducted at the Alberta Children's hospital, the robot would pick up a toy duck, note that it was dusty and ask the child to help clean it by blowing on it. The nurse would then time the injection with the command, administering the injection as the child exhaled.
"The robot was distracting the child during distress, but also giving instruction for how to cope," said Dr. Tanya Beran, professor of community health sciences at the University of Calgary. "Deep breathing relaxes the deltoid muscle."
Researchers quickly noted that the robot's presence not only alleviated pain during the shot — it also made the children recover much faster. For this reason, the team soon began introducing MEDi to children in the control group in an effort to cheer them up.
Additionally, Beran and her team found that MEDi helped ease tension between children and parents, as both groups eventually began interacting with the robot.
"It gave the parents something to do," Beran said. "They know their child is nervous, which makes them nervous. They're not sure what to do, and usually the nurse will just instruct the parent to hold the kid's hand. Here the robot gave instructions that kind of joined parent and child together in a common action."
Scientists hope to further augment the technology by personalizing the interactions, particularly through the use of facial recognition software. MEDi would then be able to greet children by name and customize the exchange accordingly — a development that could prove invaluable for kids with chronic conditions.
Source: Berana TN, Ramirez-Serranoa A, Vanderkooib OG, Kuhnb S. Reducing children's pain and distress towards flu vaccinations: A novel and effective application of humanoid robotics. Vaccine. 2013.
Published by Medicaldaily.com