Scary Anti-Smoking Ad Campaign Tied To 100,000 People Quitting, 1.6M Attempts To Quit
The 2012 "Tips From Former Smokers" ad campaign that ran for three months between March and June has now been tied to 100,000 people quitting the habit and 1.6 million attempting to quit.
Also appearing in print, radio, billboard, and digital ads, and reaching nearly four out of five smokers across the United States in some form, the campaign has been called the largest of its kind in both scope and reach. And despite its relatively short run-time, its success seems apparent according to a new study published in The Lancet, which draws a link between the campaign's timeline and the increased rates of smoking cessation across the country.
"This is probably the biggest campaign that has been done in the world. It wasn't the longest… but sending it to over 40 million smokers in a country of over 250 million (adults) is fairly unprecedented," said Dr. Tim McAfee, the study's lead author and director of the Centers for Disease Control and Prevention's (CDC) Office on Smoking and Health in Atlanta.
According to a June release from the CDC, smoking rates saw a steady decline starting in the 1960s, all the way until 2004, when they plateaued until 2010, before again resuming their decline. Now, smoking rates are at an all-time low — around 18 percent of Americans smoke — and the latest campaign, which cost $54 million as part of an Obamacare initiative, comes as a way to further that decline.
While the link between the ad campaign and the 100,000 quitters cannot be proven causally, researchers can safely assert anywhere between 300,000 and half-a-million quality-adjusted life years have been added to the U.S. population.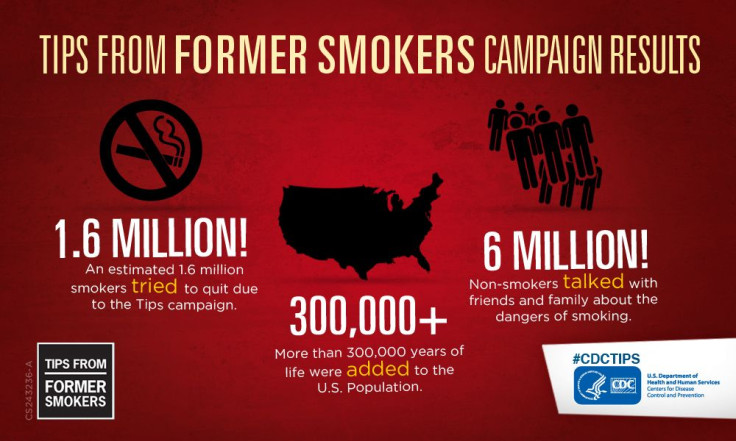 "This is exciting news. Quitting can be hard and I congratulate and celebrate with former smokers – this is the most important step you can take to a longer, healthier life," said CDC Director Tom Frieden, M.D., M.P.H., in a press release. "I encourage anyone who tried to quit to keep trying – it may take several attempts to succeed.''
Data from the study was obtained via surveys conducted before and after the campaign's run. Overall, 3,051 smokers and 2,220 nonsmokers took both surveys. Of those, about 79 percent of smokers and 74 percent of nonsmokers said they saw at least one of the ads, Reuters reports. Before the campaign, 31 percent of smokers said they had made attempts to quit in the last three months. After the campaign, that proportion rose to 35 percent.
Roughly 220,000 smokers reportedly quit following the campaign, although McAfee says many of these people will relapse. He and his colleagues surmised 100,000 will quit the habit for good. Given the cost-effectiveness of the study, the campaign shows promise as an early method for increasing smoking cessation. Recent research suggests that smokers who quit can eventually expect their risk for heart attack to equal that of nonsmokers.
"Hard-hitting campaigns like 'Tips From Former Smokers' are great investments in public health," said McAfee. "This study shows that we save a year of life for less than $200. That makes it one of the most cost-effective prevention efforts."
Cigarette smoking contributes to more than 440,000 deaths annually and is the leading cause of preventable death in the United States. Secondhand smoke alone is responsible for 44,000 deaths, according to the CDC. Advertisements will continue to air this year and in 2014, McAfee said, in order to better understand how exposure to anti-smoking campaigns affects smoking cessation.
"We would be delusional if we thought we could permanently change the rate people quit with one three-month campaign," he said. "You have to keep doing these things."
Source: McAfee T, David K, Alexander R, Pechacek T, Bunnell R. Effect of the first federally funded US antismoking national media campaign. The Lancet. 2013.
Published by Medicaldaily.com