The Science Of Acupuncture: Treatment Activates Opioids, Lowers Hypertension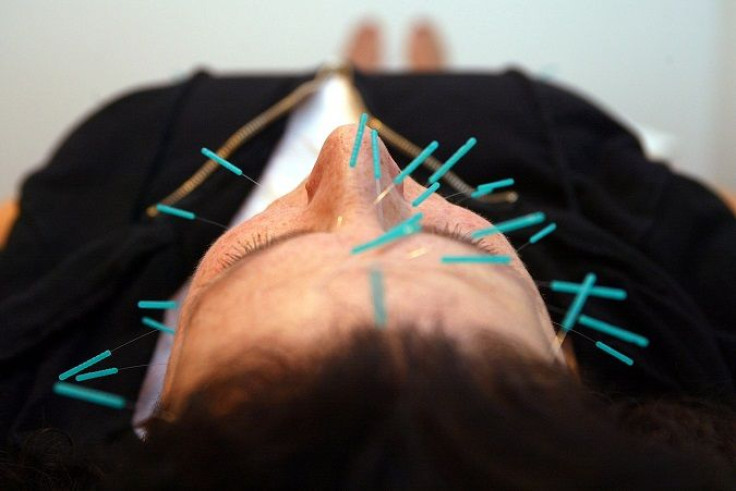 Scientists reported last year that patients treated with acupuncture at certain wrist locations saw their blood pressure drop, but the cause was unknown. A new study from researchers at the UCI Susan Samueli Center for Integrative Medicine has identified the molecular mechanism behind this benefit of electroacupuncture for hypertension.
The study revealed that regular electroacupunture treatment has the potential to lower hypertension by increasing the release of a kind of opioid in the brainstem region that controls blood pressure. Electroacupuncture is acupuncture using a mild electrical current to run down the needles.
Researchers tested on rats and found that reduced blood pressure lasted for at least three days after electroacupuncture, according to Science Daily. This result came from an increase in a gene expression called enkephalins, which is one of the three major opioid peptides produced by the body.
This study is the first evidence published about the molecular activity behind electroacupunture's benefits, a press release from UCI reported. These findings suggest that the therapy could be appropriate for for treating clinical hypertension.
High blood pressure, also called hypertension, affects about 1 of 3 adults in the U.S., or about 70 million people, according to the Centers for Disease Control And Prevention. This common and dangerous condition increases the risk for heart disease and stroke, but only 52 percent of these people have their high blood pressure under control.
Back in August, researchers also discovered that acupuncture has the potential to improve symptoms of mild cognitive impairment (MCI), which is a precursor of dementia, Medical Daily previously reported.
Source: Li M, Tjen-A-Looi SC, Guo ZL, Longhurst JC. Repetitive Electroacupuncture Attenuates Cold-Induced Hypertension through Enkephalin in the Rostral Ventral Lateral Medulla. Scientific Reports. 2016.
Read more:
Acupuncture For Dementia: Alternative Therapy May Help Initial Symptoms
Chinese Traditional Medicine, Visualized: The Human Brain On Acupuncture
Acupuncture's Benefits Include Lowering Blood Pressure: How The Ancient Chinese Therapy Treats Hypertension
Published by Medicaldaily.com