Self-Disclosure Between Couples Predicts Passionate Love: How A Double Date Can Help Rekindle Your Romance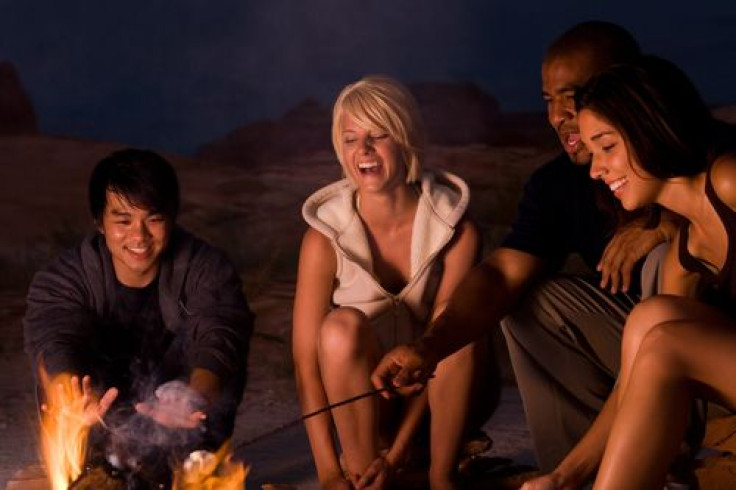 This Valentine's Day, to reignite the flame in your relationship, you may want to skip the candle-lit dinner for two and say, "Party of four, please." According to a recent study presented at the Society for Personality and Social Psychology conference in Austin, Texas, self-disclosures between couples can provide a fresh, positive view of a partner and a relationship, leading to an increase in passionate love.
Red roses, chocolates, poetry, and walks on the beach are some of the many efforts couples do to rekindle the romance in their relationships. In the beginning of a relationship, passionate love is thriving, but soon the newness of dating begins to wane over time. The first thrilling months or years of a relationship may cause many couples to lose hope and seek entertainment elsewhere, while others are interested in keeping the love alive. Despite busy schedules, and limited funds for romantic getaways, couples can still reignite the spark in their relationship based on how they define them.
"We define our relationships based not on the best days or the worst days but on the average days," says Dr. David Niven in his book, The 100 Simple Secrets of Great Relationships, Discovery Fit & Health reported. "Strive to be supportive in average ways on average days, and you will set in place a major building block of a relationship." This method shows couples that gratitude is linked to satisfaction and happiness in a relationship.
Couples should also maintain outside relationships to help enhance their intimate relationships. Hanging out with common friends can provide a way for partners to be more social together and share their common interests with others. These interactions can also be a source of positive feedback for couples.
To build on the importance of outside relationships for couples, Keith Welker, and his adviser Rich Slatcher, sought to investigate how self-disclosure between couples affects closeness and feelings of passionate love in relationships. The team of researchers monitored 150 couples through a set of questions specifically designed to test their psychological feelings toward each other in a series of two experiments. The couples were asked to comment on other couples taking the tests with them and about themselves and their feelings toward each other.
In the first experiment, couples met each other through the high-disclosure "Fast Friends" activity, originally developed by Arthur Aron of Stony Brook University, a co-author of the new study. Deeper, personal topics were only addressed in this experiment, while non-emotional, small-talk questions were only discussed in the second experiment. The questions ranged from simple subjects like: "What is your idea of a perfect day?" to more intimate ones such as, "What was the most embarrassing moment in your life?" A "passionate love scale," a standard from prior research, was also used by the researchers to assess couples' relationships.
The findings revealed through the questionnaires, feelings of passion increased across both studies. "The more that the other couple responds to your self-disclosures in a validating and caring way when on a double date, the more passionate you feel about your own relationship," Welker said in the news release. Although it still remains unclear as to why responsiveness from other couples predicts increases in passionate love, the researchers hint it may have to do with the way they respond. He believes having another couple respond positively to yourself and your partner may provide you with a new, positive perspective of your partner and your relationship.
In a similar study published in the journal Personal Relationships, researchers found that couples who have more shared friends rather than individual friends are more likely to be happier and have longer lasting relationships. Engaging in a highly disclosing conversation with another couple led to feeling closer to one's own partner, and even increased the likelihood that the couples would meet up again during the following month.
Overall, these studies highlight the importance of how communication between two sets of couples can influence partners' perceptions of one another and their relationship, respectively. This Valentine's Day could end up being more passionate than expected if you choose to add two extra plates to the dinner table. Welker's advice for a double-date activity: "Opt for dinner at home, as that will engender more disclosure than a date at a public restaurant."
Sources:
Slatcher RB, Welker K. Keep romance alive with double dates. Society for Personality and Social Psychology. 2014.
Slatcher RB. When Harry and Sally met Dick and Jane: Creating closeness between couples. Personal Relationships. 2010.
Published by Medicaldaily.com