Sen. Ted Cruz 'Would Do Anything' To Stop Obamacare — Including Causing Another Government Shutdown [VIDEO]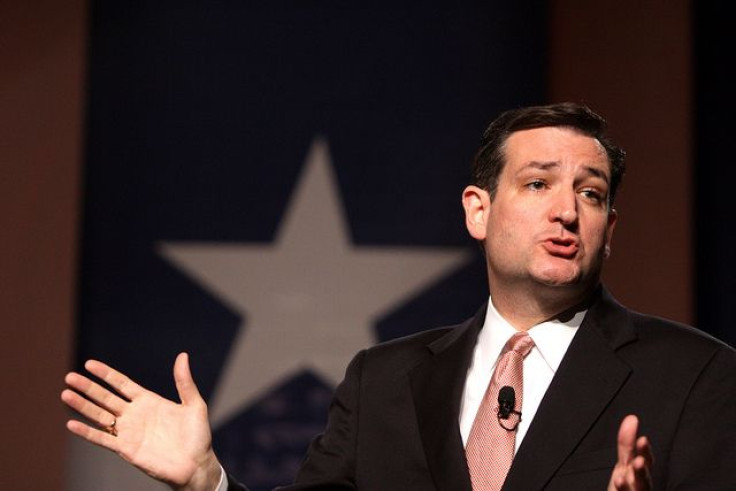 Republican Sen. Ted Cruz of Texas said Thursday that even though the government shutdown finally came to an end this week, he wouldn't rule out another one — especially if it means stopping health care reforms under the Affordable Care Act from being successfully implemented.
"I would do anything, and I will continue to do anything I can, to stop the train wreck that is Obamacare," Cruz said in an interview with ABC News' Jon Karl. "The test that matters Jon, is are we doing anything for all the people that are getting hurt from Obamacare?"
Cruz, now infamous, spoke for on the Senate floor for 21 hours last month in favor of a bill that would defund the Affordable Care Act's health care reforms. In his speech, which was not technically a filibuster, Cruz read tweets, quoted Obama supporter Toby Keith, and read Dr. Suess' Green Eggs & Ham. He vowed to speak "until [he was] no longer able to stand."
Of course, both Sen. Cruz's non-filibuster and the government shutdown were both very unpopular with the American public — especially those who rely on the government for wages, cancer research, and drug trials. According to Slate, the Republican Party achieved its lowest approval ratings in recorded history during the shutdown. Meanwhile, Obamacare went forward as planned, and — outside of some technical glitches — many of the country's uninsured were able to successfully sign up to receive health care coverage.
While Cruz says that he is dedicated to maintaining his fight against the Affordable Care Act, his Republican counterparts in Congress don't necessarily agree that the fight is worth it. Republican Sen. Mitch McConnell of Kentucky said that this month's 16-day shutdown did enough damage, and he doesn't intend to let another one happen.
"There will not be a government shutdown," McConnell is quoted as saying in The Hill. "I think we have now fully acquainted our new members with what a losing strategy that is."
Watch a snippet from the interview below:
Published by Medicaldaily.com