Smart Sock For Diabetic Neuropathy, SenseGO, Helps Patients Manage Symptoms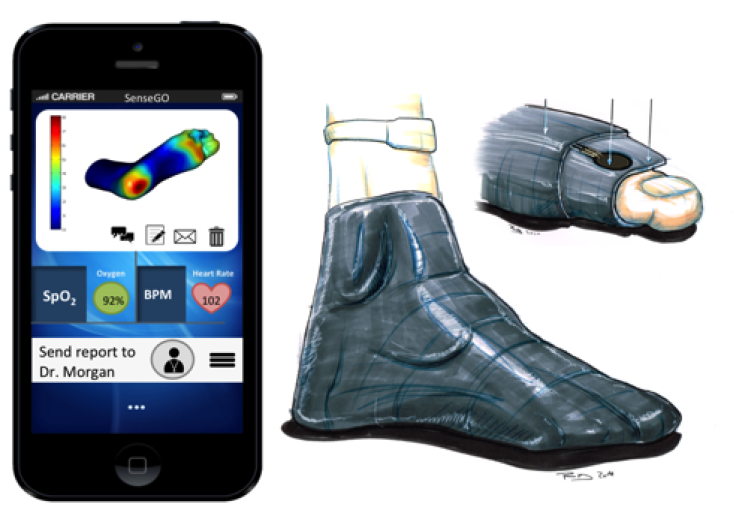 In the United States, up to 70 percent of diabetics suffer from diabetic neuropathy, a type of nerve damage that most often affects the legs and feet. This nerve damage takes its toll on these body parts, affecting how patients feel pain, and increasing risk for injuries. As a result, patients are likely to experience foot ulcers and slow-to-heal cuts and bruises. Going without treatment for these injuries could lead to amputations.
Knowing this, researchers from the Hebrew University of Jerusalem and Hadassah Medical Center created the BioDesign: Medical Innovation Program to develop ways to combat diabetic neuropathy before amputation even becomes a thought. The team's latest invention is the SenseGO, a machine-washable sock that's able to detect changes in pressure on a patient's foot and ultimately prevent foot ulcers.
"This is a classic mobile health approach," said professor Yaakov Nahmias, director of the BioDesign program, in a press release. "By giving patients and their families the tools they need to prevent the development of ulcers, we can dramatically reduce health care costs related to diabetes."
The SenseGO contains dozens of pressure sensors, which collect information regarding overexertion, incorrect posture, and ill-fitting shoes, among other contributors to foot ulcers. This information is then relayed to a smartphone app, which can warn the patient if there's too much pressure. SenseGO provides both patients and their physicians with the information they need to "minimize or even eliminate the occurrence of diabetic ulcers," said Danny Bavli of the Grass Center for Bioengineering in the video.
Roughly 4 to 10 percent of people with diabetes end up with foot ulcers. Although this number seems relatively low, foot ulcers are the number one reason for hospital stays among people with diabetes, despite being painless most of the time, according to the National Library of Medicine (NLM). Some ways to take care of feet when they have an ulcer include debridement — removing dead skin and tissue from the feet to get to the ulcer — taking pressure off the ulcer by wearing special shoes or braces, and wrapping the foot up in dressings that will help to manage the wound. A doctor should be contacted immediately if the ulcer becomes more painful, or if it emits an odor or pus, or becomes more red or firm.
The SenseGO is the latest in a number of other technological advances that aim to improve the lives of diabetes patients. Most recently, Medical Daily reported on the Suggestic app, which offers lifestyle programs for diabetics to manage everything from their nutrition to medications. Researchers have also created temporary tattoos capable of monitoring blood glucose levels. Clearly, the future of diabetes management is bright.
Published by Medicaldaily.com