September 11 Attacks Continue To Claim Lives; First Responders Are Added To Memorials
Looking back into the dense black smoke and dust of 91,000 liters of jet fuel and 10,000,000 tons of building material brings memories of devastation. When the two 1,300-foot World Trade Center towers were attacked by hijacked commercial airplanes on Sept. 11, 2001, it claimed the lives of approximately 3,000 civilians, including the Islamic terrorist group Al Qaeda, who committed the suicide mission. But what many don't realize is even after 13 years, the number of victims keeps rising as more and more first responders and volunteers fall ill to the deadly air fumes of tragedy.
Perseverance of the human spirit has constructed One World Trade Center on the ashes of the past site where the Twin Towers once stood, rising up 104 stories and 1,776 feet. The multi-billion dollar construction of the National September 11 Memorial Museum contains almost a thousand artifacts from that devastating day along with the 7,930 sets of unidentifiable remains of coffin-like containers brought to the site in May and entombed 70 feet below the surface of ground zero.
The ways in which Americans choose to pay tribute, celebrate, honor, and remember is to each his own, but one man chose to pay his respects by helping others. "Six years ago, we had a pipe dream to build a park for the first responders on 9/11," U.S. Army veteran John Feal, the founder of the FealGood Foundation and founding board member of the 9/11 Responders Remembered Park Inc., told Medial Daily.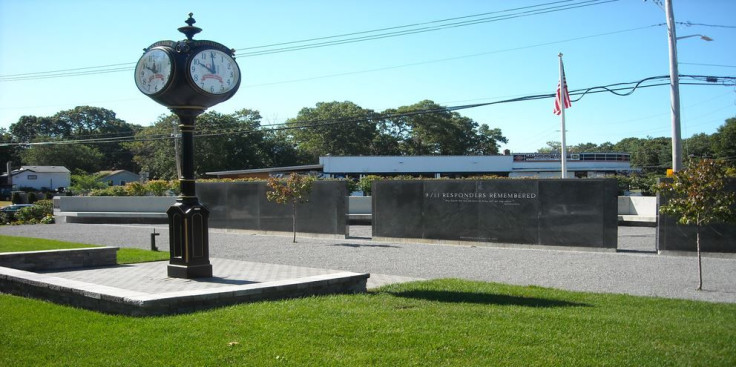 Feal was the supervisor of a demolition company when he arrived at ground zero on Sept. 13, and four days later, 8,000 pounds of steel came crashing down on him. He jumped out of the way, but the massive collapse caught his foot, which threatened his life for weeks in the hospital until it was partially amputated.
"It's not pretty that I've lost half of my foot, but there are tens of thousands who are still sick and dying from 9/11. Nobody was really keeping track of the non-uniform workers because they were hard to keep track of," Feal said. He added that 431 congressional districts across the nation had come to New York to help, and when they went home many eventually became sick and died, making the task of finding them more difficult.
After raising $250,000 dollars used to build the park in 2005 and receiving an addition $250,000 in donations, the 9/11 Responders Remembered Park Inc., has stood as an enduring honor to all those who have passed as a consequence of what Feal refers to as "an act of senseless violence." The more than $2 million the organization has received in donations stands as a testament to its success in commemorating the first responders from the largest terrorist attack this country has ever seen.
Every May and September more names are added onto the memorial, located in Nesconset, Long Island, N.Y. This past May, 93 more names were added and another 40 were added on Saturday's ceremony, where Feal received another 17 for the wall next May. Feal said by the time they reach May 2015, there could be 17 to add, 40, 93, or 193.
In order to add someone who has passed onto the wall, the vetting process takes some time. They had to have worked at ground zero as a firefighter, police officer, construction worker, medical responder, or volunteer, and must supply proof that they were there. A doctor can provide a note linking the cause of illness or death to the smoke inhalation, chemical exposure, or injury they experienced at ground zero. If the family members don't come to the park board first, the organization makes their open-armed presence aware to them by providing a letter to the World Trade Center Health Program's Clinical Centers of Excellence and law firms with information on how to contact them and begin the vetting process.
This week, Congress reauthorized legislation to compensate first responders who became sick as a direct result of working at ground zero for 25 years. Feal also had his hands in successfully approving the Zadroga Act in 2010, which took eight years to push through, and in 2016 the law is set to expire unless it can find the same support. Victims have currently been compensated for more than $1.1 billion in medical treatments out of the $4.3 billion the fund has in its budget.
The memorial park is more than a place with honored names and serene landscapes to draw out happier memories and a sense of peace for victims' family and friends to visit. "It's a day to remember, but we need to pray for the dead and find help for the living. Many people don't know that people are still dying because of that day," said Feal, who lives a few minutes away from the park and walks his rescue dog at least twice a day to make sure everything is clean and well-tended to in order to ensure honor is instilled.
Published by Medicaldaily.com