Sesame Street Jail Feature Highlights Toll Of Parents' Incarceration On Children [VIDEO]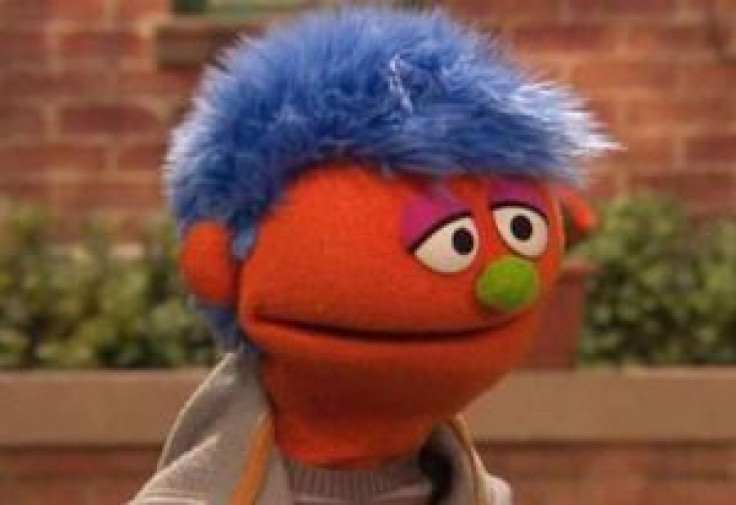 The longest-running children's show on television is currently tackling one of its most serious issues yet: prison. A Sesame Street jail online tool kit has unveiled its newest character, Alex, who is having trouble dealing with his father's incarceration.
In the online tool kit titled "Little Children, Big Challenges: Incarceration", the latest edition to the Muppets can't help but hang his head over not being able to understand his father's time in jail. Just like a great many children around the world, Alex is confused about why he can't see his dad.
"My dad's in jail," Alex explains to his friends, who don't quite grasp what it mean to be in prison. "I don't like to talk about it. Most people don't understand."
Sesame Street's blue-haired Muppet has stirred up a discussion regarding just how necessary it is for children to watch this situation play out on screen.
According to BJS Policy Analyst Christopher J. Mumola, in 1999 it was estimated that 721,500 state and federal prisoners were parents to about 1,498,800 children under the age of 18. In fact, 22 percent of children with a parent in jail were under the age of five.
Children who face this dilemma often develop various behavioral setbacks including drug and alcohol abuse, rejection of society's rules, sexual risk-taking, and extreme bouts of aggression and violence, the American Psychology Association reports.
"Eighty percent of the 2 million people incarcerated in the United States are parents, leaving 1.5 million children with parents in prison, yet research on and programs for these children are scarce," said Dr. Diane J. Willis in a statement to the APA.
"What we do know is that many of these children are at high risk for second-generation incarceration," Willis added. "For parents who are in or have left prison, we need more community-based treatment programs, better treatment programs for those addicted to drugs and alcohol, and more efforts that focus on rehabilitation instead of punishment. We also need effective therapy programs for the children themselves."
The Sesame Street online tool kit includes Seven Tips for Coping with Incarceration:
1. Build Security — In the morning, let your child know some of the things that will happen throughout the day. For example, "Grandma will pick you up from school. Then you'll go to the park, and later we'll all have dinner together."
2. Share Your Heart — Give your child a paper heart to keep in her pocket. You might say, "This is to remind you that I love you and will always be there for you."
3. Express Emotions — Take time each day to check in with your child and ask, "How are you feeling?" Remember to let your child know that it's okay to have big feelings no matter what they are.
4. Answer Honestly — When explaining where an incarcerated parent is, you can say, "Daddy is in a place called prison (or jail) for a while. Grown-ups sometimes go to prison when they break a rule called a law."
5. Stay Connected — Phone calls are a great way to reach out. Help your child to think of something she'd like to tell her incarcerated parent, and give her a photo of her parent to hold during the call.
6. Prepare Together — Before you visit your incarcerated loved one, let your child know some of the things she can expect to happen. For instance, "We won't be able to sit in the same room with Mommy, but we can see her through a window and read a story together."
7. Take Care of Yourself — Caring for yourself helps you care for your child. At least once a day, do something that you enjoy or find relaxing.
Published by Medicaldaily.com