Seven Bats In Nevada Test Positive For Rabies
Bats come out of hibernation in the month of April to resume normal activities, depending on the location. Correspondingly, this is when animal control authorities are on high alert for bat rabies. The concern comes from the fact that bats could possibly infect human beings with the fatal disease. As a precaution both for humans, bats, and other animals, rabies cases are monitored and reported on a yearly basis at local and national levels in the United States.
As of 2020, the Animal Disease Laboratory of the Nevada Department of Agriculture (NDA) tested 179 bats for rabies. Seven tested positive. The mammals were captured in the Clark and Washoe Counties in the state of Nevada. Bats are most active there from May to October. More cases could be reported over the course of the year. On average, about 10 to 20 cases of bat rabies are confirmed every year in the state.
Additionally, the NDA urged all pet owners to vaccinate animals, including dogs, cats and ferrets, against rabies. "Rabies is a fatal, but preventable disease. It is important for all animal owners to work with their local veterinarians to keep animals up to date on vaccinations, which can help protect both the animals and their owners," NDA State Veterinarian Amy Mitchell, DVM, said in a news release available on the department's website.
The recommendation stems from the fact that routine pet vaccination programs and laws put in place in the 1950s helped reduce rabies in dogs significantly. Over the years, this reduced the number of deaths due to rabies in humans as a result of a rabid animal bite or scratch.
Human Rabies Cases Declined Due to Strict Animal Vaccination Programs
From the 1970s onward, all of the above including active awareness programs and laboratory diagnostics caused a further decline in the number of human rabies cases. According to the Centers for Disease Control and Prevention (CDC) data, on average, about one to three human rabies cases are diagnosed every year, currently. These numbers are a huge contrast to the 1940s, when about 30 to 50 human rabies cases were seen annually.
Nevertheless, the rabies virus in other animals remains and continues to be transferred to humans, albeit at a much lower rate. Some of the other hosts of the virus are bats, raccoons, skunks and foxes. This is precisely why thousands of these animals are observed and tested for rabies in the United States.
Furthermore, after potential exposure to the virus, approximately 30,000 to 60,000 people receive the rabies vaccine called post-exposure prophylaxis (PEP) every year, according to the CDC. The agency warns that rabies is almost always fatal in human beings if not addressed by medical personnel immediately before symptoms progress. The disease infects the central nervous system instantly, particularly the brain, leading to death.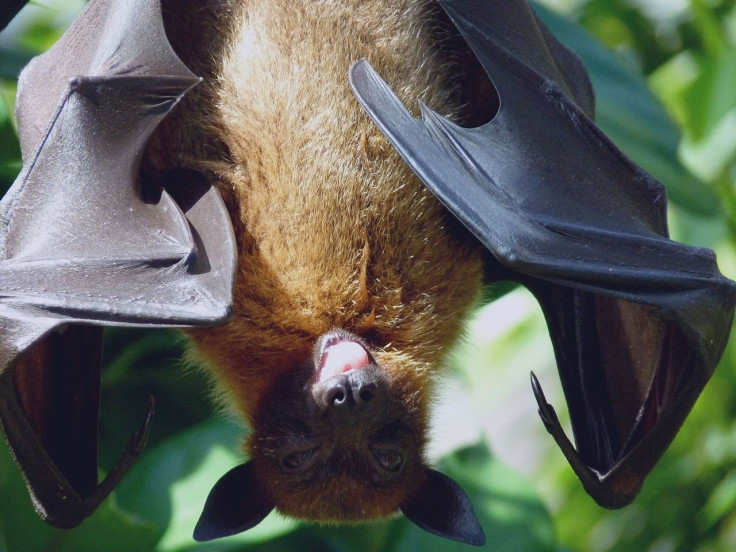 How Many People Get Rabies?
On June 12, 2019, the CDC released the Vital Signs report documenting the number of rabies deaths in people. Despite bats accounting for a third of 5,000 rabid animals reported every year, about seven in 10 human rabies deaths were caused by bats alone. The second cause of the rabies virus infecting people in America is rabid dogs encountered during holidays abroad, as per the Vital Signs report. However, the world is yet to catch up with America's strict vaccination programs for dogs. Globally, 98 percent of the 59,000 human deaths due to rabies every year are caused by rabid dogs.
Moreover, in all 54 jurisdictions under the U.S, 4,951 cases of rabies in animals and three cases in humans were reported to the CDC in 2018. This was an 11.2 percent increase from 2017, which recorded 4,454 rabid animals and two human cases of rabies.
Inform Local Animal Control Agencies If You See Bats
Bats can be encountered in your house, on a hike or flying by you just about anywhere. In the aforementioned press release, the NDA asked those who spotted bats, dead or alive, that could have come in contact with humans or domestic animals to report them to local animal control agencies. When people are assigned to pick up bats, they are advised to wear thick gloves and strictly follow all directions given by the agency. "Always avoid direct contact with bats and don't allow children or domestic animals to come in contact with bats. If contact is made with any bats, contact your local healthcare or veterinary provider immediately," Laura Morrow, NDA Animal Disease Lab supervisor, said in the news release quoted above.
In Nevada, residents can contact the NDA Animal Disease Lab. For other states, the CDC has compiled a list of local and state rabies consultation contacts that can be found in this link: https://www.cdc.gov/rabies/resources/contacts.html
Published by Medicaldaily.com