Seven-Year-Old Strongman Is So Powerful, He Can Pull a Car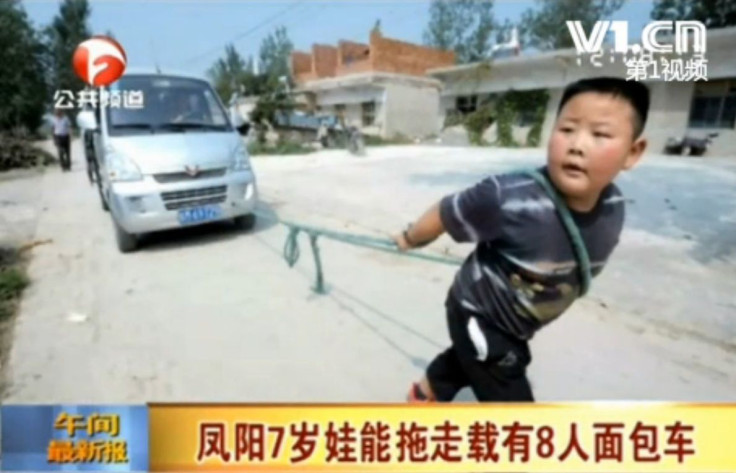 It's common advice given to children: "Eat your vegetables so you can grow big and strong." But reportedly, one child living in China needs no such wisdom.
Yang Jinlong, from the Anhui province of China, reportedly is so strong that he can pull cars, carry 200-pound bags of cement, and give piggy-back rides to his father. The seven-year-old apparently weighs over 110 pounds, or 50 kilograms, and is still growing. The web celebrity apparently has a huge fan base waiting to see what he will lift next. He has already lifted his father who, at 90 kilograms, is nearly 200 pounds, and a bag of wheat, which weighed 88 pounds.
He first began to show his skills at nine months when he lifted an oil drum. The barrel weighed 11 pounds.
His family credits his hardy appetite for his formidable strength. They say that he eats three bowls of rice or noodles for each meal. There is no typical weight for a seven-year-old, as weight varies wildly with height, composition, nutrition, and activity levels. But the average weight of seven-year-old boys falls between 44 and 77 pounds.
Yang is much bigger than his friends, but he is not by any means the only child with such prowess. Yang is part of an elite group of children with superior physical fitness.
Romanian brothers Giuliano and Claudiu Stroe began weightlifting at age two. Now five and nine years old, the boys have gained popularity through displays of their hand-walking strength and air push-ups. An air push-up is when a person supports the weight of their entire body on their hands while performing a push-up; the person's feet legs remain in the air. They hold the Guinness World Record.
On the other side of the age spectrum is American Mike Greenstein. A veteran of World War II, the 91-year-old Greenstein is still in such top physical shape that he can pull a truck uphill with just his teeth. Nicknamed Mighty Atom Jr., he has perhaps the strongest neck and jaw in the entire country. He celebrated this year's Fourth of July by pulling his Buick down 48th street in Midtown Manhattan.
As for Yang, he dreams of being an Olympic champion weightlifter - and he may be well on his way.
Published by Medicaldaily.com