Severed Feet Continue To Wash Up On Pacific Northwest Beaches; What's To Blame?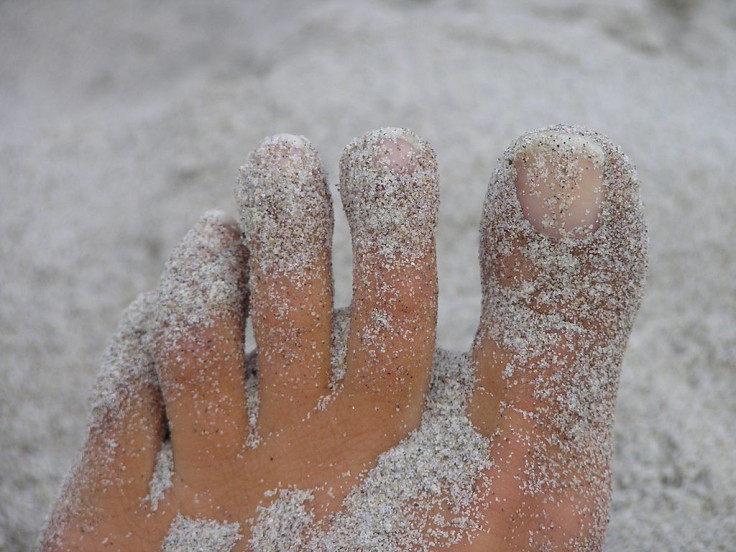 Severed feet keep washing ashore on beaches along the Pacific Northwest coast, and no one's sure why.
A total of 16 severed feet have been uncovered up and down the coast, with the most recent one appearing on Vancouver Island in British Columbia this week. It was discovered by Charlotte Stevens and her husband while out for a walk along the beach. "He picked it up and brought it out on to the beach," she told CBC News. "We had a look at it for about five minutes and we thought, 'it almost looks like there is an actual foot bone in it.'"
Strangely, their discovery is not out of the ordinary for where they live; feet still attached to running shoes have been washing ashore on Pacific Northwest beaches since 2007, The Independent reported. Police have gone wild with speculation, saying these could be the result of gang violence, a plane crash, drug runners, or a serial killer, according to the Toronto Star. Reports suggest the feet are disarticulated rather than dismembered, meaning they were precisely separated at the joint — something that either happened naturally or intentionally by a skilled hand. There's reason to believe it was the former.
According to scientists, bodies that decompose in water eventually come to a point where the hands and feet naturally detach. It's still unclear exactly what happens to dead bodies in the ocean, however, and with a combination of ocean currents and sea animals, anything can happen. A study from 2014 supports this idea. In it, scientists left a pig carcass to decompose in the cold Canadian sea for three years, and watched as it slowly disarticulated. Study co-author Dr. Gail Anderson said it's less the water currents and more the animal activity that's to blame.
"The animals scavenge the remains and the crabs and shrimp disarticulate the body," she wrote to Medical Daily in an email. "When a foot is encased in a sock and shoe, it keeps the bones together, the tissue probably turns to adipocere" — a grayish, waxy substance formed by the decomposition of soft tissue in dead bodies subjected to moisture. As for why the feet are the only body part to wash up: "If the shoe is a running shoe then it is basically a flotation device and can easily be washed ashore."
If true, then the only question left unanswered is how the bodies ended up in the ocean in the first place. In a 2011 article for The Daily Beast, Anderson says the most likely explanation is suicide, in part because two feet were traced back to their owners, both of whom had a history of mental illness and were last seen headed to water in distress. Still, some are skeptical of the suicide angle, unwilling to let go of the mystery of the lone feet. And until more evidence is found, they'll have a valid reason for their skepticism.
Published by Medicaldaily.com