Sex Robots vs. Uncanny Valley: 'Realbotix' Project To Develop Life-Size Sex Dolls That Talk Dirty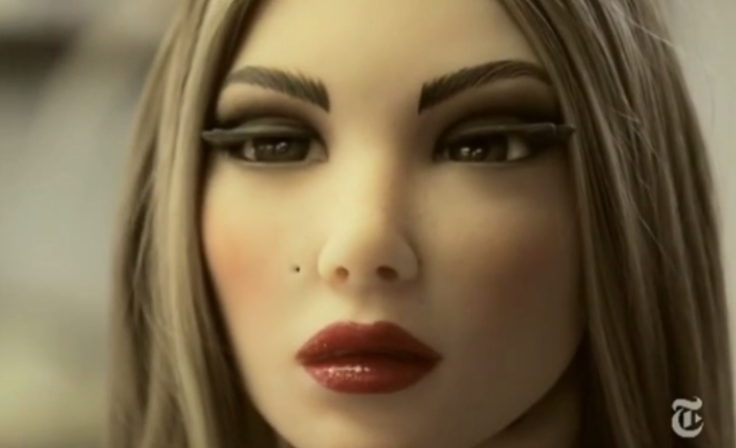 Digital technology has transformed every facet of our lives from how we talk, how we learn, and even to how we have sex. Sex toys from the "Lovely," a wearable sexual activity tracker and penis Fitbit, to HappyPlayTime, an app that teaches women about masturbation, have encouraged men and women to become more comfortable with their sexuality via technology. Now, Matt McMullen, creator of the RealDoll, has started a new project called "Realbotix" in an attempt to animate life-size sex dolls that can talk dirty to you.
In a New York Times video, McMullen can be seen asking the sex doll "Harmony," what it dreams about. "I dream about becoming a real person, about having a real body," the robot responds. "I dream about knowing the meaning of love. I hope to become the world's first sex robot."
McMullen has successfully sold over 5,000 customizable, life-size dolls since 1996, with prices ranging from $5,000 to $10,000, according to the NYT. These dolls can be customized from their body type and skin, hair, and eye color, and more recently, custom-ordered toes. McMullen has chosen to take it a step further by focusing on artificial intelligence to develop a robotic head that can blink and open and close its mouth. Moreover, the sex doll expert is working to include other technologies like a mobile app that acts like a virtual assistant and companion, and virtual reality headsets.
"The calculations for sex are really simple. It's like playing Rock Band. If you're pushing the buttons at the right time, you're going to get through the levels. That's pretty simple math really," says McMullen in the video.
While McMullen's project seems innovative, one of the challenges he will be faced with is uncanny valley. Japanese robot designer Masahiro Mori designed a graph that would come to lay the foundation for all uncanny valley research. Mori stressed people's responses to robots will shift from that of empathy to off-putting when they begin to resemble humans. This feeling is normal when it comes to a nearly alive, sort-of-human thing, which defines the uncanny valley.
McMullen stressed a doll is just a poor copy of a person. If the doll is kept far enough away from super realism, he says, then you're in safer territory.
In general, dolls have been used to ease the pain of loneliness. Copenhagen-based photojournalist Benita Marcussen documented several doll enthusiasts through an online forum to create a photo series that captures men with their prized possessions. "All men featured have different stories and reasons to be part of the doll community," she told The Huffington Post. "Some are married and have kids, others are divorced after more than 10 years of marriage. One of the men left his wife shortly before they were supposed to marry."
Dolls, whether they're sex dolls or not, can serve several purposes for people from all different walks of life. The gray area is when these dolls begin to replace human interaction and their owners feel complacent. This poses the question of whether the future of sex involves no sex at all. Will humans grow to be equally satisfied masturbating to a life-size sex doll?
Until then, McMullen plans to assemble the Realbotix head, which can be attached to the existing RealDoll body, costing around $10,000 and becoming commercially available in two years. The full body will most likely cost from $30,000 to $60,000.
"I want to have people actually develop an emotional attachment to not only the doll being a robot, but the actual character behind it — to develop some kind of love for this being," McMullen said.
Published by Medicaldaily.com