Shape Magazine Has Decided To Publish Brooke's Controversial Bikini Pic After Her Story Went Viral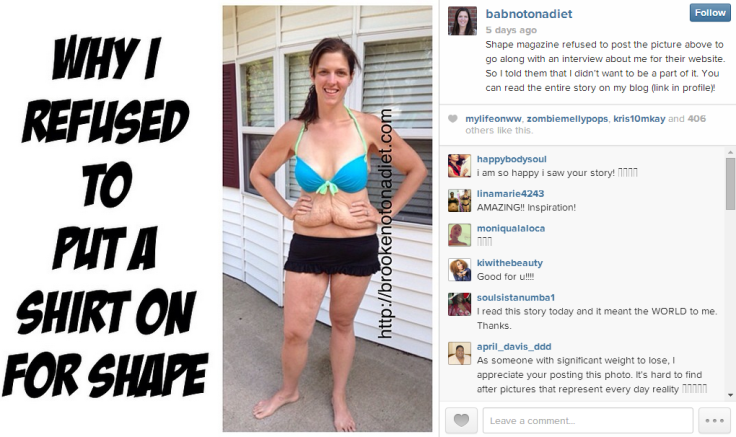 Last week, Brooke Birmingham's 172-lb. bikini weight-loss photo was denied publication by Shape magazine, but now the fitness magazine is going back on its word.
Birmingham's story went viral when she took to her blog, Brooke Not On a Diet, and wrote "Why I Refuse to Put a Shirt on For Shape."
The blog post detailed her encounter with a freelance writer for Shape. When Birmingham sent over her photo to be featured in the magazine, the writer emailed back saying, "Hi Brooke! So great to speak with you the other day. My editors were hoping you could send over a different after photo. (You look ah-mazing, of course, but they are looking to include one with a shirt.) Thanks!"
The writer further went on to cite an editorial policy for being the reason why the photo could not be included. Birmingham declined the offer to be featured in Shape's Success Stories if she could not show off her bikini body.
"I never thought that when I posted about me deciding to pull out from a story with Shape that it would go completely viral on the internet," Birmingham wrote in a May 12 blog post. "I posted only to explain the situation, never for attention, never to bash Shape, and never because I felt like I needed to whine. (yes, there have been people who said I did it for those exact reasons) I just felt like I owed my readers an explanation and wanted to start a conversation."
Shape Editor-at-Large Bahar Takhtehchian and Brooke appeared on Today to discuss the controversy.
"It was a miscommunication with a freelancer who is not employed by Shape," Takhtehchian said. "Unfortunately she said there was an editorial policy that simply doesn't exist. So that's where things went awry a little bit."
Birmingham's photo will now be published in Shape, alongside other women who have lost a significant amount of weight.
"We are excited to make this into an impactful discussion about weight loss and the reality," Takhtehchian said. "We want to turn this into something positive, so it makes a big impact."
"I am so happy that it all turned into this. When I posted the blog post, I wanted a conversation to happen and wanted to spark a change in magazines today. That is exactly what happened. I'm excited to now be working with Shape to feature women who have gone through an extreme weight loss and showing their readers what can happen not only physically, but also mentally when doing just that," Birmingham wrote on her blog.
Have you lost a significant amount of weight and want to be featured alongside Brooke? No problem.
On May 9, Shape tweeted, "Would you like to be featured in the magazine with @babnotonadiet? Send your story to youinshape@shape.com"
Published by Medicaldaily.com