Shaun White's St. Jude Ad with Cancer Kids Among Most Likable: Nielsen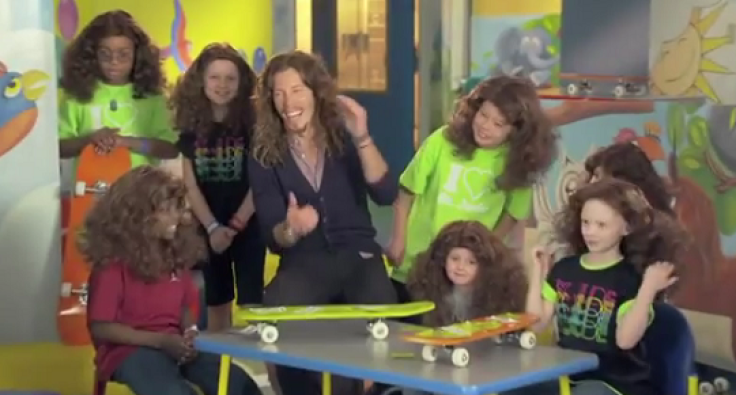 The Saint Jude Children's Research Hospital commercial that featured American professional snowboarder and skateboarder, Shaun White has been ranked 3rd in Nielsen's "Likability Index" for 2011.
The 30 second national commercial features White as he sits with children who have lost their hair from chemotherapy and medications. In one of the ads, the children sit around White and laugh as they put on wigs matching his long, red, and curly hairstyle.
(Click here to see the ad.)
This year marked the second year White was a part of the St. Jude Thanks and Giving campaign.
"Our patients and Shaun had a lot of fun shooting the television spot this year," said Karen White, Senior Vice President, Corporate Alliances, ALSAC/St. Jude Children's Research Hospital.
She said that White is a longtime supporter of St. Jude and has attended several events.
The sports figure also designed the Shaun White Great Room at the St. Jude Target House, a long-term housing facility that serves as a home-away-from-home for St. Jude patients and families undergoing treatment for cancer and other deadly diseases.
"The room is decorated with edgy Native American and '70s-inspired rock 'n' roll elements, flat screen televisions and an acrylic foosball table," the spokeswoman said.
St. Jude has a slate of several celebrities who donate their time and talents to the campaign, among them, Jennifer Aniston, Robin Williams, Morgan Freeman, George Lopez and Dwyane Wade, she said.
She said the center's staff views patients' health and comfort as the top concern.
"We look for children who are comfortable in the studio environment and who will enjoy the experience," she said.
"Of course, attention is also given to representing the vast diversity of children who are served by St. Jude, and images are selected that will resonate with the public and bring the greatest return to advance the lifesaving work of our hospital."
This year marks the eighth annual St. Jude Thanks and Giving campaign to raise funds and awareness in support of their mission during the holiday season, which runs from Thanksgiving week through the end of the year.
Campaign Donations Go to Cover Costs
She explained that it costs $1.7 million to operate the hospital every day in part because no family ever pays St. Jude for care.
"St. Jude not only covers the cost of treatment, but also travel, food and lodging for each patient and a family member."
She said that more than 75 percent of that funding comes from the public.
"Campaigns like this are incredibly important to St. Jude because we rely primarily on the public's generosity to support our lifesaving mission to find cures and save children with cancer and other deadly diseases," she said.
Published by Medicaldaily.com