Singer Miguel's Leg Drop Victim Khyati Shah May Sue, Claims She Suffered Brain Damage [PHOTOS & GIFS]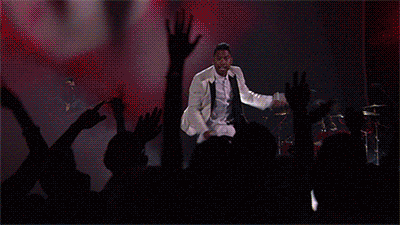 Singer Miguel became the butt of hysterical online jokes when he mistakenly kicked two fans in the face at the Billboard Music Awards in May. Playful photos, with words and animations superimposed, made their Internet rounds for weeks. Unfortunately, one of the kicked fans, Khyati Shah, isn't laughing.
According to TMZ, Shah has obtained legal representation since the May 19 broadcast. She alleges that she suffered a traumatic head injury as a result of the incident. Vip Bhola, Shah's lawyer, said, "Some of the difficulties she's experiencing are cognitive in nature and lead to suspicion of a neurological head injury."
Bhola has not revealed who he intends to sue if tests show that Shah did sustain a head injury. He told the gossip site that the Billboard Music Awards did not take the appropriate steps to ensure that Shah was okay following the leg drop to her head. The awards show allegedly gave Shah an ice pack to sooth her bruised elbow and sent her on her way.
Miguel, however, was apologetic and noticeably embarrassed after landing on his fans. "The crazy thing is, when you're performing and you're just kind of into it, you never know where it's gonna go and where you're gonna go with it, and how that might turn out," he said. "So this is one of the less favorable moments."
Shah, who appeared backstage with Miguel immediately following the incident, is quoted as saying "I adorn him," playfully using lyrics from the famous singer's hit song in a seemingly forgiving gesture.
Bhola says that his client is still deciding whether she will seek legal remedy. The results of a recent neurological exam may be the deciding factor.
Published by Medicaldaily.com