Sisters Ejected From Mall For Wearing 'F--- Cancer' Hats Honoring Their Mom; Where To Buy F--- Cancer Apparel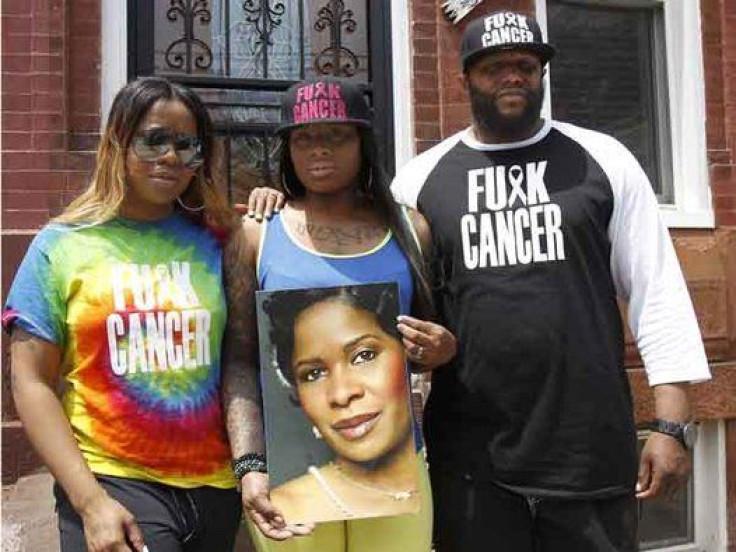 Two sisters were ejected from a mall in King of Prussia, Pa. for wearing hats that said "F--- Cancer."
The hats were black and pink, and the C in cancer was replaced with a pink breast cancer ribbon, the Philadelphia Daily News reported.
Zakia Clark, 29, and Tasha Clark, 27, wore shirts and hats to honor their mother, Jackie Underwood, who passed away May 14 at age 51 after a long, painful battle with breast cancer. Zakia and Tasha wore the F--- Cancer gear several days before their mother's death, and almost every day since.
"That's how we feel," Zakia told the Philadelphia Daily News. "It took our mom away. It's a demon. It's the devil. There are no other words you can use to explain how you feel. You want cancer to get cancer and die."
The sisters, who are both from Philadelphia, were with friends and relatives shopping for a dress for Zakia's nine-year-old daughter to wear to her grandmother's funeral. After two-and-a-half hours of shopping, a security guard approached.
Without greeting them, the guard said, "Take your hats off," Zakia told the Philadelphia Daily News.
Zakia complied, but Tasha, a former mall employee, asked to see something in writing. It was almost as if Tasha were channeling their mother's strong spirit, said Zakia, who was inspired to put her own hat back on.
The security guard was not phased. "He said, 'Since you don't want to take your hat off, you can leave my mall,'" Zakia said. "He stood there while we ate and threatened to call the cops."
Seven additional security guards approached and escorted the sisters away.
"I was very embarrassed," Zakia said. "My daughter was so scared she was crying."
At the mall office, a police officer had been called in by mall security. "The officer said, 'I find it offensive that you even have that hat that says 'F--- CANCER,'" Zakia said. "He said, 'It's their mall, they want you out, you have to get out.'"
The two sisters were escorted outside, and two security guards waited by their car until they left.
Zakia and Tasha's sister, Makia, a hairdresser who runs Hair Trance boutique in Philadelphia, also weighed in on the events.
"I just wanted to tell them the whole story," Makia said of the guards. "I wanted to tell them a monster came into our house, got into my mother and we had to watch that until the day it took her, so don't tell me it's offensive to say, 'F--- CANCER.'"
In 2004, Underwood was diagnosed with breast cancer. Although she had a breast removed, she decided not to undergo chemotherapy or radiation. In 2011, Underwood reported a pain in her breast, and decided to undergo chemo. By 2012, the cancer had spread to her brain.
"I took her to the emergency room and they said there were all these tumors floating around," Makia said.
Doctors told the women that their mother had three months to live. Her daughters cared for her in her home in Northeast Philadelphia, where they bathed her and changed her diapers.
"It was gruesome to watch," Makia said. "When I watch monster movies, that's the image I have of cancer - the zombie movie or the movie when Will Smith was the only person left alive. That's what the clinics look like."
At 3 a.m., May 14, Makia noticed her mother's breathing slowing down.

"I called my sisters downstairs and said, 'Death is coming,'" she said. "And it came, and that was that."
One of Makia's clients, Tiffany Wade, a registered nurse, visited Underwood's house and was particularly moved. Wade wanted to help offset the expenses of the family, so she decided to make the "F--- Cancer" clothing. She has sold 200 items and said the money has gone to help 11 families dealing with cancer.
Les Morris, a spokesman for Simon Property Group in Indianapolis, Ind., which owns King of Prussia Mall, called Zakia to apologize.
"Certainly this could have been handled in a much more empathic and sensitive manner," Morris told the Philadelphia Daily News. "We're very sorry about her loss and wanted to apologize for the way her party was treated."
"I do think this is an entirely different situation than a 16-year-old kid with a swear word on his T-shirt cruising the mall," Morris said.
F--- Cancer hats and apparel are popular online, with a variety of options available at cafepress.com. Sticks, hats, shirts, and other items with "F--- Cancer" labels are available, as are more colorful options like a "Cancer Can Go F--- Itself" shirt, "Hey Cancer, F--- You" shirt, and a shirt that says "I'm Making Cancer My B----!" Another organization devoted to the "F-- Cancer" idea is letsfcancer.com.
Published by Medicaldaily.com