Skateboarder Tony Hawk Helps Hearing Impaired Cambodians Hear For The First Time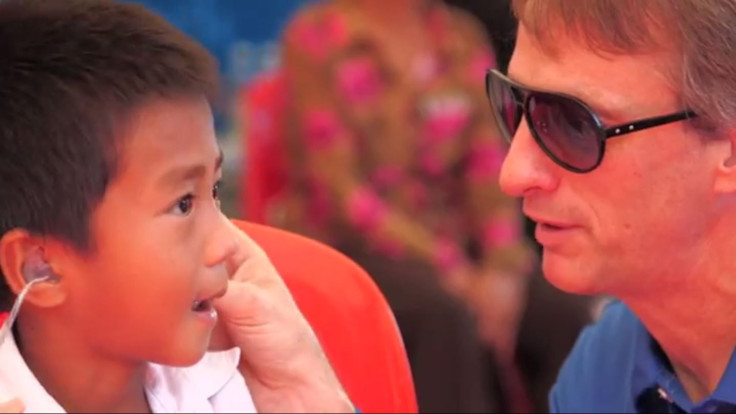 From blasting music on commutes home to living near a train station close enough to hear the screeching, there are so many forms of noise pollution can take. And many of us take our hearing for granted. So, when a group of people who don't know what it's like to hear, do so for the first time, it's pretty great.
There are 360 million people around the world who are suffering from disabling hearing loss, according to the World Health Organization. Most often, hearing loss is inherited from a mother who had rubella, or caused by birth complications, infectious diseases like meningitis, and chronic ear infections, among others. Treating hearing loss is difficult, as most of the people suffering from it live in low- to middle-income countries.
For many of these people, simply using a hearing aid can vastly improve their condition. That's where pro skateboarder Tony Hawk comes in. Along with the Starkey Hearing Foundation, he recently traveled to Cambodia to deliver hearing aids to hundreds of hearing impaired individuals. "Sometimes it's hard, especially with charity work, to quantify exactly what takes place, or what difference you're making," he says in the video below, "and you see it right there. This person is hearing for the first time, or hearing properly for the first time."
Published by Medicaldaily.com