Slayer Guitarist Jeff Hanneman Dies of Liver Failure After Gruesome Bout of Necrotizing Fasciitis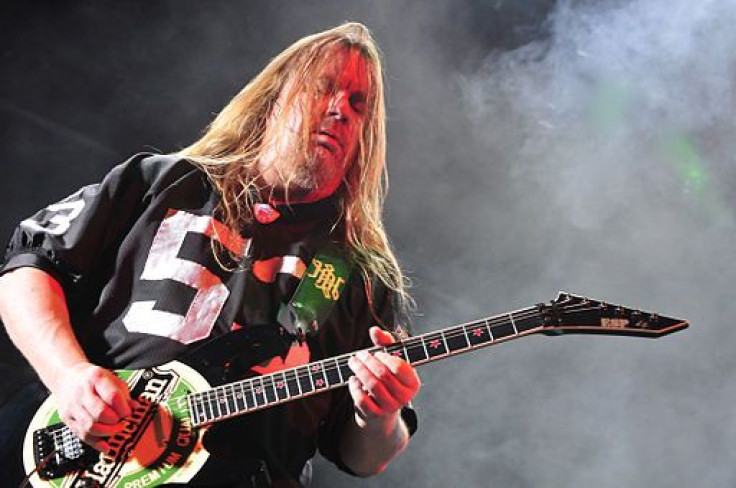 Jeff Hanneman, founding member and guitarist for the pioneering American thrash metal band Slayer, died this morning of liver failure at age 49, two years after contracting necrotizing fasciitis, a rare flesh-eating bacteria infection, that may have resulted from a poisonous spider bite.
The band released a statement on their official website announcing Hanneman's death:
"Slayer is devastated to inform that their bandmate and brother, Jeff Hanneman, passed away at about 11AM this morning near his Southern California home. Hanneman was in an area hospital when he suffered liver failure. He is survived by his wife Kathy, his sister Kathy and his brothers Michael and Larry, and will be sorely missed."
Slayer has been active since 1981, selling over 20 million albums worldwide and touring relentlessly over the course of their career.
The band's lyrics were often dark, and while Hanneman's poor health in later years had little to do with recurring Slayer themes like murder, necrophilia, and warfare, the condition he suffered seemed to fit the band's aesthetics.
Jeff Hanneman was diagnosed with necrotizing fasciitis, a rare flesh-eating bacterial disease, in 2011, according to metal fan site Blabbermouth. While doctors were unable to pinpoint the cause of the infection, they speculated that it resulted from a poisonous spider bite.
Necrotizing fasciitis is a serious bacterial infection that attacks the body's soft tissue. Healthy people are at extremely low risk of contracting the gruesome disease, according to the Centers for Disease Control and Prevention (CDC), and most people who develop it have already other immune weakening conditions like diabetes, kidney disease, or cancer.
The most common mode of contraction is when types of bacteria like group A Streptococcus, Clostridium, and Staphylococcus aureus enter the body through a break in the skin, like a cut, burn, puncture wound, or insect or spider bite.
The last seems to have been the case for Hanneman. The CDC reports that the bacteria spreads quickly, breaking down connective tissues around muscles, nerves, and fat. Victims typically develop symptoms like pain or soreness within hours of the initial injury, followed by swelling, fever, chills, and vomiting. As the tissue dies, the bacteria spreads in blood throughout the body.
Immediate treatment with antibiotics is necessary to prevent serious damage, and rapid surgical removal of dead tissue may be needed to stop the infection.
Hanneman's disease trajectory seems to have been particularly severe. Slayer posted an update as Hanneman's condition declined:
"As you know, Jeff was bitten by a spider more than a year ago, but what you may not have known was that for a couple of days after he went to the ER, things were touch-and-go.
"There was talk that he might have to have his arm amputated, and we didn't know if he was going to pull through at all. He was in a medically-induced coma for a few days and had several operations to remove the dead and dying tissue from his arm. So, understand, he was in really, really bad shape."
Hanneman eventually recovered enough to leave the hospital last year, though he needed painful skin grafts and extensive rehabiliation to regain his arm strength and leg function.
It's unclear what role the necrotizing fasciitis may have played in Hanneman's liver failure, and the cause of death may have been unrelated. The liver is primarily responsible for removing toxins from the body, and WebMD reports that a common cause of liver failure is cirrhosis, in which healthy liver tissue is gradually replaced with scar tissue after years of damage from disease or heavy alcohol use.
He was well enough to join them in an encore performance at Coachella in April 2012, and the band announced that they would wait "as long as it takes" for Hanneman's health to rebound enough to record new music and join them on a a tour. Sadly for fans and those close to him, it was not meant to be.
Published by Medicaldaily.com