Sleep Patterns Around The World: Sleep Cycle App Measures When We're Sleeping Best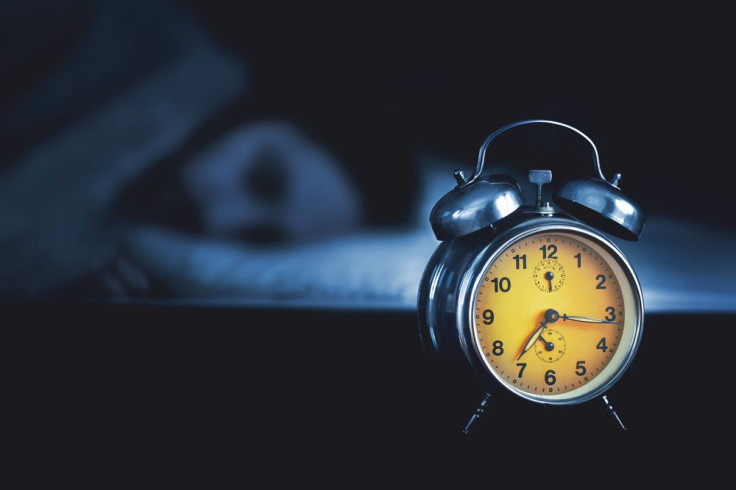 We all know sleep is vital and that we should get around eight hours a night. Our sleeping habits, such as our bedtime, how long we sleep, and what time we wake up determine sleep quality, but how does the rest of the world sleep? Sleep Cycle, an app that tracks users' sleep as they go through a cycle of sleep phases, gathered data from users 18 to 55 years old between June 2014 and March 2015 to observe the range of sleeping habits across the world.
Using the phone's accelerometer, the app tracked users' sleep cycles by recording movements in bed and also woke them up during their lightest sleep phase, thanks to a pre-defined 30-minute alarm window.
Results showed there are significant differences in sleep patterns in different pockets of the world. The app, for instance, found the world wakes up earliest on Mondays, with South Africa rising first at 6:09 a.m. Switzerland experiences the biggest change on Mondays, rising 24 minutes earlier than its weekly average time. Germany comes in second by rising 23 minutes earlier than usual.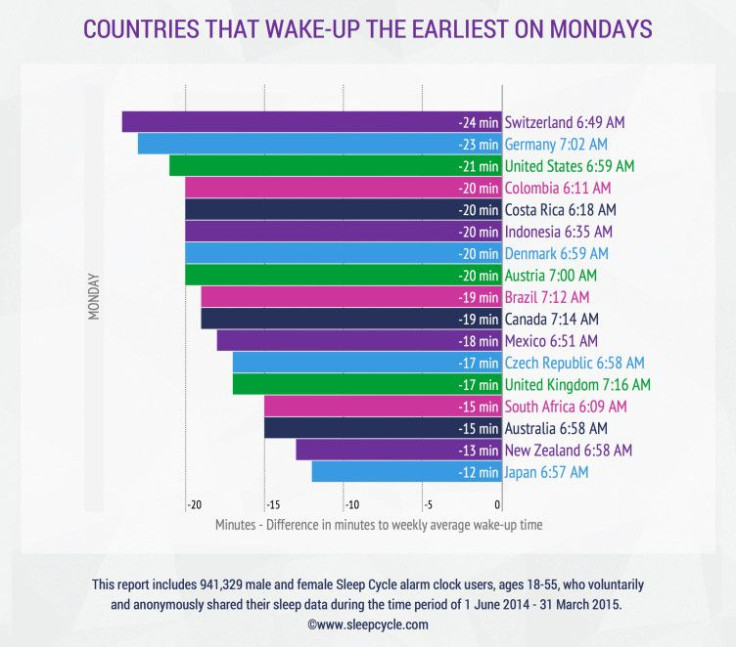 Early Monday mornings are followed by well-rested Wednesdays — the best day to get the best sleep quality worldwide. Fifty-eight percent of the countries surveyed had the best sleep quality on Wednesday, with China ranking the highest in sleep quality in the world on that night. Germany, Russia, Spain, Japan, the U.S. and UK were also found to get the best sleep in the middle of the week.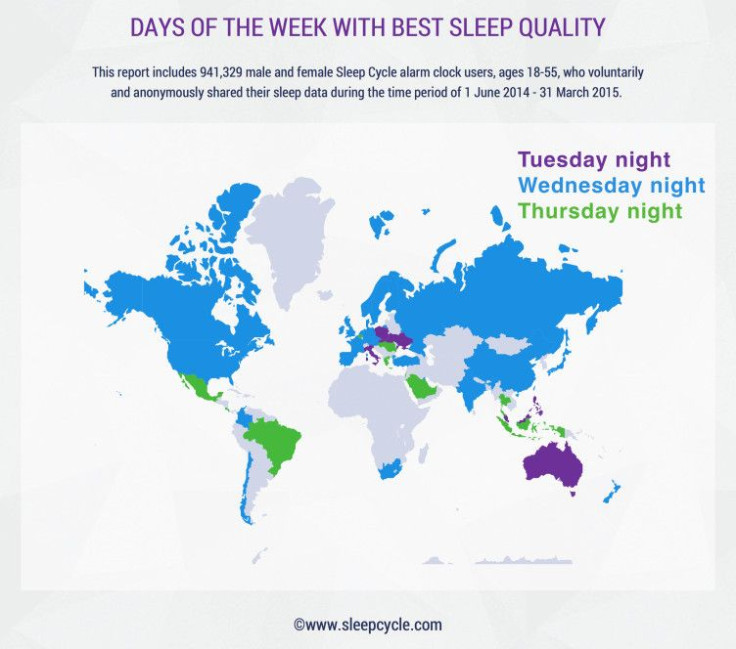 The weekends are unsurprisingly when the world sleeps more and later, especially on Saturdays. Sleep Cycle considers it "the world's biggest sleep day," with nearly 90 percent of countries sleeping more and waking up much later compared to any other day of the week. Switzerland gains the most extra sleep with 41 minutes, while Finland is a close second, clocking an extra 39 minutes of shuteye. Moreover, countries report the best wake-up moods on Saturday and Sunday mornings.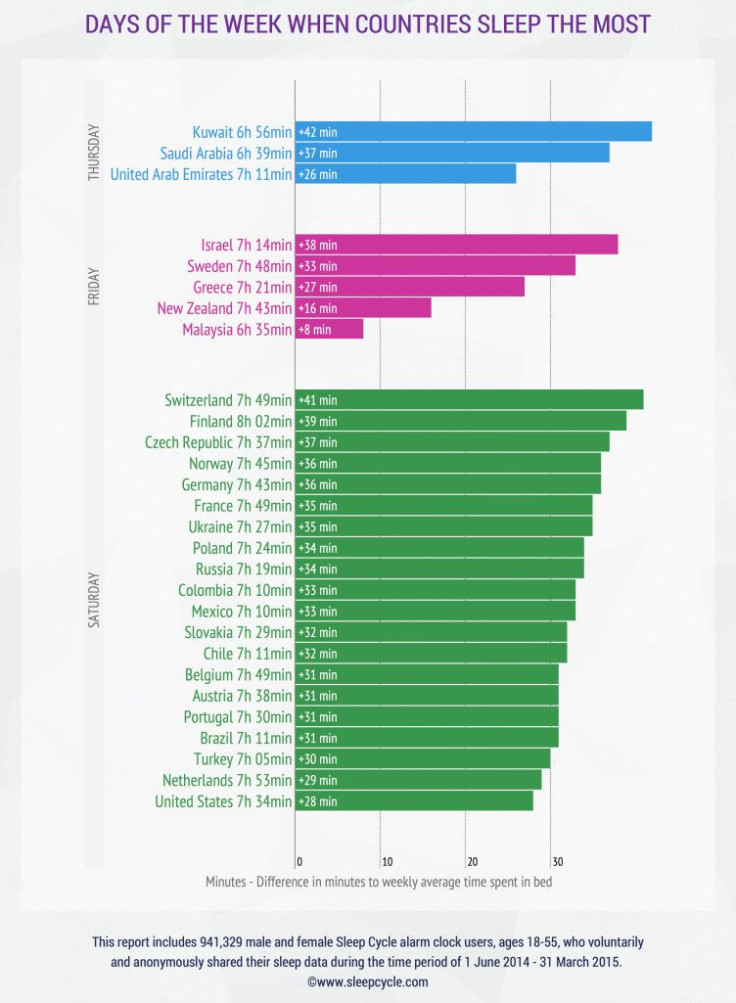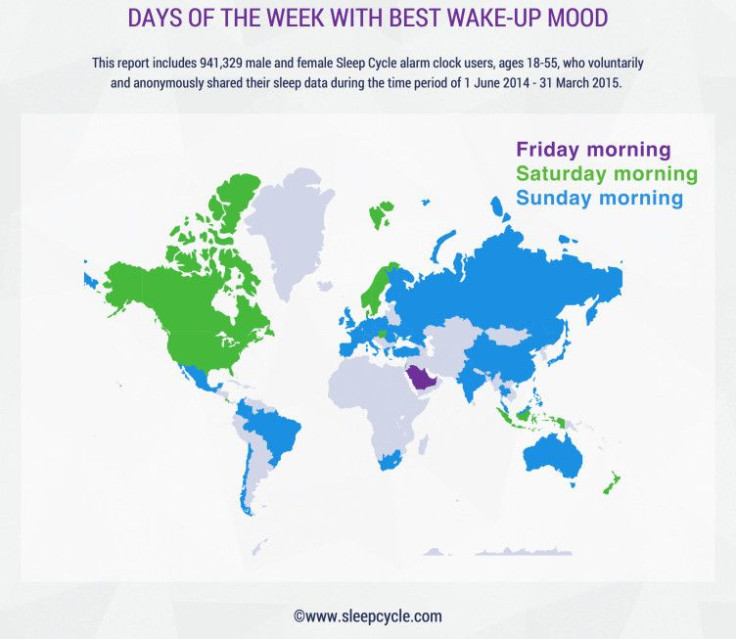 European countries know the importance of a good night's sleep with plenty of countries ranking high in sleep quality. Slovakia topped the list followed by China, Hungary, and the Czech Republic. The U.S. came in at 48, topping Ireland and Malaysia in sleep quality.
It looks like the U.S. could learn a thing or two about shuteye from Slovakia and China.
Published by Medicaldaily.com