Smartphone Stress Hormone Test App May Be Able To Measure Cortisol Levels: What Are Signs Of Stress?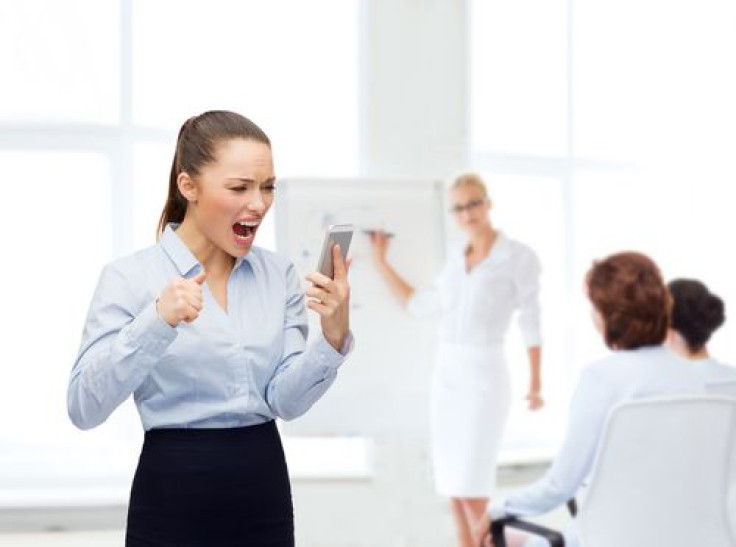 Deadlines, frustrations, and demands can lead to increased stress at home, school, or work, subsequently becoming so commonplace that they're seen as a way of life for some of us. Although stress can actually help us perform better under pressure, and motivate us to do better, it can also wreak havoc on our body when we are pulled in multiple directions at once. To make our lives a little less stressful, researchers at the ICE/ENDO 2014, the joint meeting of the International Society of Endocrinology and the Endocrine Society, in Chicago, presented a device that uses any smartphone to measure cortisol levels with a saliva sample.
The hormone cortisol is produced by the adrenal glands as the body's response to stress, and can also help diagnose adrenal diseases and monitor stress levels. Typically, testing for salivary cortisol levels involves collecting a saliva sample and sending it to a clinical lab for analysis, but scientists have come up with a do-it-yourself stress test — no lab needed. "We have developed a method for measuring cortisol in saliva using a smartphone and a disposable test strip. This innovation enables anyone with a smartphone to measure their salivary cortisol level quickly, accurately, and affordably," said lead study author Dr. Joel Ehrenkranz, director of diabetes and endocrinology in the Department of Medicine at Intermountain Healthcare in Murray, Utah, in a press release.
The new app measures cortisol levels with the use of a case, a light pipe, and a lens. Users can easily insert a straw-like saliva collector under the tongue, which is then placed on an assay strip in a cassette. The sample is then placed into the reader, made up of a lens and a light diffuser, which are connected to the smartphone's camera and flash. The stress app reads the saliva-coated strip, and calculates cortisol levels using an algorithm to convert the image's pixel density to a cortisol value.
The device is "unbreakable, passive, and reusable," Ehrenkranz said, and it costs about a dollar to make. The 10-minute test will cost users less than $5. It can be used at a medical office or in the convenience of your home, making it more convenient than a quantitative salivary cortisol tests, which must be taken in a lab. Labs usually charge $25 to $50 for quantitative salivary cortisol tests, and they have a turnaround time of a few days to a week, Ehrenkranz told Reuters.
The test will make it possible for individuals not only in the U.S. but all over the world, where facilities are scarce, to perform the do-it-yourself diagnostic test. Moreover, the app can also help doctors diagnose adrenal insufficiency and hypercortisolism, while also monitoring physiological variation in cortisol levels. Ehrenkranz mentioned that three percent of people with type 2 diabetes also have Cushing's disease — having an excessive cortisol level is a strong predictor — but they often don't get screened because their doctors don't have access to the technology.
Although this app may help us monitor our stress levels, it's important to first recognize the signs of stress, which don't always appear as they should. During a fight, flight, or freeze response, we either become heated, or overly emotional; withdrawn or depressed; or frozen under pressure, with the inability to do anything. According to Mayo Clinic, stress symptoms can affect our body, thoughts, feelings, and behavior. Recognizing the signs of stress can help us become better equipped to know how to manage them.
Products like the stress test app can help keep our stress levels in check. The Ministry of Public Health of Thailand plans to introduce the cortisol test later this year as a consumer product for monitoring individuals' stress, Reuters reported. Eager users in the U.S. will have to wait until Ehrenkranz and his team can collect clinical data for the Food and Drug Administration to review and approve for sale as a class 2 medical device. They hope approval will be granted by 2015.
Source: Ehrenkranz Joel RL, Espiritu T, Polson R. Point-of-Care Salivary Cortisol Immunoassay Using a Smartphone. ICE/ENDO 2014.
Published by Medicaldaily.com