Smartphone Users Can Now Monitor Cholesterol And Vitamin D Levels With A Selfie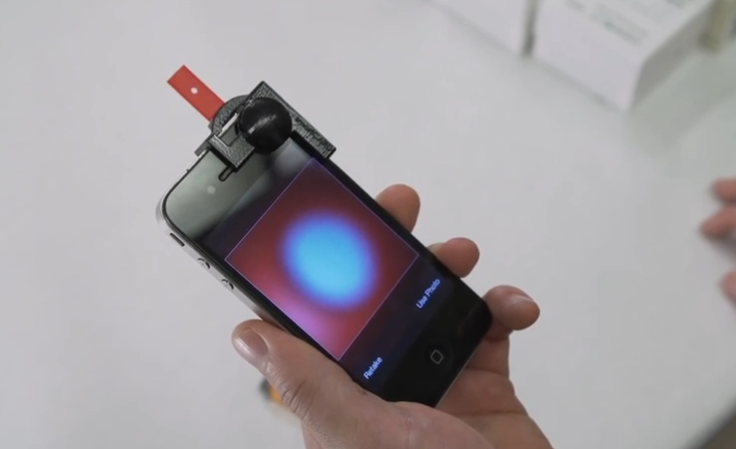 Living in a selfie-centric culture where faces are tilted at a slight angle to the camera and "selfie" was voted word of the year in 2013, it is no wonder scientists have paved a new route to educate the selfie-obsessed on health. Smartphone users attached to the hip to their device may rejoice to learn they can check their cholesterol and vitamin D levels without a doctor's appointment, and most importantly, without letting go of their beloved phones. Cornell University researchers have developed an app — alongside a little snap-on device — Smartphone Cholesterol Application for Rapid Diagnostics, or "smartCARD" — to check our cholesterol and vitamin D levels with just a single drop of blood, saliva, or sweat.
"What this is really about is enabling you to obtain health information about yourself quickly," said David Erickson, senior author of a new peer-reviewed study and professor of mechanical engineering, to Inside Science. "In two minutes it spits out … what your cholesterol level is today, right now." This could make a world a difference for those of us who are constantly on the go and wish to attain information about our health care very quickly.
The Cornell University-designed device may be simpler than other cholesterol-testing devices on the market. The smartCARD accessory looks like a credit card reader and fits over a smartphone camera, where the results of cholesterol and vitamin D levels are read from a single drop of blood. Simply by inserting the test strip into the smartCARD reader, the built-in flash will illuminate the strip, which then calibrates the hue saturation to the image's color values on the cholesterol test strip, Science Daily reported. The results appear on the user's phone.
Currently, home cholesterol-testing devices on the market are fairly priced, ranging from $14 for a paper-strip test to $125 for a hand-held electronic device that provides users with separate numbers for their LDL, HDL, and triglyceride levels. It is unclear whether the smartphone device will cost much less than the highest one on the market ($125), and even if it does, the price may increase by the time the device gets licensing with a company and receives Food and Drug Administration (FDA) approval. The smartCARD will not be available until a few years and would have to pass rigorous inspections and provide data to prove the device actually works.
"We wanted a simple system that allows you to measure your levels at home," Seoho Lee, a mechanical engineering student at Cornell, told Inside Science. The accuracy and effectiveness of home testing kits approved by the FDA are intended to be as accurate as a laboratory, but at home, without proper guidance, they are not. According to The Harvard Medical School Family Health Guide, when people do cholesterol at-home tests, they tend to squeeze or "milk" a finger to get blood onto the test strip or into the well, but this can throw off the results. Another common scenario is the reading may be accurate but not always useful. The reading does not provide enough information to assess your risk of having a heart attack or other cardiovascular problems.
While similar home testing kits may just give you a reading, it's best to understand what the numbers mean, and what numbers you should aim for. Cholesterol levels are measured in milligrams (mg) of cholesterol per deciliter (dL) of blood in the U.S., and other countries. When it comes to total cholesterol, those who have below 200 mg/DL have desirable cholesterol rates, while those in between 200-239 and above, should remain alert, says the Mayo Clinic. Vitamin D levels should be between 30 to 40 nanograms per milliliter (ng/ml) in the U.S.
The smartCARD, along with other current and future health apps, face similar challenges. Smartphone users should not solely rely on health apps for a health prognosis. It is always best to consult your doctor. The intent of these apps is to raise awareness and educate people on what to look for when it comes to their health. Researchers are now in the works of developing the technology to give test results for other vitamins and infectious diseases.
Published by Medicaldaily.com