Snail Facials In Japan Claim To Improve Overall Skin Health Via Mucus Trail; Is The Celebrity Escargot Course Worth It?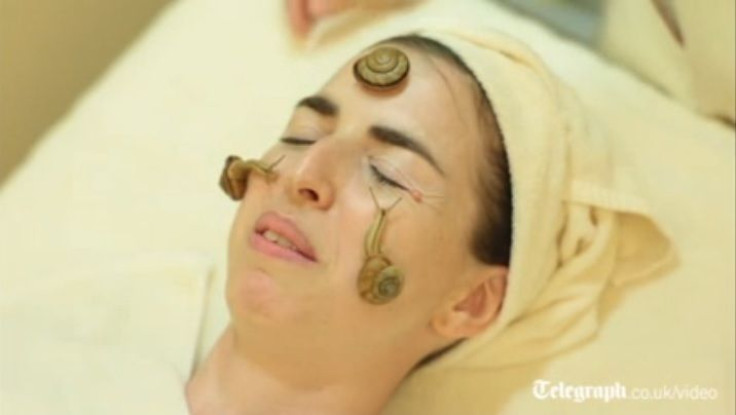 If you've exhausted all your options with traditional skin creams or just have a thirst for mild adventure, consider the newest dermatological treatment being offered in Japan: snail facials.
The regenerative treatment involves placing three of the shelled creatures on a guest's cheeks and forehead and letting them inch about over the person's complexion, leaving behind a mucus trail that many experts claim is chock-full of powerful proteins, antioxidants, and hyularonic acid. Together, these compounds soothe inflammation, remove dead skin, and help skin retain its moisture.
At the Clinical Salon in Tokyo, the only place currently offering a snail facial, guests' faces are cleaned before the snails are applied by a trained employee. Guests should expect to shell out almost $250 (£161) for an hour-long session that also includes facial massages, masks, and the use of an electical pulse machine.
"Snail slime can help the recovery of skin cells on the face, so we expect the snail facial to help heal damaged skin," Yoko Minami, sales manager at Clinical Salon, told the Sunday Telegraph.
The salon currently calls home to five resident snails, which are kept in a clear plastic container and fed a steady diet of organic vegetables. The spa staff said the snails are brought in from an organic snail breeder and fed a clean diet to ensure total safety and cleanliness when applied to a customer's face.
Snail mucus as a natural skin enhancer is not a new finding. In fact, many of the spa's products already contain the mucus as an active ingredient.
"We have one beauty product called Lift Keep Cream which contains snail slime," said Minami. "We started selling it in May last year and it has been very popular."
The snail facial, in fact, was designed with a purpose. Japan's Mt. Fuji was recently designated by UNESCO (United Nations Educational, Scientific and Cultural Organization) as a World Heritage site. Under this new status, the mountain is recognized on an international level as a symbol of cultural and geographical importance.
Because of the recent designation, many climbers have made it their goal to climb the mountain this summer, Minami said. As the sun and higher altitude winds assault the climbers' faces, Minami and her spa staff will be waiting patiently below with snail facials to soothe the climbers' battered skin.
"We are interested in the fact that snails have a function that can help heal skin damaged by ultraviolet rays," she said. "which is a common problem for mountain climbers."
Published by Medicaldaily.com